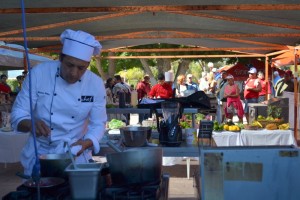 Taste of Peñasco, with its dozens of arts, crafts and food exhibits, hundreds of spectators flowing constantly throughout the main square known as Shrimp Plaza and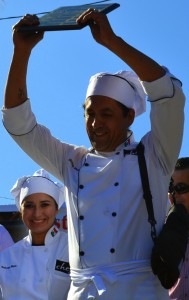 continuous live music as a back drop for the downright exciting T.O.P. Chef Competition (originally known as the "Iron Chef ") has grown exponentially every year and become one of Rocky Point's most anticipated events.
The Taste of Peñasco will take place next weekend, Saturday February 16, 2013 from 10:00 AM to 4:00 PM at Shrimp Plaza located on Benito Juarez and Fremont Street right across from City Hall and right next to the BANCOMER branch bank. Admission is free.
The T.O.P. (as in Taste Of Peñasco) Chef event determines a true culinary champion from among the executive chefs, many of whom are internationally trained, representing Puerto Peñasco's finest local restaurants including Chef Mickey's Place (last year's Top Chef Winner), Don Julio's, Mare Blu, La Cocina de Ramón (former winner), Mayan Palace and Pane e Vino (former winner).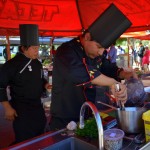 How the contest works is most interesting. These highly skilled chefs will choose their menu from pre-purchased ingredients for an appetizer, an entrée, and a dessert. But there are two kickers involved: their dishes must include a main ingredient that will remain secret until the start of the contest; and the second kicker is that they will have only 15 minutes to prepare the appetizer, 30 minutes to prepare the entrée, and 15 minutes to prepare the dessert, again, all of which must contain the "secret" ingredient.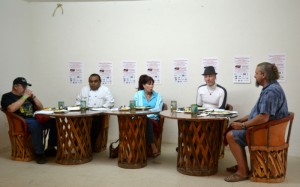 Their preparations will be graded on presentation, taste and creative use of the secret ingredient by a panel of five judges, four of whom are highly qualified in the culinary arts, and for the second time, this year, one will be a layman chosen by a raffle drawing Saturday morning.  If you are interested in entering the drawing to become this year's guest judge, tickets are $5.00 USD for one, or $20.00 USD for SIX tickets.
The winner will be drawn at 10:45 on Saturday, the morning of the event, and for obvious reason, must be present to win. Tickets are on sale now at ProAlliance Insurance (Tourism and Visitor Assistance (TVA) Office), Latitude 31 restaurant, or the Rocky Point 360 office. Call the TVA for more details at 638-388-6624.
If you win this drawing, you'll be sitting and judging along with four internationally acclaimed culinary artists including
Aaron May, Chef of the famed Renegade Restaurant, Phoenix, AZ,
Patrick Kemmache, Executive Chef of the Grand Heritage Hotel Group and an award winning graduate of the Cordon Bleu Culinary School in Paris who has served renowned positions such as Chef at the iconic "Tavern on the Green", and as Food and Beverage Director for the Palms Hotel and Spa in Miami Beach,
Gustavo Gutierrez, Executive Chef at Las Palomas Resort, and
Like last year the fourth expert judge will be a surprise and introduced on the day of the competition which will take place from 11:00 AM until 12:00 Noon. The winner will be announced around 1:00 or 1:30 by our new Mayor Gerardo Figueroa Zazueta and First Lady, Mrs. Rafaela Félix de Figueroa who also serves as President of DIF, one of the three charities who will benefit from this year's T.O.P. festivity.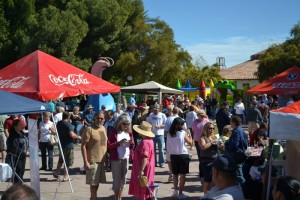 Besides crowning the cities T.O.P. Chef, the purpose of this six year old event is to raise money to help deserving local charities fulfill important needs. This year the beneficiaries will be the very benevolent Santa Claus Club, the life and property saving Fire Department and DIF's hemodialysis project to acquire badly needed hemodialysis equipment required by many adults and children of the community who now have to incur costs beyond their means to travel outside the city for required treatments.
Exhibits will be open from 10:00 AM until 4:00 PM where you can browse and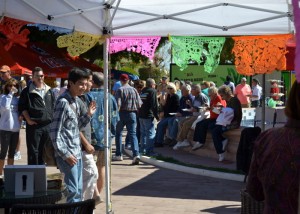 possibly purchase some of the unique handmade crafts, clothes, photography and hundreds of other creative gifts and accessories made by the locals and expats living here. And there will be plenty of food booths in addition to those of the T.O.P. Chef challengers.  In fact, all the exhibit space is sold out for this popular event.
You'll have no trouble finding a location manned by Fire Department or DIF volunteers selling tickets in $1.00 USD amounts which you can exchange for food and drinks.  All other exhibitors accept cash for their wares.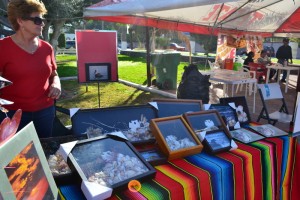 In addition to the raffle for a place at the T.O.P. Chef Judges table, there is a separate raffle for some fantastic prizes that will be given away throughout the day.  The tickets are $5.00 each or SIX for $20.00. These tickets are also on sale at ProAlliance Insurance, Latitude 31 Restaurant and Rocky Point 360.  Among the bigger prizes are vacation packages to many of the beach front luxury resort condominiums, tickets to the annual Roger Clyne and the Peacemakers Circus Mexicus Concert in June, Thunder on the Beach Race Car Driving Experience, and a Phoenix Suns Game Day VIP Package that includes 2 tickets, admission to the VIP Blue Moon Club for free food and drinks, autographed photo and basketball and a gift bag! You do not have to be present to win one of these great prizes.
Live music will be entertaining you throughout the day provided by several local artists including Prof. Jorge Ortega, Jesse Gerardo, Joaquín Fragoso, and a couple of dance performances by children's groups.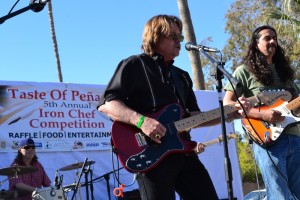 If you're like most folks and wondering how an event of this complexity gets put together and runs so efficiently, well, it's really quite simple—the answer, not the work and dedication involved. The answer is a committee of volunteers who perform with clockwork precision, have the synergy of a professional team and caring hearts the size of Puerto Peñasco. This committee of super human humans consists of Rosie Glover, Cindy Hall, Sami Keesecker, Gilberto Castillo Felix, Jonni Francis, Samuel Ortega (of DIF), Jesus Chagoyan ( City Cultural Activities), and Jerry Canez.
Of course we all know that a charity event is nothing without a number of generous sponsors and as a way to thank them, we take the time and space to let you know who they are so you can thank them when you see them:
–          SONORAN RESORTS
–          PUERTA PRIVADA
–          TECATE BEER
–          PHOENIX SUNS
–          HOTEL PENASCO DEL SOL
–          LAS PALOMAS
–          LATITUDE 31
–          PROALLIANCE INSURANCE
–          ROCKY POINT 360
–          CASTAWAYS/LONG REALTY
–          MAYAN PALACE
–          JOIN US
–          ROCKY POINT TIMES
–          CASTILLO'S PEMEX
–          ROGER CLYNE & THE PEACEMAKERS
–          THUNDER ON THE BEACH RACETRACK
–          PENASCO BEAUTY CENTER
–          ART BY JOYCE DODD
–          PACIFICA CHARTERS
–          LAGUNA SHORES
–          NUMEROS
–          OPTICA TURATI
–          DUKE'S SPORTS BAR
–          'WAKE UP TUCSON', CHRIS DeSIMONE & JOE HIGGINS TALK RADIO ON KVOI/TUCSON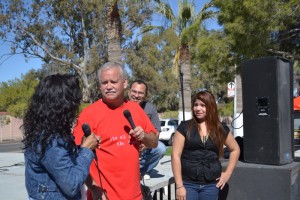 –          EXTRA-SPECIAL THANKS TO THE CITY ADMINISTRATION FOR HELPING US WITH SO MUCH THAT'S  INVOLVED IN PREPARING THE PARK FOR AN EVENT OF THIS MAGNITUDE.
And finally, we mention appreciatively two unsung but dearly loved local heroes, Russ Black and Gilberto Castillo, who will be the Emcees for the entire event!
Ya'll come on down to our little slice of paradise by the sea and enjoy some exquisite cuisine, unique arts and crafts, fun music, friendly people, and still have time to relax on your favorite beach!
Photos  by Joe Houchin
This blog is powered by www.sonoranresorts.mx, Jim Ringquist, Director of Sales and Marketing.
Related Posts
After a successful event was held in the air conditioned luxury of…

Early one morning, little Manuel Belén Perez followed his grandfather, taking three…

If you were one of the crowd estimated at 1,000 to 1,200…