Another positive indication that progress is buzzing in Puerto Peñasco comes from a recent meeting between the officials of our local convention and visitors' bureau and top executives of the Tucson Airport who revealed their plan to prove that a feasible market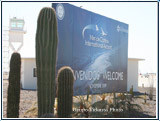 exists to support scheduled flights from major hubs such as Chicago to Tucson and from Tucson to Puerto Peñasco and other Sonoran destinations.
The Tucson group has developed an online survey they are asking members of the hospitality and communications industries to distribute to their contacts, members and readership requesting them to participate in the survey as the data collected will be used to support the final market feasibility study.
By participating in this survey opportunity, you can be a part of helping the future of Puerto Peñasco in its destiny to become a world class destination for the convention, tourism and cruise ship industries. As a fan and regular visitor to our little slice of paradise by the sea, you'll also be helping make your future visits more convenient, affordable and efficient.
Link to the survey here:  https://survey.vovici.com/se.ashx?s=0250EC9418CE5323
You are encouraged to forward this survey to your friends and family and ask for their participation as well.
With the help of as many people as possible participating in the survey, the Tucson Airport Directors are hoping to further substantiate that there is a market for flights from major hubs like Chicago to Tucson then Tucson to Puerto Peñasco.
Chicago O'Hare, one of the busiest airports in the world, has long been a major hub supplier of national and international visitors to Arizona and the target of millions of the state's tourism promotional dollars.  Add to this the fact that Mexico tourism, in spite of the economy and publicity obstacles, has grown 10% during the 2011-2012 fiscal seasons and it makes sense that with access, a major market like Chicago could become an important source of visitors to both Tucson and Puerto Peñasco.
Yes, your participation in this timely survey could provide the information that opens the window of opportunity to bring Rocky Point back to economic normalcy or better. In the mean time continue to drive down and have fun on the beaches of the Sea of Cortez!
This blog is powered by www.sonoranresorts.mx, Jim Ringquist, Director of Sales and Marketing.
Related Posts
This year marked the 11th annual January Jam that began as an…

It has been less than two years since Mayor Kiko Munro inaugurated…

Each and every year, as we mingle through the…