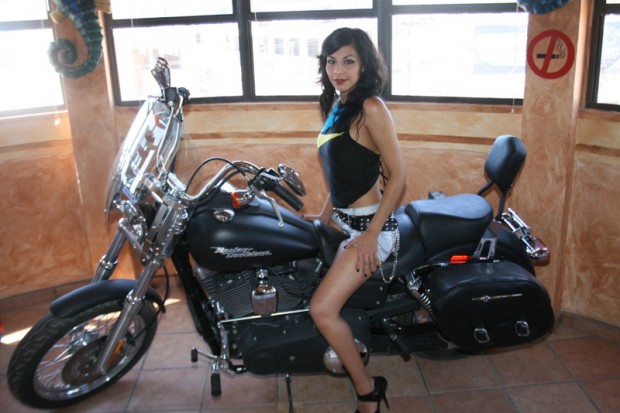 It's a 2006 "Street Bob" Dyna with a load of extras, one owner, with only 8,200 miles on it. "Whoa!" you say. "What's the catch here?" you ask. The catch is there's going to be 499 other people who want the bike also, and they are willing to put up their $25 for a chance to get this bike because there are only 499 other people who are going to have a chance at this beautiful Harley.
If you played the lottery at the same odds that exist for this bike, a lottery ticket would cost around a hundred grand!  The chance to own a Harley in pristine condition for $25 may never cross your path again!
If any of the above got your attention, then please read on for the rest of the story—and it only gets better!
Besides getting a chance to win this bike, and a chance to win a series of prizes in weekly drawings every Saturday up to the October 6th drawing for the Harley, your $25 is going to help two worthy causes here in Rocky Point.  One of those is the current owner of the Harley, a veteran who has given this bike TLC since he bought it brand new in 2006 and who now must sell it. Enter the Rocky Point Business Expo Organizing Committee who saw an opportunity to raise some badly needed funds for the Rocky Point Tourism and Visitor Assistance Office here. The office, headed by Rosie Glover since its inception,  has been a blessing to hundreds of visitors in need of a variety of assistance in numerous urgent situations.  You should just read some of the letters of sincere gratitude that have been written about this very effective office.
So, the committee set up a raffle scenario for the bike that gives tremendous odds at a more than fair price to win this Harley in perfect original owner condition.  Here's the kicker: in order to offer the raffle tickets for only $25 Dollars and cut the sales off at just 500, the committee must sell all 500 tickets before the drawing date of October 6th.
If they are unable to sell 500 raffle tickets, well, they will have to cancel the drawing and refund every one's money who did participate in this worthy cause.  The result will be that two deserving causes will go without help.  The committee and everyone already participating sincerely hope that you don't want that to happen as much as they don't want it to happen.
You can buy a raffle ticket locally, and see this beautiful bike up close inside the Latitude 31Restaurant and Bar in Rocky Point (again, the beautiful lady is not included and will likely not still be astride the bike when you go by to see it—we insist on "truth in advertising"…no matter how much it hurts :)!). You can also purchase tickets at the Tourism and Visitors Assistance Office (TVA) above the Tequila Factory, or from Jennifer Ridsdel at the Sonoran Resorts.
You can still buy a ticket via PayPal in time for tomorrow's weekly prize drawing! Just go to Rosie's website at rosie@proalliance.com.mx and follow the simple instructions.  By the way, all tickets drawn for the weekly prizes are put right back in the hopper for the Bike Raffle. The weekly drawing takes place each Saturday prior to Rosie's radio show, "Rocky Point Ramblings" on FM 106.1 or on the web at:  http://www.streaming-radiorama.com.mx/demo.php?idPlaza=98&lista=2&estacionId=XHPPO .
For more information about the raffle or purchasing tickets, please call Rosie Glover at any of these numbers, depending on where you happen to be:
From the U.S.: 602-773-1031 or 602-512-1601.
In Rocky Point: Office: 388-6624 or Cell: 638-386-9081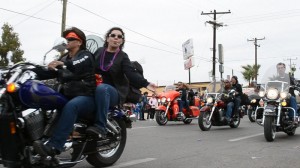 Please take part in making this worthwhile effort a success…and maybe you'll be mounted on this handsome Harley-Davidson "Street Bob" Dyna with your own beautiful lady pitching candy to the kids at the annual Bike Rally Parade this year!!
This blog is powered by www.sonoranresorts.mx , Jim Ringquist, Director of Sales and Marketing.
Related Posts
Sonoran Resorts 2nd Annual Food Drive  Coming down this week? Please don't…