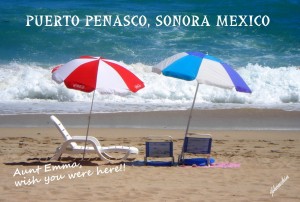 Are you thinking about an experience you've had in Rocky Point that would be fun to share and the only thing holding you back is that the closest you've come to writing about one of your vacations was on a postcard to Aunt Emma in Evansville? The biggest difference between writing a travel article and what you wrote on that postcard is that in a travel article you're not confined to that small space, you can use your computer instead of a pen and you can take the time to express the true essence of the experience you tried to convey to Aunt Emma in 20 words and a photo.
And what's the reward for taking the time to add a few hundred words describing your experience? Perhaps we'll see you on the beaches of the world—starting with Sandy Beach in front of the Sonoran Sky luxury condominium resort in beautiful Puerto Peñasco, Sonora, Mexico!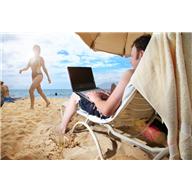 While the photo on Aunt Emma's postcard might have depicted the location where you experienced a memory that would last you a life time, if you'd only had space on that postcard for a few hundred more words, you could have passed that memory along that Aunt Emma would enjoy for a long time also.  This is what travel writing gives you the ability, space and time to do.
Trouble is, the act of sitting down in front of a blank screen, fingers poised upon the keyboard, or over a legal pad, pen in hand, with nothing but thoughts flashing through your head can be one of the most daunting few moments in your recent history. You're not alone. It has happened to many an experienced writer as well and has fostered dozens of books on the subject.
This might be happening to you as you try to begin writing your Rocky Point experience for submission to our Sonoran Resorts "Best Job in the World" Travel Writing Contest.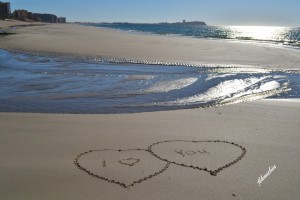 If you've got that fun memory of Rocky Point fixed in your head and you're just having a hard time getting the first sentence over with, here are a couple of tips that could help get your creative motor humming and have you on your way to possibly winning our contest and, even better, launching your career as a published travel writer.
First, remember the "Delete" key can be used at any time, even after you've finished your article. That means you can literally force that opening sentence (or any other) just to get your story started. Then you can revisit it after finishing the story. You'll know a lot more about what to do with it by then.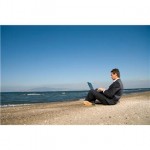 Second, start your story as if you are writing it to Aunt Emma (you know, someone close to you) instead of sending her a postcard. It's always easier to write to a specific audience. Make your audience as close to home as possible and you'll find the words flow easier and more conversational.  When you're finished go to www.whyiloverockypoint.com , review the rules and submit your work.
These are simple and effective tips. Try them!  Good Luck and Good Writing!
This blog is powered by www.sonoranresorts.mx , Jim Ringquist, Director of Sales and Marketing.
Related Posts
This year marked the 11th annual January Jam that began as an…

It has been less than two years since Mayor Kiko Munro inaugurated…

Each and every year, as we mingle through the…