Beneath a flush of silken blush you gently slide from the custom platform of a 28 foot Nordic Aventura inboard, rising,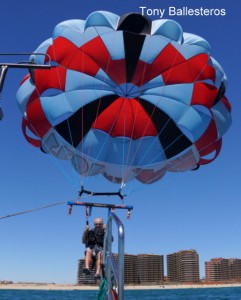 completely dry, as you separate from the boat leaving just you and a colossal parachute floating beyond where even the pelicans fly. Ernesto Jimenez, owner of Federico's
Parasailing (Ernesto named the business after his father)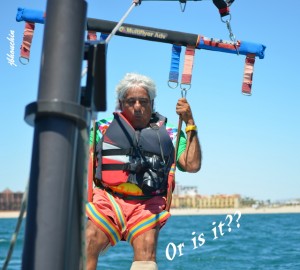 makes this dream come true for visitors and locals alike every day the sea cooperates.  Just you, the sky, swinging freely, securely harnessed to that gigantic red, white and blue half bubble attached to the ever diminishing speed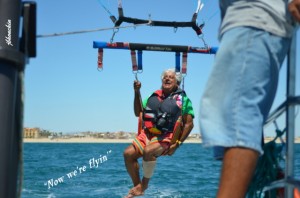 boat below by the world's longest umbilical cord, so long in fact that you wonder how it all fits underneath the deck of that now tiny vessel.
A pencil thin white wake is sketched across blue ripples of the Sea of Cortez as you follow the curve of that cord back up and up and up to your dangling feet. "Whoa, Nellie!" You screech like a teenager as you force yourself back to the realization that you're now about ten stories above the sea;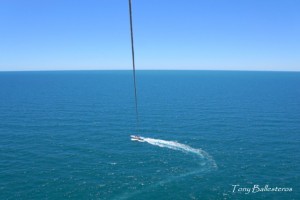 pelicans are indeed flying beneath you, and you need to manipulate your camera into position for recording this astounding view; this whole amazing adventure for posterity; for your blog, for your family and friends because this is an escapade—a thrill you could wish upon anyone with no fear of regret. 
The view of our little slice of paradise by the sea from way up yonder is almost infinite, a sensation surpassed only by the serenity that washes through your very soul, made so memorable by the silence and the colors above and below.  By the
way, you young lovers, you can soar up there together.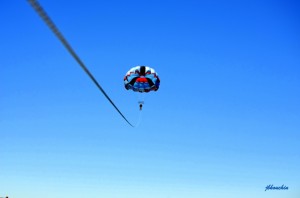 That's right! They just hook up a larger parachute to easily carry two—and you sit side by side. It just seems like floating in the sky and getting to share the experience could top the average current quality time lists of many deserving couples.
Parasailing side by side is the way to go because you save money. By yourself, it
will cost you $55. (All amounts in US dollars) Floating by the two's only $90 for both of you.  For even more fun with less money, Ernesto is fully equipped to take three people up at one time for just $130 for the whole trio. Don't worry if you're a big family, the Aventura will seat up to ten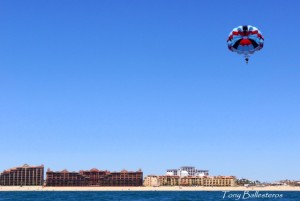 of you.
"Truly unique", preceded or finished off with "WoW", is a popular description when folks are reeled back down onto the boat's platform, some of us even landing on our feet, just as gently as we were eased off the speeding craft.  The second most popular expression right after landing at least in our two-man parasail wrecking crew is "Where's the tequila?" Of course, on that we can only speak for our two-man parasailing stunt crew.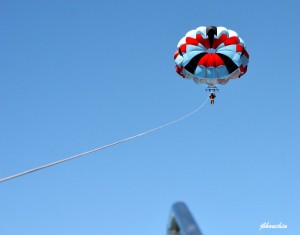 Federico's Parasailing Adventures depart from the pier next to the Pirate Ship. Just give Ernesto a call on his cell phone to reserve a time. His cell is: 638-104-4813. If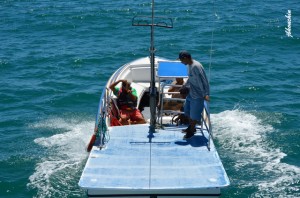 you want to set something up before you come down, just email Ernesto at fedeparasail@hotmail.com. And, if you're on Facebook, you can look him up at FedericosParasail. If you happen to be staying in the Sonoran Sea you can stop by the Dive Shop and Activity Center lobby and Daniel or Erika will book it for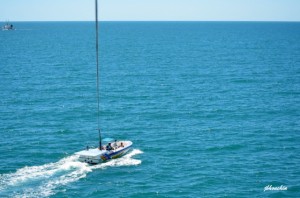 you, or dial them at Extension 2100.
The bottom line is parasailing provides a safe, marvelously quiet, serenely smooth, free-feeling float unlike anything you'll ever experience in the sky. Parasailing is bucket list qualified, and you can cross it off yours right here in Rocky Point the next time you visit.
This blog is powered by www.sonoranresorts.mx, Jim Ringquist, Director of Sales and Marketing.
Related Posts
This year marked the 11th annual January Jam that began as an…

It has been less than two years since Mayor Kiko Munro inaugurated…

Each and every year, as we mingle through the…