You may have read our blog last month about Adopt-a-Classroom's annual school supplies drive (if you didn't, you can read it

here: https://www.sonoranresorts.mx/?p=9604). As schools in Puerto Peñasco begin each August, so Barb Olszewski begins her annual drive for school supplies which she and husband, Mark dedicatedly deliver to nine schools in the area benefitting thousands students. They've been operating this 100% non-profit organization for nearly 15 years. Check out their web site at http://www.rockypointclassroom.com.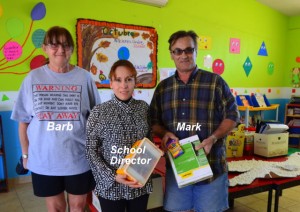 As often happens with trusted charities like Adopt-a-Classroom, there is a literal league of loyal donors who can be counted on every year to play a major part in helping the organization reach, or, in the case of Barb and Mark, exceed their goals. This year, one of their more consistent over-achievers has gathered more donations than they can carry down in their busy schedule. They are Harold and Kathy Tuttle, who themselves founded "La Esperanza para la Nueva Vida" Community Center for whom Barb and Mark have donated a lot of time and items and raised money to cover utilities and other needs of the center. Remember the Great Rubber Ducky Race in July? Read about it at https://www.sonoranresorts.mx/?p=9673.
If you're planning a trip to your favorite little slice of paradise by the sea anytime in the near future (over Labor Day for example), you could make Barb's day (…week…month…) and take some pressure off Harold and Kathy if you're able to stop by their place in Phoenix and take a few boxes of supplies—whatever will fit comfortably in your vehicle—to bring with you.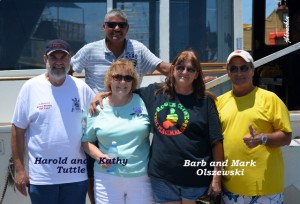 When you get settled in, you can give Barb a call or leave them at any of the Sonoran Resorts sales offices.  Barb or any number of volunteers will be happy to pick them up from wherever you're staying. And please don't forget to remember how good it makes you feel to help the kids of Rocky Point!
So, how simple will it be to get involved in such a great cause?—quite simple, really. Here's all the contact information you need:
Harold's Cell phone number is: 602 320 8056. Please call to let them know you would like to take some supplies to Barb in Rocky Point. You can also email Harold at htuttle53@gmail.com.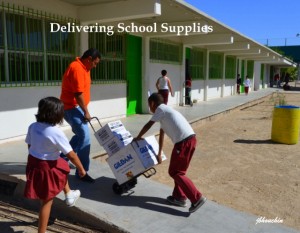 The address is 2915 E. Vista Drive, Phoenix, AZ 85032 
Hint: They are located East of Cave Creek just north of Squaw Peak (and south of Greenway).
This link will take you to the Google map of their neighborhood: http://goo.gl/maps/Tz9rv.
Or Harold will be happy to give you directions from where you live.
You can email Barb from Phoenix at rockypoint@myway.com, or call her Vonage number from Phoenix at 602 324 9529.  Call her locally in Rocky Point at 383 4963. 
Thank you in advance for donating your time and efforts to help Adopt-a-Classroom help the kids of Rocky Point!
This blog is powered by www.sonoranresorts.mx, Jim Ringquist, Director of Sales and Marketing.
Related Posts
Some of our favorite blog subjects are those that tell the stories…

If you are a golfer and are coming down for Circus Mexicus,…

Yep, it's time for the annual Adopt-a-Classroom boat trip to Bird Island,…