If you are a golfer and are coming down for Circus Mexicus, pack your clubs for a fun Saturday 2 person Scramble put on by the Bunker to Bunker Golf series. Since the organizers are friends with the RCPM folks, the tournament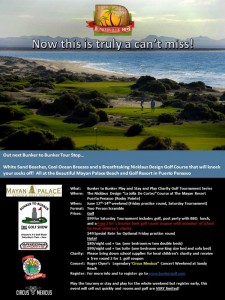 was scheduled for this coming Saturday morning to add some fan fun. It will be held at the Jack Nicklaus designed golf course at the Mayan Palace on Saturday, June 13th. Go to http://www.bunkergolf.com for all the details and information and to register.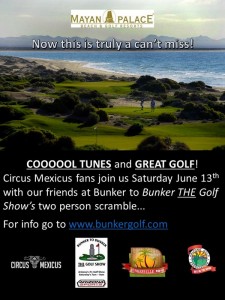 At the time of this blog writing, according to Bunker to Bunker Golf,  they are still accepting entries for the tournament, and they still have a limited number of rooms available.  What we  like most about this event is that they give a two for one golf certificate  to every golfer who brings down school supplies which will be donated to the local Adopt-a-Classroom Charity that helps 4,000 students in 10 schools locally.
According to Michael Henry, CEO, MBH Marketing, Bunker to Bunker Golf want to make sure as many Circus Mexicus fans and residents of Rocky Point know about this fun event while there is still room for a few more teams.
This blog is powered by www.sonoranresorts.mx, Jim Ringquist, Director of Sales and Marketing.
Related Posts
Some of our favorite blog subjects are those that tell the stories…

Yep, it's time for the annual Adopt-a-Classroom boat trip to Bird Island,…

Sometimes so much is going on in our little slice of paradise…