In an interview after their concert performance at the Tempe Center for the Arts Tuesday Night, Paul McDermand and Terry Anderson reiterated their love of Rocky Point, not just to this writer, but to the crowd of attendees who grouped around them after their show.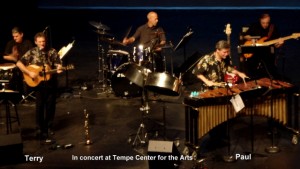 Paul had mentioned the beauty of the beach and the people while telling the story of the winds that had cancelled the St. Patrick's Day concert in Rocky Point over the past weekend.
Paul is the musician who plays the marimba and steel drums for just about every major act that comes to the Phoenix area, plus he has long held an annual concert of
his own for a huge following of dedicated fans that travel from as far away as Canada to watch him perform.
Terry is the highly versatile saxophonist who has toured the world with the famed R&B pianist Billy Preston, Sam Moore of Sam and Dave, and appeared on the original syndicated TV series, R&B Showcase.
Each year Paul invites a special guest musician to join him and his excellent band to perform their specialty.  When he met Terry Anderson at the very first Peñasco Palooza 2011 last October, and heard him singing a James Taylor song, he knew he had to have Terry appear with him at his annual concert. As if the deal wasn't already sealed, later during the sound check, with Terry on his sax and Paul on the steel drums, the two improvised some calypso/jazz. This was feat that could only be accomplished by master musicians, especially two who had not met until the day before!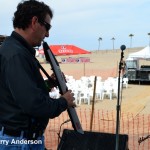 After playing to a full house and closing his annual concert to a standing ovation, Paul McDermand and his special guest, Terry Anderson, took time to express their lament over the inclement weather that caused the cancellation of the Peñasco Palooza 2012 this last St. Patrick's Day. However, both were quick to praise everything else about the destination, including their accommodations at the Sonoran Sea Resort Condominiums. Terry said his wife will never miss another trip to Rocky Point as long as they stay in the Sonoran Sea.
Both entertainers loved the food at Ramon's Restaurant in the Sonoran Sea as well.  Terry had a special expression for Ramon's now famous "brown salsa". That expression was "…H-H-H-O-T-T-T!!! But soooooooo Tasty" he couldn't stop eating it!.
We're trying to reach all these busy entertainers for their thoughts on the past weekend and about rescheduling the concert.  Stay tuned to our website for all updates.
This blog is brought to you by The Sonoran Resorts Sales Group, Jim Ringquist, Director of Sales.
Related Posts
Successes tallied by the well selected and trained group of mostly young…

There is a very special music event taking place next Tuesday evening…

But what a four day ride---and it just gets better each year!…