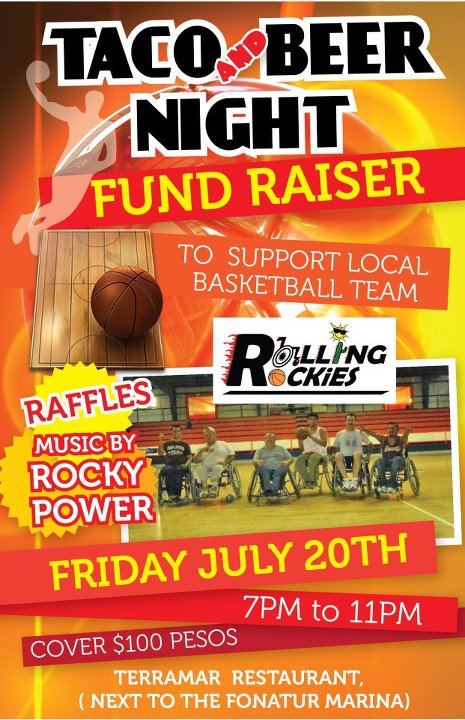 Tacos, Beer, DJ Music and Los Rolling Rockies wheelchair basketball team will all be happening at the Terramar Restaurant this Friday evening from 7:00PM to 11:00PM. The Terramar Restaurant is located right across from the Fonatur Marina and a block off Benito Juarez behind Las Palmas Artisans Market. (See photo)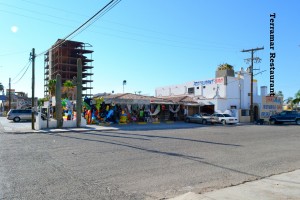 It's a fundraising celebration for Los Rolling Rockies team who just returned from a memorial tournament in Navojoa, Sonora which, by the way, was their first official competitive event.
Come on down and join the party where your $100 peso donation will get you free tacos and beer all evening and a chance to win a weekend at a beach front  condominium in Las Gaviotas on Hermosa Beach donated by Bill Cox. Plus there'll be dozens of other prizes donated by the Sonoran Resorts that will be given away throughout the night in drawings from raffle tickets sold separately to help support the team.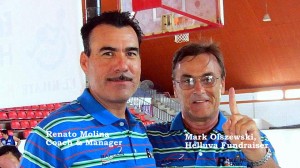 You'll hear all about the team's most excellent journey to Navojoa where they debuted their brand new bright green embroidered jerseys, scored the first point in the tournament and won their match against the team from Obregón. Quite a feat for never having competed as a team before!  The team is very grateful to Mark Olszewski for his fundraising efforts along with his wife, Barb, and they've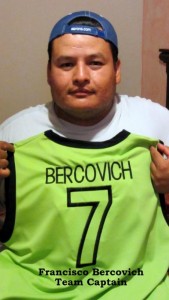 made him an Official Member of the team! We'd also like to thank Mark for all the great photos in this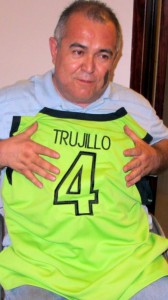 article.
How they were able to get to Navojoa is a story in itself that involved cash and in-kind donations from Mark and Barb Olszewski and their friends on Facebook as well as DIF who donated a van and 500 pesos; Barclin service station and Circle K on the highway out of town to Sonoyta who donated the embroidered jerseys and a full tank of gas; and Ramón Martínez, who donated a certificate that kept the traveling group in sodas and snacks for the entire round trip of 12 hours each way. Ramón's brother Martín is also donating the use of his restaurant, Terramar as the venue for Friday night's Tacos and Beer fiesta, among other generosities.
We hope you'll take some time to stop by the Terramar restaurant Friday night, fill up on tacos, have a few beers, meet Los Rolling Rockies team members and coach Renato Molina, enjoy good music by DJ Rocky Power (who is actually Luis Trujillo, a Rolling Rockies team member!), and possibly win a weekend at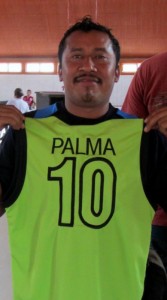 Las Gaviotas, all for just a $100 peso donation.
Whether you win the weekend grand prize or not, don't forget that you'll have a chance to win dozens of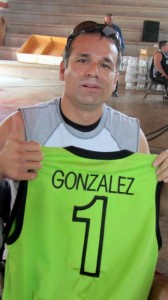 other great prizes from raffle tickets that will be sold and drawn throughout the evening.  The prizes were donated by the Sonoran Resorts Sales Group from their big Las Vegas Night for DIF Charity that took place two weeks ago.
There are plenty of win-win reasons to come out Friday night and support the new Los Rolling Rockies wheelchair basketball team.  You'll be supporting winners!
This blog is brought to you by the Sonoran Resorts Sales Group, Jim Ringquist, Director of Sales and Marketing.
Related Posts
This unique, fully equipped and supplied market is actually more than a…

Upon entering the Malecón, Calle Ulloa is the first side street along…

Fittingly labeled the "Retro Rocky Point Invitational Beach Volleyball Tournament", Luis Garrido…