Upon entering the Malecón, Calle Ulloa is the first side street along the main drag and when you look up that little street you can't
help but see Viva Mexico on the left with its upstairs balcony and colorful sign that invites you to enjoy an assortment of delicious tacos, which, according to many, are the best in all of Puerto Peñasco.
In fact, there's a collection of photos of frequent clientele covering an area of the wall upstairs that includes their very first customers who, by the way, still eat one or more meals there during each visit. Both Eliseo and María are super friendly, service-oriented people who seem to just not be able to do enough for their guests.
The décor and atmosphere is very traditional Mexican with tile floors of inlaid broken pieces throughout, serapes arranged with sombreros on the walls, painted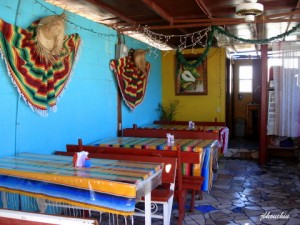 wrought iron railings along the stairs and across the balcony upstairs.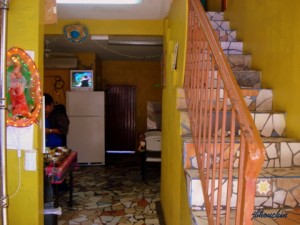 Eliseo Salinas and María Ramirez, his partner for 20 years, opened Viva Mexico at this location 11 years ago and together they have built a loyal following of locals and frequent Rocky Point visitors who stop by at least once during every visit to enjoy one or more of the items on their menu, which cover the gamut of foods that fit into a corn or flour tortilla, plus several types of Quesadillas and Burros with an assortment of fresh, handmade salsas, guacamole and Pico de Gallo, none of which are so Picante (spicy hot) that you would require the local Bomberos (Firemen) to salvage the remains of your palate. A cold beer should do the trick.
If you're the knife and fork or DIY sort, they also serve their deliciously prepared meats and fish in a "Platillo" style, a three-part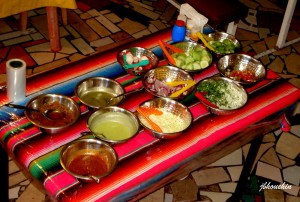 plate, with rice and beans included with either meat (qualify beef), Pork, Grilled chicken, Shrimp or Fish of the day. Of course, you can order any of these ingredients in the form of a taco, burro or quesadilla.
There's a cold refrigerator full of sodas and beer. They also have Clamato juice on hand that many like to put in beer. In Mexico that's called a "Michelada".
Viva Mexico is a true family operation that includes, besides Eliseo and María,
their four children: Hector Ignacio, 18 years old; Sandy, 12 years; Sara Hilda, 11; and Rodrigo, 6 years old. During busy periods after school you'll probably have a chance to see them in action helping to clean tables and even serving—that is, emphasizes María, if they've finished their homework.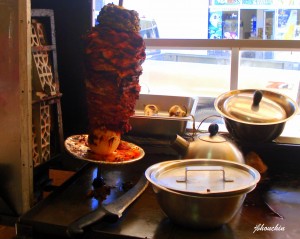 Viva Mexico also caters a lot of private parties and will send someone out to prepare the menu chosen right at the party, or they will prepare everything and deliver it to the party location for a buffet style service.  Just call Eliseo or María at 638-104-7252. María speaks some English and Eliseo is learning it "poco a poco".  You can also email them at: eliseosalinas@hotmail.com.
Next time you're down at the Malecon, if you haven't already, stop in Viva Mexico for a snack or meal and say hello to this great couple. The restaurant is closed on Wednesdays unless it is a holiday week, like Spring Break or Semana Santa (Easter week). Otherwise their hours are: Monday, Tuesday and Thursday—9:00 AM to 6:00 PM; Friday and Saturday—9:00 AM to 9:00 PM; and Sundays from 9:00 AM to 7:00 PM.
This blog is powered by www.sonoranresorts.com, Jim Ringquist, Director of Sales and Marketing.
Related Posts
This year marked the 11th annual January Jam that began as an…

It has been less than two years since Mayor Kiko Munro inaugurated…

Each and every year, as we mingle through the…