We're not talking about just the Churros and Elotes here. At Churros y Elotes Peñasco, a staple in our little slice of paradise by the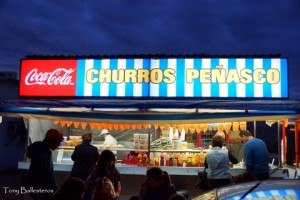 sea for the last 33 years, you'll find a variety of distinctively flavorful purely Mexican snacks so vast, fresh and appetizing they could replace your dinner if you're not careful.
Nor are we discussing the highest quality ingredients used to make all those snack items, or the impeccable cleanliness of the small, colorful stand on Calle Juan de la Barrera a half block from Rocky Imports between Calle Simon Morua and Blvd. Sonora.
No, we want to tell you about the love and labor, the years of toil and dedication it took to bring this little palate pleasing enterprise to become the first Churros y Elotes stand in Puerto Peñasco and the center of a huge and loyal following of locals and visitors alike.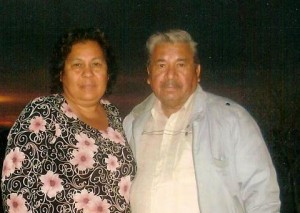 Lorenzo Torres de la Cruz was just 15 years old when he joined the travelling carnival to work for his Mother, a career "Carney" with several coin operated games.  Seven years and many kilometers, cities and small towns later Lorenzo took advantage of an opportunity to take over a Churro stand with the same carnival. As a creative young man, he worked hard to streamline the operation in order to serve more customers and cut the wait time during the busy hours. To him the logic was simple: The more people he served, the fresher his Churros would be, keeping his Churro stand in the Number 1 position on the carnival grounds.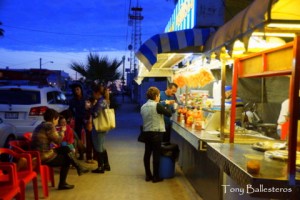 That philosophy worked great along with his penchant for maintaining a clean and sanitized work place that he was proud to display for the customers. He always had the most people at his stand because they saw how fast the service was and how clean the work places were.
The carnival he and his mother worked covered cities and towns throughout the country of Mexico. One of the longer stops was Hermosillo. On these stops Lorenzo liked to rent a small house for the duration of the carnival. When they hit Hermosillo in 1974, he met a beautiful young lady, María Amparo Flores Leal, who lived in the house behind his. Some say it was love at first sight, and you wouldn't get an argument from either of them.
They were married a year later and Amparo joined Lorenzo in the travelling carnival. They worked as Carneys together for six more years until the Carnival came to Puerto Peñasco for the annual Día del Marino Fair in 1981. It was here that Lorenzo ran across a cousin he hadn't seen for years. During one of their visits his cousin said, "You know, you should open a Churro stand here in this beautiful town with the mild weather, friendly people and the most beautiful sunsets. Oh, and one other reason is that there are no Churro businesses anywhere around here. You would be the only one." 
Amparo immediately saw the light and began convincing her loving husband to consider this opportunity. "We could work less hours. Let's give it just one year and we can always join a carnival again."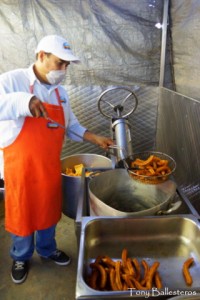 This was 1981 and 33 years later Churros y Elotes Peñasco is thriving as if there were still no competition. Lorenzo and Amparo brought their expertise and creativity to the new business, always looking for ways to improve quality and service. Lorenzo introduced several game changing innovations like replacing the standard factory made wooden chopping block style counters and preparation areas with sparkling stainless steel. He then replaced every pot, pan, fryer and all utensils with stainless steel to insure every area could be easily and thoroughly cleaned and sanitized. He and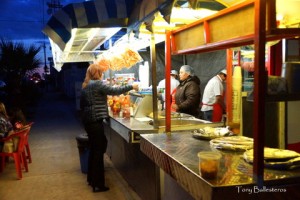 Amparo trained every employee in proper cleaning techniques and mandated they wear hair nets and filtering masks during their shifts.
When he realized that the demand for Churros was causing even longer lines than
at the carnival, Lorenzo designed (invented actually) a new stainless steel, industrial strength Churro maker that holds more dough, and instead of the traditional and slower lever used to press the dough through the template to be sliced off and dropped into the fryer, he designed a wheel that tripled the number of Churros that can be squeezed out and cut into the fryer. Result: Wait time is so short there is rarely a line for Churros, and the Churros are always freshly made.
As the business grew—because of the highest quality ingredients Lorenzo and Amparo always insisted on using to make everything on their menu, which, in the beginning consisted of only three items: Churros, Elotes and Fried Bananas.
Over the 33 years they've been serving the citizens of Puerto Peñasco, the menu has expanded considerably. Now is a good time to
describe some of the uniquely Mexican items on their menu for those who may not be familiar with the names or ingredients. The most popular of them are: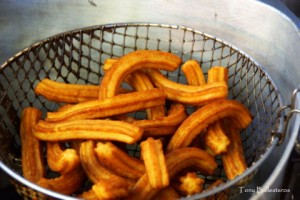 CHURROS-A long, roundish, ridged fried corn pastry pressed through a tube with a template that makes the ridges much like a pasta maker, cut off in lengths of about six inches, deep fried to an exacting standard (crisp on the outside and soft on the inside) then rolled in a tray of granulated sugar and served in little brown bags of six, eight or more. Churro making is a skill bordering on art because every step, including the basic corn mixture, length and frying time affect the quality and taste.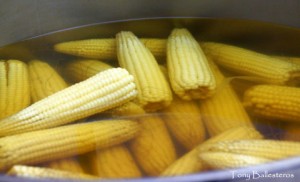 ELOTES-Corn of the Cob, served on a stick or separated from the cob and served in a cup. Both are smothered in butter and mayonnaise and covered in graded cheese over which you can add your choice of about 20 different sauces and spices. The quality of butter, mayonnaise and the way they are cooked separate delicious Elotes from just a mediocre snack.
DUROS-Those golden fluffy fried corn chips rather thick and about 2" square, or they also come in the shape of a wagon wheel. You'll see them hanging in clear plastic bags at stands around town during holidays and, of course, at the carnivals when they're in town.
FRIED BANANAS- Peeled and fried to an exacting standard and served with a thick mixture of evaporated milk and choice of flavored  jams, caramel or marmalades.
TAMALES-Churros y Elotes Peñasco also makes two kinds of tamales: a sweet tamale made with sugar, and "tamales salado" made with chili peppers and cheese.
CHAMPURRADO-A warm drink that looks like hot chocolate, but has a taste all its own because it is actually made of chocolate, corn and evaporated milk that makes it thicker than hot chocolate and the corn ingredient gives it a taste that is a pure Mexican experience.
It is important to note that Freshness and Quality Ingredients are crucial to the enjoyment of these unique snacks. The way to insure freshness is through sales volume. Being the busiest vendor of Churros and Elotes in town assures that everything is always fresh. As far as Quality Ingredients, that's easy says Amparo, just bite the bullet and buy the very best of everything.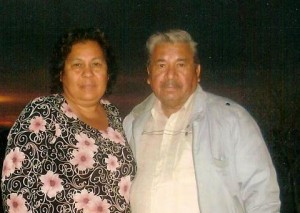 You'll find many other items on their menu that you won't find anywhere else but in Mexico, and never better than at Churros y Elotes Peñasco.
We are sad to report that Lorenzo Torres de la Cruz passed away this last December of 2013 after a long illness, leaving the family legacy to be carried on by  María Amparo Flores Leal, the love of his life, and their son Antonio, a master Churro maker for 13 years. Their daughter, Claudia and her husband, Manuel Belén are helping while Amparo, full of wisdom, strength and faith adapts to the heartrending loss of her loving husband.
Our sincere condolences go out to the entire family.
This blog is powered by www.sonoranresorts.mx, Jim Ringquist, Director of Sales and Marketing.
Related Posts