What a pleasant trip it is to get to know this guy named John C. Fowler III who, 31 years ago helped a friend throw a children's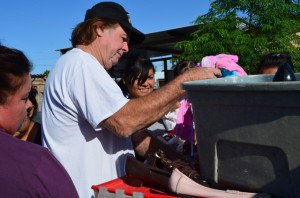 Christmas party at JJ's Cantina in Cholla Bay which he co-owns with partner Joe Anacleto.  His friend, Agustín León, had come to John with an idea to have a party for the local kids from Cholla Bay on Christmas Day.
John remembers, "I gave him some money to buy candy and cookies and he was to go around and tell the children to be there for the party. My job was to provide hot dogs, chips, soda and children's movies at JJ's."
"The first year there was 40 children in attendance and the rest is history", added John.
Since that first party of 40 local kids, the Santa Claus Club (SCC) has been providing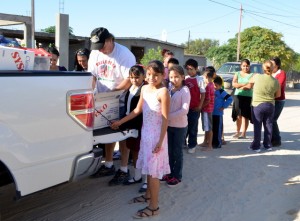 food and clothing, toys and bicycles, school supplies and household items to the needy families of Puerto Peñasco.  For the first 24 years, this was accomplished on Christmas Day at the annual party.
In 2007 the format was changed to a year around program. SCC now provides their community donation services right to the needy neighborhoods (barrios) on a weekly basis. "It…gives us a better understanding of the needs of the families we are trying to help", explains John.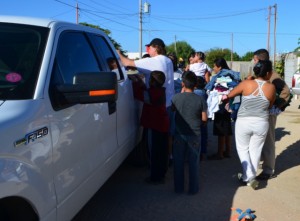 Did that work? John keeps a record and sends a simple but thorough summary of what was distributed each week, and keeps a running total as well. The stats from 2007 through the third quarter of 2013 show that 6117 food bags totaling 248,010 pounds; 2,791 bicycles, 32,059 toys, gifts and school supplies, and 99,645 pounds of clothes have been distributed to needy families by the Santa Claus Club.
Just through the third quarter of 2013 SCC has passed out 1066 bags of food amounting to 42,640 pounds of food, 337 bicycles, 4,427 children have received toys, and school supplies and families have received 32,420 pounds of clothes.
John adds, "Besides the items we keep totals on, we have passed out thousand[s] of pairs of shoes, blankets, towels and sheets. We have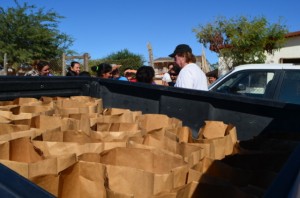 also made donations to the Casa Hogar (seniors home), Bomberos of Rocky Point, Red Cross, Santa Fe Clinic, Santa Maria Clinic, Clinic San Jose, Sandy Beach Clinic and the DIF Orphanage."
Obviously, the SCC works year around collecting items for delivery into the barrios and if you have anything to donate, it can be dropped off at the Baja Hotel and Cantina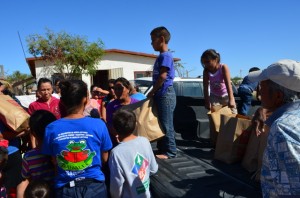 in Puerto Peñasco or at JJ's Cantina in Cholla Bay.
In addition to the weekly volunteer efforts that, by the way, are carried out mostly in John's big ol' truck and as many volunteers as he can muster, there are more than a handful of fundraisers that take place several times a year. Many have become annual institutions, like the semi-annual "One Club Golf Tournament" at JJ's Cantina; the Chili Cook-offs at Playa Bonita and JJ's Cantina; and the Baja Cantina sponsored "Over the Line Softball Tournament" held on Sandy Beach. There are garage sales and auctions during the year as well. All are a lot of fun, and everything goes 100% to the needy families and organizations of Puerto Peñasco.
Here's three good reasons to spend some time in Cholla Bay over Thanksgiving and help some needy folks at the same time: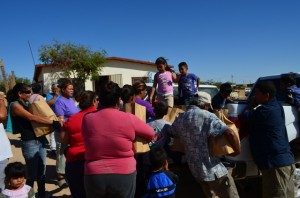 Thanksgiving weekend activities:
Garage Sale: Thursday Nov. 28 from 8:00 AM to 2:00 PM
AUCTION: Friday November 29 at 1:00PM (Due to the ASU/U of A football game.)
Garage Sale: Saturday Nov. 30 from 8:00 AM to 2:00 PM
All three events will be held at JJ's Cantina in Cholla Bay and any donations to either event can be dropped off at JJ's Cantina as well.
If you're an Over the Line Softball aficionado, mark these dates in your calendar as well:
March 29, 2014
June 7, 2014
Oct. 25, 2014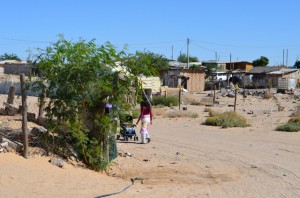 Contact John by email at santaclausclub@hotmail.com; visit the web site at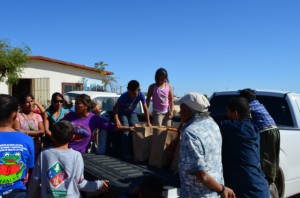 www.santaclausclub.org and find even more information on Facebook under John C. Fowler III. To learn more and inquire about being a part of the family of good folks trying to make a difference please call 602-840-1528. 
Just as JJ's Cantina has been an icon for tourism for three decades, so has the Santa Claus Club been a living legacy for the needy of our community over those three decades.
This blog is powered by www.sonoranresorts.mx, Jim Ringquist, Director of Sales and Marketing.
Related Posts
Saturday July 4th is the date to mark on your calendar for…

Like last year, casino chips (for charity) started flowing well before the…

That's right; this Saturday night May 25th is the big night to…