After a nine hour drive from Puerto Peñasco and a midnight arrival in Nogales, Los Rolling Rockies played in the first round of the Sonoran Wheelchair Basketball League Finals hosted by Nogales. They started at 9:00AM Saturday morning on October 19 in the main gym of the giant community sports complex in Nogales, Sonora.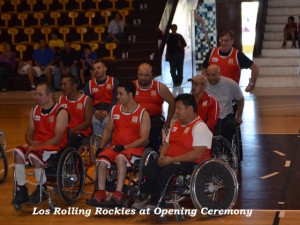 Five teams represented by the cities of Navojoa, Obregón, Hermosillo, Puerto Peñasco (the youngest team in the league), and the perennial champions, Nogales, who have been playing together for years and represent Sonora in national and international competitions.
Wheelchair basketball is a fantastic sport, played on a standard sized court with standard height baskets. There's no illegal dribble rule and players are allowed two pushes of their wheels before they must pass, dribble or shoot the ball. Because the wheelchair is counted as part of the body, to block a player you must stop their chair. This makes the game fast, furious and all about tactics, likened by many to a game of chess on wheels. Many times, because of the speed at which these wheelchairs can be pushed down the court, a block looks like and results in a move more like a tackle as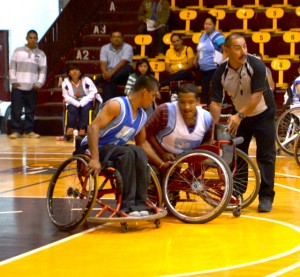 the colliding chairs often come completely off the floor and frequently tip over causing a brief halt in play as the player and chair are up-righted by any combination of assistance by a referee, teammate, opponent and the agile athlete himself.
To play in state, national and international competitions, players are classified based on their functional ability from 1.0 to 4.5 points; the higher the number, the higher the functional ability of the player.
Besides being a major sport of the Paralympics Games, played two weeks after the Olympics, wheelchair basketball is played by an estimated 100,000 people as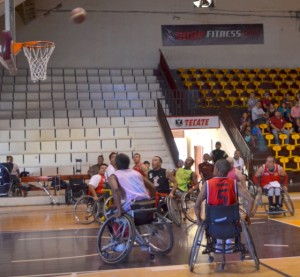 recreation, club and elite national team members in 82 National Organizations for Wheelchair Basketball throughout the world under the governance of the International Wheelchair Basketball Federation.
There is a Gold Cup organized two years after the Paralympics with major competitors coming from Canada, Australia, United States, Great Britain, Netherlands and Japan. Recently, Mexico has figured into the competition as well.
The sport of wheelchair basketball began in 1946, organized by a group of disabled World War II veterans and has grown ever since to its current status where it's played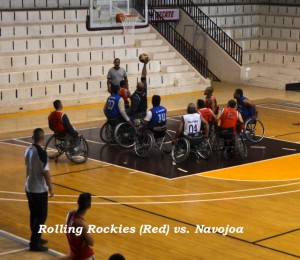 in nearly 100 countries.
It's truly an exciting sport to watch as you can witness for yourself right here in Puerto Peñasco when the season begins next April.  The first competition is supposed to open in our little slice of paradise by the sea. Details will be forthcoming, as well as more information about the sport.
With that little background on the sport, let's rejoin Los Rolling Rockies in Nogales on Saturday morning of October the 19th as they opened the first round of the finals against the more experienced team from Navojoa (well, all the teams are more experienced than Los Rolling Rockies since this is their first season).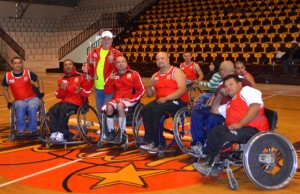 The team members who could make the trip to Nogales included:  Florencio Gonzalez (player/coach); Ulises Palmas; Eli Samuel Murua Alvarez; Javier (Crazy Legs) Sandoval; Ramon Alejandro Lamadrid: Jesus Vasquez Sanchez; Francisco Bercovich (co-founder) and Mark Olszewski (Advisor/Fundraiser). Other team members not pictured and who could not make the trip: Luis Trujillo Aguayo and Manuel Bustillos.
Sharp passing and shooting got the Rockies to a 10 point victory over Navojoa in the morning. After a sizeable Nogales victory over Hermosillo in the next game, the Rockies took on the team from Obregón that has become their rival of sorts, if you can establish a rivalry within the one season in which the Rolling Rockies have been competing.  Obregón won that game by a narrow six points.
The fourth and final game on Saturday was a Nogales victory over Navojoa.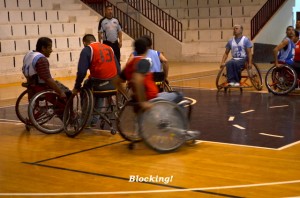 Sunday began with Nogales victorious over Obregón; Rolling Rockies defeating Hermosillo; Navojoa then defeated Obregón which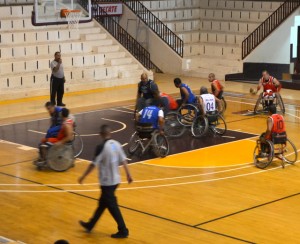 brought the final match to determine the Champions and 2nd Place team. That was an exciting "roller derby" fast and furious basket-to-basket show of fierce competitiveness—as well as sportsmanship—between Nogales and Los Rolling Rockies. Even though the Rolling Rockies have beaten Nogales once this season, it was not to be on this occasion, leaving our beloved team of dedicated athletes taking the still coveted 2nd Place Trophy—a phenomenon in its own right, since Los Rolling Rockies are the youngest team in the Sonoran State League!
The Sonoran Resorts is a proud sponsor of Los Rolling Rockies.
This blog is powered by www.sonoranresorts.mx, Jim Ringquist, Director of Sales. 
Related Posts