It's just amazing what miracles the women of Puerto Peñasco can produce when they're on a mission, and how many come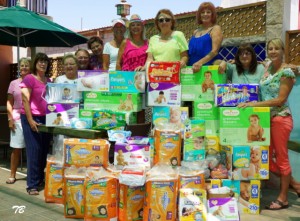 together to help.  To get them into the miracle-creating mode just mention the needs of children.
As in the case of this Tea Party diaper caper, Kathleen Duncan mentioned to Kory Bonini about Infantil de Amores shelter needing diapers and how sweet it would be if they could figure out a way to collect enough diapers to last for the entire summer to…umm…take a load off the shelter.
Kory and Sandy Spain agreed they should come up with a way to help. Sandy suggested a "Tea Party" would be easiest and quickest to set up and sent an email to all the ladies of her Mariposas Club, the ladies who meet for Bunco the last Thursday of the month at Giuseppi's, and "The Connection" ladies who meet for happy hour at the Light House every Thursday afternoon.  As Sandy puts it, "Like so many of our efforts to help fill the needs in Penasco, it just snowballs and so many people come forward to help when they hear about the need."
"It's a Tea Party at Giuseppi's on June 25th" Sandy's email said, "and bring a package of diapers, the kids need them." 
The word spread like a tsunami, reaching the loyal readers of Mark Olszewski's Facebook page, the widely read Sonoran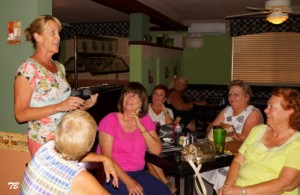 Resorts Blog and the Rocky Point 360 newsletter. Barb Olszewski volunteered to collect diaper donations from those who couldn't make the Tea Party. The ladies march was on.
"It's all about the children," is their battle cry.
When Sandy revealed that men were also invited to attend—with diapers in hand— a rare invitation for these ladies events, we knew it was going to be a big one. That's how we found ourselves in the diaper aisle of Super Ley running late for the Tea Party, of course, two senior expats valiantly displaying our ignorance of the personal hygiene fashions for babies, turning heads of laborers and mothers alike.  Ultimately, we found ourselves in the checkout line clutching the "latest in baby comfort" being stared down by a little old lady placing her own preference of packaged absorbency on the counter. "Uh, Tony, check the absorbency of these things, did we miss something here?"
"Dollars or pesos, please?" sings a petit cashier…the little old lady was gone and we still had neither idea nor time to learn about absorbency.     .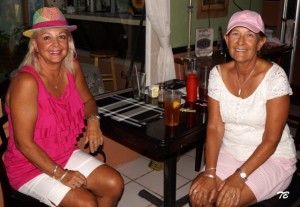 On arriving at Giuseppi's, the "tsunami" had built to a crescendo forming stacks and stacks of diapers and baby wipes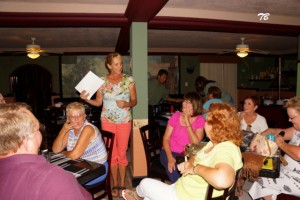 occupying a sizable portion of the patio. We quickly felt better about our choices seeing the myriad selection of products sure to please even the most fastidious infants.  We snapped a couple of set up pics and went inside to invite the 11 hard-working early birds outside for a group victory photo.
About 30 ladies and a hand full of guys gathered inside Giuseppi's over the two hour Tea Party, adding to the diaper booty on the patio. Kathleen showed up even after her whirlwind four day birthday celebration over the previous weekend (as covered in our last blog at: https://www.sonoranresorts.mx/?p=9434). She profusely thanked this hard working group for the amazing success of their efforts. She shared some stories about the history, children and staff of Infantil de Amores shelter, her impressions after working closely with them since last year and talked about some of the plans for it in the future.
The final count on the diaper and wipes drive was a mind boggling 5,896 diapers and 5,488 wipes—enough for the summer and then some! The ladies of Rocky Point are an inspired and inspiring group of caring individuals who get the job done time after time, especially when it's all about the kids in our little slice of paradise by the sea.
This blog is powered by www.sonoranresorts.mx, Jim Ringquist, Director of Sales and Marketing.
Related Posts
This year marked the 11th annual January Jam that began as an…

Since the very first Sonoran Resorts Las Vegas Night for Charity in…

Each and every year, as we mingle through the…