"Tia Kati" (Spanish for Aunt Kathy) aka Kathleen Duncan of Arizona's Duncan Family Farms has rapidly become a near legend with the kids (and staff) at DIF's Infantil de Amores shelter in Puerto Peñasco. And it's mainly due to the way she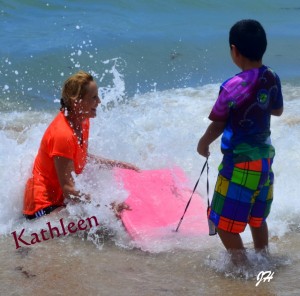 communicates with them—through love, compassion and consistency. Her philosophy is that these kids have been abandoned enough, not to mention the abuse and/or neglect that goes along with dysfunctional familial behavior that leaves children as young as 2 years of age walking the streets in the middle of the night, alone and afraid; some so heavily laden with lice that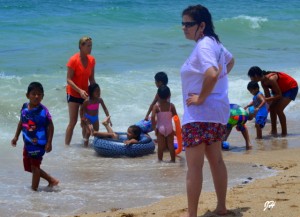 upon delivery to Infantil de Amores shelter, in many cases it's necessary to shave their heads  to expedite extermination of these creepy germ carriers before they spread to the other children.
Kathleen has proven that creating consistency for these kids in as many parts of their little lives as possible can produce dramatic results in a very short time.  She has taught them to read a calendar and points to the date of her next visit, which is at least once a week, then makes sure she shows up on that date or sooner.  She's only been doing this since last September and relates that, while she knew she would fall in love with the kids, she soon found herself in love and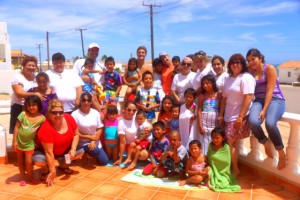 awe with the entire staff of the shelter as well as the community.  Dedication  of the staff to the children has created an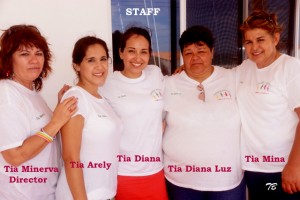 environment of unconditional love, so much so that the children affectionately refer to every care giver at the shelter as a "Tia", or aunt.
Kathleen makes the weekly drive from their 2,500 acre family farm in Buckeye, Arizona and participates in as much of the kids lives as possible. The June 21st weekend we were invited to a beach party for the entire shelter at the Duncan's Las Conchas home was also Kathleen's birthday, which, if you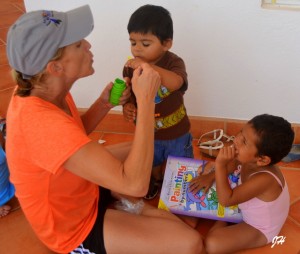 know her, she predictably chose to celebrate with the kids as well as her husband, Arnott and son, Sean. One look at these photos are worth the proverbial 1000 words as they tell the story in full color of admiration and joy on the faces of the kids, and the pure compassion for humanity that flows through the expressions of this well known farming family.
In fact, if you drive to Rocky Point via I-10 from the Valley of the Sun, you've surely exchanged wows with the other passengers in your car as you drive by that giant mural of the baby in overalls playing with a tractor in the middle of a crop field next to the highway. That southwest icon was commissioned by the Duncans 25 years ago as a fun gift to travelers on I-10!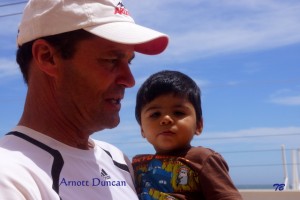 The beach party for the kids at Las Conchas wasn't the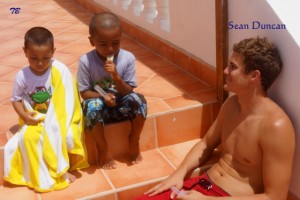 only event that took place on the weekend of Kathleen's birthday. The family also attended a kindergarten graduation and the massive 6th grade graduation for all of Rocky Point students at the Malecon, an over the top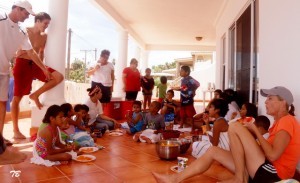 memorable experience for all the family. In her own words, Kathleen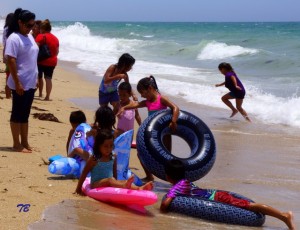 describes one memorable moment as, "Tita grabbing my hand after her kindergarten graduation ceremony, leading me to her classroom and introducing me to her teacher as her 'Tia Katy'", and another as, "Seeing that, between Sean, Arnott and I and the wonderful women from the shelter who attended the ceremony Thursday night, our three 6th graders had just as many 'family members' there to support them as the other kids".
What a community, Puerto Peñasco, and lucky to have folks like the Duncans and so many more who visit and live here. In fact it was our own residents and constant doers of good deeds, Mark and Barb Olszewski, who spent an entire day with Kathleen in September of last year giving her a full orientation of all the  worthwhile charities in town, from which she chose to volunteer her time and donate to Infantil de Amores. And so happy she is that it happened this way.
This blog is powered by www.sonoranresorts.mx, Jim Ringquist, Director of Sales and Marketing.
Related Posts
This year marked the 11th annual January Jam that began as an…

It has been less than two years since Mayor Kiko Munro inaugurated…

Each and every year, as we mingle through the…