If you are a frequent visitor or resident of Puerto Peñasco and haven't eaten at Tacos Brissa yet, the next time you find yourself at Melchor Ocampo and Sinaloa (down the street from Aká Sí on the corner across from the Oxxo), stop in and try one of Gama Tavarez'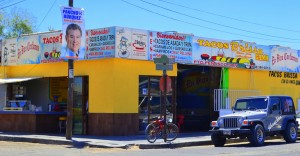 menu items for lunch or dinner.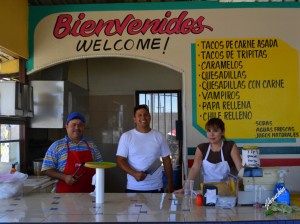 Besides Gama's smiling face, you get his cousin Hector, the friendly (thank goodness because he's the) meat cleaver wielding cook for this family owned and operated eatery—even though Gama commandeered the cleaver for this photo giant water slide! And, not least, you get the quiet effervescence of Nayeli Felix to serve you.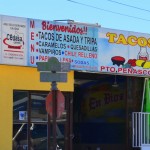 You first read about Gama and the brothers Tavarez, in our blog at https://www.sonoranresorts.mx/?p=4334. As a family of entrepreneurs, Gama and his brothers also own the banana boat and Jet Ski concessions for most of Sandy Beach. Gama opened the Tacos Brissa con su amigo Gama (with your friend, Gama) 10 years ago selling his tacos from one of those hot dog style carts in front of his family home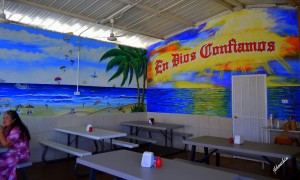 there on the corner where his greatly expanded restaurant sits today.
Gama is quite proud that his service and good food over the years has allowed him to expand into an indoor restaurant with a steady repeat clientele.  He even has a large mural on one wall that depicts all the activities available in Rocky Point and he placed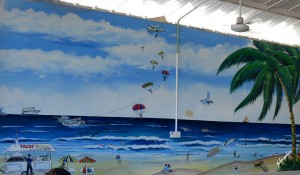 a drawing of his first taco stand in the mural.  He explains that he wanted the mural to be more about tourism and the beach activities to help promote. Rocky Point, but also wanted to show his beginnings, so, just for the mural, he had his taco stand painted on the beach.
Gama's office is still in the family home next door even though his parents are gone now and he has married and moved out as have his brothers.  He has two children and is very much a young family man at 32 years of age.
Next time you're in town, down town, stop for a bite at Tacos Brissa con su amigo, Gama, and test drive a menu item. They're open  7:30AM until 11;30PM Tuesday through Sunday.  Odds are good you'll be back!
This blog is brought to you by the Sonoran Resorts Sales Group, Jim Ringquist, Director of Sales.
Related Posts
This year marked the 11th annual January Jam that began as an…

It has been less than two years since Mayor Kiko Munro inaugurated…

Each and every year, as we mingle through the…