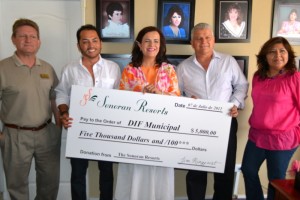 In an informal, but well-attended ceremony on Friday July 13, 2012, Fernando Anaya, Director General of Sonoran Resorts and Jim Ringquist, Director of Sales and Marketing and Event Coordinator, presented a check for $5,000 to the very grateful President of DIF (the city's 36 year old municipal family assistance program), Marcela Albelaiz de Zepeda, accompanied by her husband, Puerto Peñasco Mayor Alejandro Zepeda Munro and Imelda Zamudio Sanchez, Director of DIF.  The check represented the funds raised from ticket sales to the very successful Las Vegas Night for Charity sponsored by the Sonoran Resorts and the City of Puerto Peñasco that was held in the Sonoran Sky Resort Condominium Restaurant on Saturday July 7th, 2012
Other DIF and city leaders as well as several members of the press were present to hear the comments by Mrs. Albelaiz de Zepeda and Mayor Zepeda Munro.  The First Lady expressed her gratitude on behalf of DIF and recognized the hard work and dedication required of the Sonoran Resorts staff and volunteers in order to make an event of this size such a success. She also said the donation was one of the largest that DIF has received.
The Mayor wanted to emphasize for the record that the donation of $5,000 came from ticket sales to the event and not from gambling
proceeds since no cash passed hands as a result of gambling. The Mayor also expressed his gratitude to the American community in Puerto Peñasco stating that he was very much aware and appreciative that the majority of those in attendance at the Sonoran Resorts Las Vegas Night for Charity were Americans, both residents and visitors.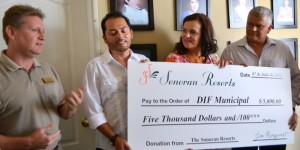 Fernando Anaya, Director General of the Sonoran Resorts expressed that, even though this year's Las Vega Night was a success, next year will be even better because everyone had such a great time and they had learned so much from this, the first one. He also mentioned that as a result of comments from attendees there may be discussions of holding two Las Vegas Nights per year in the Fall and early Spring.
DIF has been a vital assistance program for the city since 1976 when the state of Sonora, Mexico instituted a major social assistance and family development program designed to effectively address individual requests for support through community services segmented by municipality. This format not only gave the city control but also responsibility for the program while under an umbrella of support from the state.
Since the economic downturn began a few years ago, DIF has had to meet increased challenges of the growing number of families in need.  This has been done with success in no small part by the passion, creativity and organizational skills of Mrs. Albelaiz de Zepeda and, she will quickly emphasize, the continued support of individuals, companies and organizations who have contributed time, goods and money to keep thousands of needy families in survival mode throughout the worldwide economic crisis.
Mrs. Albelaiz de Zepeda told the group that Sonoran Resorts donation would be used to support several of the 10 assistance programs sponsored by DIF.  Those ten areas include providing:
Boxes of food and milk; over 1.200 of them each and every month to families who wouldn't have healthy food for their children otherwise.
Daily food delivery to the elderly in need, much like our "meals on wheels" system.
Medical services by a full time doctor and medicines donated through the community.
For medical care in other cities, DIF will provide bus tickets or arrange other transportation to appointments outside Puerto Peñasco.
DIF even provides all or part of the funeral costs for families in need.
DIF provides professional physical rehabilitation and therapy sessions for patients requiring such services.
DIF provides 3,500 breakfasts every day to the students of 21 kinder garden and elementary schools in Puerto Peñasco.
During community days held several times per month in four centers throughout the municipality, DIF provides haircuts, craft classes, speakers who involve families in motivational programs and professionals who provide medical consultation.
Also, on call are professional legal and psychological consultants.
And, perhaps the most profound program of DIF is the children's shelter home that that opened in August of 2011 and presently cares for 26 children ranging in age from infancy to 11 years who are safe guarded from such traumatic circumstances as abuse, abandonment, neglect and molestation by dysfunctional family situations.
Just in case you were wondering why the Sonoran Resorts Group has made such a commitment to Las Vegas Night for Charity, we hope this cleared it up for you. We also hope you will look for the announcement for our next Las Vegas Night event and join the fun!
This blog is brought to you by the Sonoran Resorts Sales Group, Jim Ringquist, Director of Sales and Marketing.
Related Posts
This year marked the 11th annual January Jam that began as an…

It has been less than two years since Mayor Kiko Munro inaugurated…

Each and every year, as we mingle through the…