You gotta check these performances out! Mark your calendars right now because the tickets for these shows will be gone
Roger Clyne and his long time drummer and friend PH Naffah are returning to Wrecked at the Reef on Sandy Beach in Rocky Point for a very special acoustic duo concert October 13th. Plus, the're bringing a hot new band from Tempe with them.  Read all about this rare musical weekend in the press release we received directly from Roger's team: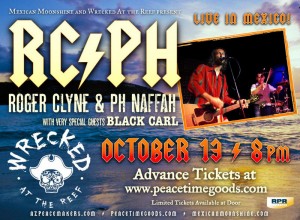 For Immediate Release
August 28, 2012
Tempe, AZ
Roger Clyne and PH Naffah, founding members of The Refreshments and currently half of nationally touring Roger Clyne & The Peacemakers (RCPM) will play a rare acoustic duo concert Saturday night October 13, 2012 inside Wrecked At the Reef in Puerto Penasco, Sonora.  Neither Clyne nor Naffah are strangers to Puerto Penasco, both have played 26 concerts with RCPM in their favorite seaside fishing village since 2000.  They will play songs from their extensive catalog with The Refreshments, RCPM and likely a cover song or two by their favorite bands.
Both are very accomplished as an acoustic duo act.  Following the breakup of the Refreshments in 1998, Clyne and Naffah played dozens of shows throughout Arizona and eventually penned the first several songs which would launch RCPM in late 1998.  They've kept their aggressive duo act active throughout the last several years playing in front of intimate crowds of 100 to those in excess of 5000.  In 2012, they've played several successful dates throughout the Midwest and will have completed a 5 date tour throughout California just prior to their October 13th date in Penasco. 
In early 2012, the night prior to RCPM's annual January Jam at JJ's Cantina, Roger Clyne played a solo, acoustic show to a sold out audience inside Wrecked.  According to those in attendance, there was no lack of energy or commitment from Clyne, known for leading RCPM through 4 hour performances during the band's annual June Circus Mexicus festival also held in Penasco.
Joining Clyne and Naffah will be Black Carl, an up and coming 5 piece band also from Tempe who is riding the wave of quick success in the Arizona music scene.  Lead singer Emma Pew has drawn comparisons to Adele and Grace Potter, is backed by an accomplished band producing their "desert funk" sound.  In early 2012, Paste Magazine tagged them #2 out of the top 10 Arizona bands to watch.
JJ's Cantina will present Black Carl on Friday night October 12th .  They will be performing a full band set under the stars on the outdoor stage on JJ's patio. Get a sneak peak to the band many are calling Tempe's next big thing.  Jason Boots will open the show. Known by many as RCPM's "mobile mariachi", he's an accomplished singer/songwriter who has opened for Roger Clyne & The Peacemakers.
Fans are encouraged to book beachfront condo reservations at www.rprmexico.com and purchase Mexican auto insurance from www.ammexinsurance.com .
Weekend details:
Friday October 12th                                                                 Saturday October 13th
Black Carl with Jason Boots                                                       Roger Clyne/PH Naffah with Black Carl
JJ's Cantina                                                                                       Wrecked At the Reef
Doors at 6pm/Show at 8pm                                                      8pm
$5 Cover at the door                                                                  $25 Advance tickets on sale Friday 8/31 at
Beer and Mexican Moonshine Specials                               www.peacetimegoods.com and at Wrecked At  The Reef
For more information:
www.azpeacemakers.com                                                         www.peacetimegoods.com
www.blackcarl.com                                                                    www.mexicanmoonshine.com
http://www.pastemagazine.com/blogs/lists/2012/03/10-phoenix-bands-you-should-listen-to-now.html
This blog is powered by www.sonoranresorts.mx , Jim Ringquist, Director of Sales and Marketing
Related Posts
This year marked the 11th annual January Jam that began as an…

It has been less than two years since Mayor Kiko Munro inaugurated…

Each and every year, as we mingle through the…