There were so many great parties going on in Puerto Peñasco on New Year's Eve that we thought, what a great night to go party crashing. The "we" includes my comrade and in crime, Mark Olszewski, who took every photo in this story, swings a mean camera and catches the most unsuspecting innocents in some great poses, plus Mark can make a mummy laugh so we make a great pair. I'm the laughing mummy, of course.
Just fo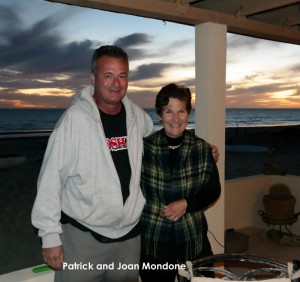 r the heck of it we even had somewhat of a plan for the evening, which we followed all the way through to the first stop and then the ad-libbing started. Our first stop was to crash a parade-or at least check it out. We had heard about a cool little light parade out at Playa Encanto that has been going on for five or six years where the residents get together on New Year's Eve and decorate their Jeeps and quads, dune buggies, even their tractors in brightly colored lights inflatable Santa Clauses, elves, and other Christmas characters.
Mark went Facebook with our plans and got an invitation from Patrick and Joan Mondone who were in town to come out to their house where the parade passes right in front. The beach was cold. How cold was it? If Patrick hadn't had a nice beach fire going, we'd have had to thaw out before leaving for the Malecon. The moon was in its last quarter, so when the sun went down it took everything with it except the stark darkness, so imperviously black that I was seeing things. Wait. That could have been the Jack Daniels causing the uncharted visuals.
Then, from out of the blackness comes this long string of artfully placed lights. It was a longer string than any first timers would reckon to
see, anyway, and moving just as slowly. The one that was patterned after a jeep, was a jeep that you could not see until it was a few feet away. Then there were quads, golf carts and what? A front load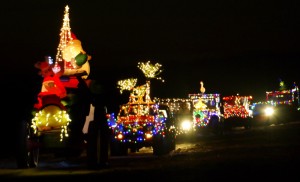 er? That's what we all thought when we saw the outline of lights, but didn't believe. IMHO, the John Deere engine sound is as unique as the Harley engine sound. Nothing alike but both unique. Or is that another Jack Daniels visual with sound?
Seems about seven years ago, a few of the Encanto Beach people thought a beach parade might be cool. Terry Creech sent out a newsletter and the rest is…well, you know. The only requirement is that the vehicle be beach worthy and decorated with lights. They've added a few rules since the good ol' days, like, remember you are driving at 1.5-2.0 MPH, so please maintain a safe distance; driver of the lead vehicle must know where he is going besides up the beach and, most important, there must be a party after every parade. (I made the first two up…) Terry supplied us with this fact: "Depending on when New Year's falls tells us how many entries there will be…" What? OK, granted, this breaking news came in via email and arrived at what was estimated to be about two hours into the post parade party. "We have had as many as 15 and as few as 5," said Terry. This year there were somewhere in between those figures. It was dark. And met the quota for New Year's falling on the 31st this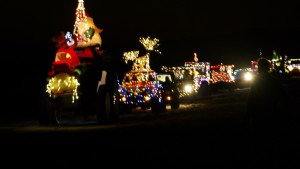 year.
If you want to light up your beach toy and join in next New Year's parade, just email Terry Creech  at terryatcm@aol.com . We made o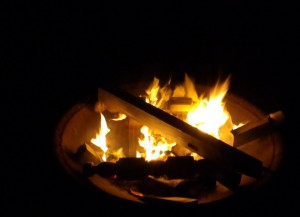 ne last use of Patrick's fire to ignite our hands in order to stay warm until Marks truck mellowed out on our way to the Malecon. It worked, and after a short logistics meeting we agreed to start at the far end, a breakthrough in logic for us, by the way.
Anyway, we find ourselves entering the front door of "The Satisfied Frog" and into the bright colors of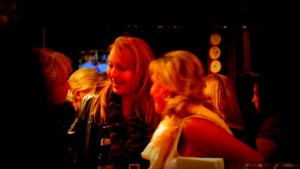 Christmas and New Year's lights and decorations of a practically full restaurant, but not so full that our entry went unnoticed by the open arms of a smiling Kris Nichols whose glistening eyes will shut down the auto-flash setting on most smartphones. Towering behind Kris was husband Rick with his captivating smile that just makes you feel at home, and a crispy, welcoming hand shake that, afterward, makes a guy glad he still has his ring finger.
We were cozy warm in a party atmosphere that wasn't gonna wait to happen! Within minutes we knew the bartender, the bar back, people halfway around the U-shaped bar…and then…and then! The brightliest dressed big ol' cowboy and cutest little cowgirl you ever did see commenced t' singin' and dancin' around that entire restaurant with them microphones that don't plug in nowhere.  This country western
show was none other than Entertainment All-Starz' Flyin' Brian & Baby Jane Bonds, they're a cowboy couple that put on a two-steppin', foot-stompin' rendition of literally hundreds of songs of about any genre, and when they sing a duet, you live it because they play their parts perfectly. Baby Jane really gives her all in those songs where the cowgirl is supposed to be mad at the cowboy. It is so obvious that they love what they do, and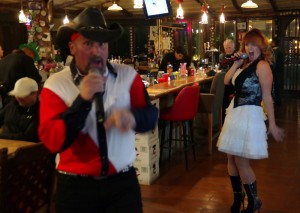 that they are performing in the perfect venue. They fit the decor and appeal to all ages. Flyin' Brian and Baby Jane had the Frog hoppin', and they bring that energy every week-end to entertain diners and revelers alike at Crazy Ed's Satisfied Frog.  Call them at 383-1743 or email Kris at KrisNichols@gmail.com for more information about this great addition to the Macedon and Puerto Peñasco.
We could have stayed right there all night, but, alas, the party crashers' job is never done. So we tipped Lety, our new favorite bartender and off we went to the Tekila Bar. And it was rockin' downstairs and upstairs to be beats of Los Pancos who drive in from Hermosillo most every weekend to play at Tekila Bar. This band is good. They play with confidence because they are good musicians and love the multi-genre play list they offer that is good for listening, dancing, getting in the groove.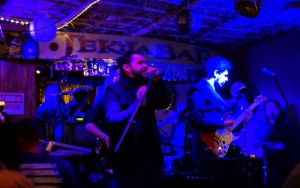 Tekila Bar is a new venue of all wood decor, liquor barrel (maybe all tequila barrels—but not a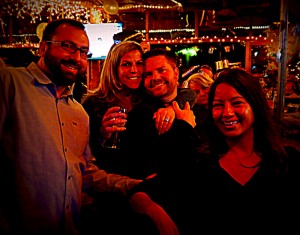 single Jack Daniels barrel) tables and chairs. Highly polished tree trunks and limbs meticulously fitted to cause doorways and window frames, table legs, bar railings to seem hurricane worthy. Couldn't help but wonder how much that place must weigh…and how far it would float into the sea before anyone inside noticed.
Here we are in our second bar full of happy people getting happier by the moment (read: by the drink). One got so happy he gave me his wife's New Year's Eve top hat because it "matched my tux", which it did so I kept it. Thanked my new friend's wife and mosied over to where Mark was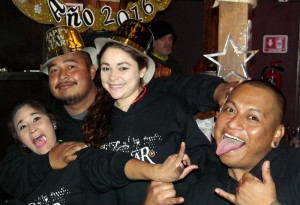 talking to the Ackerly family, Eric and Denise and their offspring, John and Elizabeth from New York (New York City?) Not sure, but they are very smart people. They own at the Sonoran Sun. Also really nice people. I learned we would all be at the Mark Mulligan concert two nights later with Mark and Barb. John and Elizabeth brought down supplies for Adopt-a-Classroom charity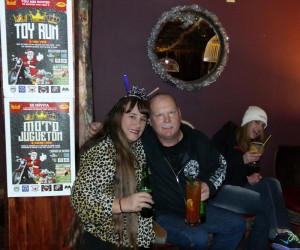 founded by Mark and Barb about 15 years ago.
With about an hour to go before the big ball dropped, we started a slow move toward downstairs and the exit. But it was slow because everybody wanted a Kodachrome moment and Mark just couldn't say no. It got messy, and nameless. We got groups of two to four with gusts up to five and six. Som e had names, some couldn't remember their names and others saw no socially redeeming value in giving their names if they did remember them. So here's a couple of those moments before we made it down stairs and met up with good friend Charmaine Caruso for a quick hello/goodbye and even quicker New Year's kiss.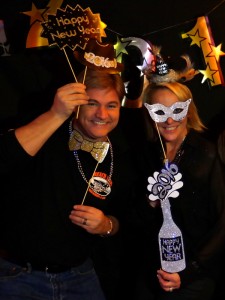 Next stop: Beach Bum! Which turned out
to be our last stop before midnight. You know what that means—we're nearing the end of this New Year's Eve story. As the photos will prove unequivocally there was plenty of fun going on at the Beach Bum. First of all, the arrestingly beautiful John and Mary Sharp, owners of the Beach Bum, were there and in rare form, which is normal for them. Fun happens at the Bum every weekend.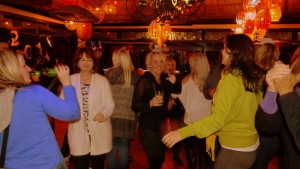 Immediately upon arrival it was more than obvious there had been some over-serving going on for a while there. Their great house band, Los Hij os de Mauricio, did their part in keeping the revelers actively dancing, and John and Mary had a photo booth set up with all kinds of New Year's Eve props that were constantly in use. It was a night that if you walked in without a friend, you could not leave without one. Everybody in the whole place seemed to be friends, until you heard someone say casually, "What is your name again?"
From the vast Beach Bum balcony one could see that partying was spilling into the streets. For a moment I thought I saw the Tekila Bar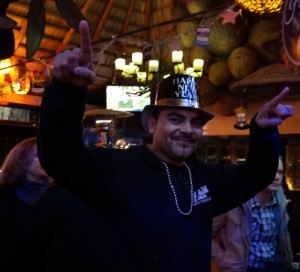 floating in the bay—but that definitely was the Jack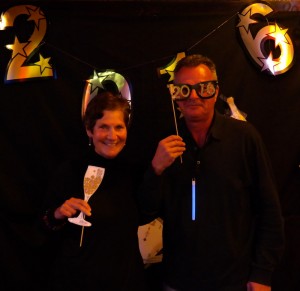 Daniels working its wonders!
At one point, we turned around and there were Patrick and Joan Mondone who had come into town from Encanto to usher in the new year at the Beach Bum. Mark ushered them over to the photo booth for a decorative digital image session.
Then it was midnight and everyone turned into kissing pumpkins! No, wait! That was the Jack Daniels—or was it?
…Now where did I hide Mark's new year's resolutions?
This blog is powered by www.sonoranresorts.mx, Jim Ringquist, Director of Sales and Marketing.
Related Posts
This year marked the 11th annual January Jam that began as an…

It has been less than two years since Mayor Kiko Munro inaugurated…

Each and every year, as we mingle through the…