Sometimes so much is going on in our little slice of paradise by the sea that we can't address the many short subjects with proper attention in our blog. To handle the hodgepodge of dangling subject matter, we invented the Potpourri Page. Guaranteed to make you 46% smarter and 11% more likely to lead the conversation in a social gathering. Read on…
Donations from Sonoran Resorts Food Drive were delivered to Casa Hogar. As Jim Ringquist and his two sons pulled into the parking area of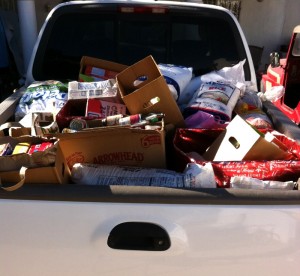 Puerto Peñasco's Home for the Aged with a truck load of food items, their appreciation was expressed by the presence of the Sisters and residents alike who welcomed them with open arms and even helped unload the truck. "This was our most successful year since starting the drive 5 years ago", said Jim.
Jason Stanford, former Pitcher with the Cleveland Indians, held a clinic for youngsters beginning their baseball careers on January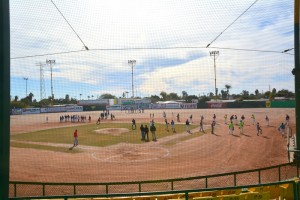 16th. He supplied nearly 100 kids with his new training aid called "Strikeout Strippz" which is so easy to use that those who use it can hardly believe how fast it improves their throwing form and accuracy. But more important, according to Jason, this simple to use product greatly reduces stress to vital muscles and joints which can extend the careers of everyone who uses it. Jason is the son of Dolores Vargas, a popular real estate agent in Puerto Peñasco. Learn more about this miraculous invention at  www.perfectthrowusa.com.
Pedro's Restaurant in the Malecon gets a modernistic face lift that will make his bistro the "in" place to eat. And if that's not enough,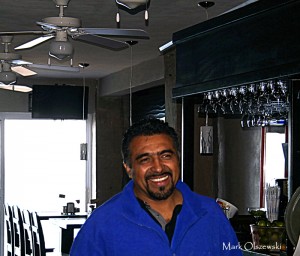 this experienced restaurateur has added some dinner choices that, as they say, "are to die for!" Try his new bacon-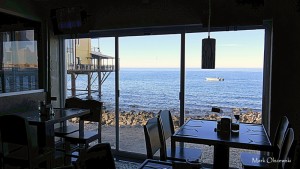 wrapped (jumbo) shrimp sautéed in his own cinnamon pineapple sauce. And don't forget Pedro's homemade margaritas as the perfect complement to his unique cuisine! Open 8:00am-8:00pm for breakfast, lunch, dinner. Closed Wednesdays. Email Pedro at pedro_polina@hotmail.com or call 638-105-5166.
Center for Equine Therapy Produces Miracles for the disabled children of poor families in Puerto Peñasco. You'll hear more about this incredible organization in the near future, but we wanted to share what they are doing to improve the lives of children with a variety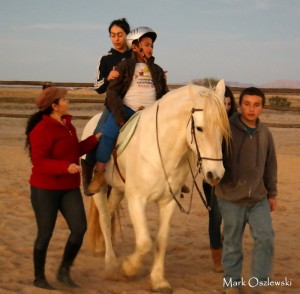 of afflictions, from autism to cerebral palsy. The seemingly simple act of sitting on a horse that is guided by trainers and following the lead of junior therapists has radically improved the lives of so many children and, consequently their families. All of this is made possible by one family. The parents are Lic. Aarón Armando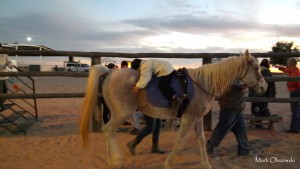 Pérez Núñez and Lic. Claudia Lugo Gamez, both successful attorneys in our town, and their five children who devote their free time to helping with the therapy sessions each Thursday. Aarón and Claudia have formed a nonprofit association to raise and distribute funds for the expenses and upkeep of nine horses and stables to keep this all-important therapy going. If you would like to learn more about the therapeutic benefits of equine therapy, please email Aarón or Claudia at lic.aaron.perez@hotmail.com and lic.lugogamez@hotmail.com. Their kids will translate the emails to Spanish and you'll get a response back very quickly.
It's a 50's Sock Hop! Happening at Latitude 31 on Saturday, February 27 at 4:00pm! Be there or be square, daddyo! And wear your white shirt, white socks and penny loafers (or even pink and black garb) 'cause there's a contest brewin' with prizes for the most authentic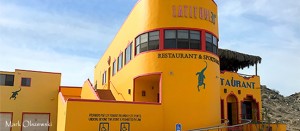 looking sock hopper. There will be a raffle as well with tickets going for just a dollar for one ticket or get six tickets for $5. What's the grand prize, you ask? How about 2 nights at a fabulous Sonoran Beach Front Resort Condominium including a breakfast and dinner! It's all for a great cause, too. The newly formed "Ley 186" association is dedicated to helping disabled citizens by lobbying the city to make sidewalks, curbs and entrances more accessible to people with restricted means of negotiating the streets of Puerto Peñasco. They also work to get medical equipment and supplies for the disabled. For more information on this organization, you can contact Frank Bercovich at frankba.lp@gmail.com, or call his cell at 638-112-9964. For information about the Sock Hop call Barb Olszewski at her U.S. phone number: 602-324-9529 or her Mexican cell at 638-114-2406 or email her at rpbarbo@gmail.com.
Aaaannnd Finally—Holy Stuffed Mackerel!!…It's the 29th Annual Playa de Oro Holiboard tournament where four teams totaling 64 skilled washer tossers will eliminate each other beginning Tuesday the 2nd of February with the fun, even exciting finals taking place on Thursday the 4th beginning at 10:00am behind the old resta
urant in Playa de Oro. You gotta see these competitors throw 4 inch washers into three holes bored into elevated boards—hence the name "Holy-board." This organized sport has rules, scorekeepers and judges. Spectators are more than welcome. For more information, you can email co-director Linda Mottle at lindamottle@gmail.com or on Facebook at lmottle06@facebook.com. You can also call Linda on her cell phone at 623-570-5772.
This blog is powered by www.sonoranresorts.mx, Jim Ringquist, Director of Sales and Marketing.
Related Posts