The Rotary Club of Puerto Peñasco Sea of Cortez was just formed in June with 20 local business leaders as the original members, yet they are already on a fast start to raise funds to help schools and the medical  community in several vital areas of need.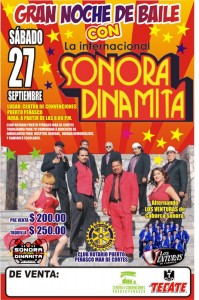 Their first major fund raiser to be held on Saturday September 27, sounds like a lot of fun as well. Billed as the "Grand Night of Dance", they have booked one of Latin America's most popular bands, the internationally famous La Sonora Dinamita, the ensemble that enlivens packed houses around the world. They are one of the first Colombian Bands to gain international success, and are credited with making the Colombian/Panamanian Latin music genre "cumbia" appreciated throughout Latin America and the world.  If you like to dance to Latin music: cumbia, salsa, and others, you will not be able to stay in your seat. If you're not the avid dancer, you'll be happily entertained by the band and female led singers. Also playing Latin dance music will be Los Venturas de Caborca, Sonora, a big regional band of astounding popularity and huge fan base. These bands are easily worth the price of admission ($200 pesos in advance, or $250 at the door) because they both put out polished, big Latin band sounds.
The dance will take place at the new Puerto Peñasco Convention Center you've watched being built over the last couple of years on the new road leading from the beach resorts to the Cholla Mall shops. The fun begins at 8:00 PM.  If you're in business here, why not purchase a table of 8 or 10 and invite your top employees to a great night out!
The Rotary Club of Puerto Peñasco Sea of Cortez has earmarked the funds raised from this Grand Night of Dance to purchase an ambulance for the new General Hospital and make improvements on their existing one. In addition, their goal includes the purchase of a hemodialysis machine for the new Hemodialysis Center adjacent to the hospital. They also plan to purchase two school buses, one for the Rotary-sponsored Secundaria #27, and one will be given to the City for use at other schools in need.
Rotary Clubs are known world-wide for their charity work, and several U.S. clubs have been active in Puerto Peñasco for many years, involved in projects with other non-profit charitable organizations such as Families Helping Families building houses for needy families, providing school supplies and clothing for needy children and many other charitable deeds.
There are several ways to buy your tickets to the big night in advance, and to call for more information if you are in Puerto Peñasco: You can get tickets at the Fire Department (on Fremont behind City Hall) their telephone number is 383-6868; the General Hospital 638-102-0417 or 638-102-0463; Don Julio's Restaurant 388-0056; or Security Systems Service at 388-7478.
And if you are interested in learning more about the Rotary Club of Puerto Peñasco Sea of Cortez, they meet every Tuesday at Don Julio's Restaurant (on Fremont one block east of Banorte) at 8:00 AM. Just show up and you will be welcomed and briefed on all facets of Rotary membership. Club President, Eduardo Vallejo expressed a keen interest in building their membership.
September 27th promises to be a night of pure Mexicana ambiance, and isn't that why most of us chose this colorful country to become our home? Mark your calendars for a fun night out!
This blog is powered by www.sonoranresorts.mx, Jim Ringquist, Director of Sales and Marketing.
Related Posts
Each and every year, as we mingle through the…

Following is a poignant piece by Jack Hecker, a good friend to…

Mountain View Presbyterian Church in Scottsdale has sponsored an outreach mission trip…