Have you ever had the exhilarating experience of attending an event wherein shortly after arriving you got this awe-inspired feeling that you were a part of something that was going to be bigger than you could possibly have imagined?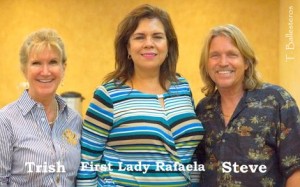 Maybe it was the sheer number of qualified attendees, or their enthusiastic interaction that displayed a depth of understanding and appreciation of the subject matter being presented. Maybe it was how every question and comment early on emphasized a grasp of the profound importance of what was being revealed. Maybe it was a combination of all those that made you know you could be witness to history in the making.
Late in the afternoon of Tuesday the 12th of August 2014 it was a combination of all the above that permeated through the Los Volcanes convention and meeting facility on the 2nd floor of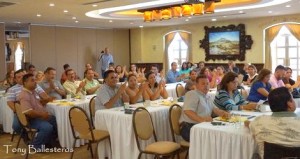 the Sonoran Sky beach front Condominium Resort in Puerto Peñasco, Sonora, Mexico. To a group of 34 K through 12 education leaders of this quaint seaside village the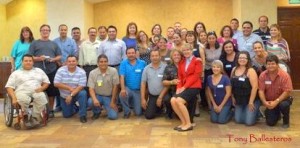 anticipation was positively contagious as they assembled to learn as much as possible about the breakthrough StarShine Academy educational system that has received worldwide acclaim since it was introduced to the world over 12 years ago. Surely a lot of the excitement, and one reason the Puerto Peñasco mayor's wife, First Lady Rafaela Félix de Figueroa chose to sit in the first row, was because the program was being presented by none other than the creator and founder of StarShine Academy, Patricia (Trish) McCarty, who with her husband Steve are Sonoran Resort owners and part time residents.
With a trio of highly successful and internationally recognized non-profit schools including Santa Fe, New Mexico StarShine Secondary School, StarShine Wau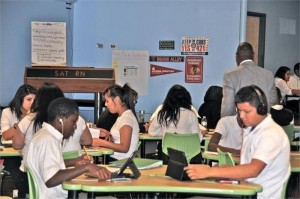 School, South Sudan, Africa and the 4.5 acre state-of-the-art "Eco-Village" campus of StarShine Academy in Phoenix, Arizona. The Phoenix campus was purposely located in a disadvantaged urban part of the city and has grown by 500% in the last three years, receiving numerous national and international awards for innovative educational processes that are based strictly on StarShine Academy's 15 Guiding Principles. These Principles are included in their entirety below due to the role they've played in revamping educational thinking around the world and the completeness with which they describe the StarShine mission.
The bottom line on Trish McCarty's presentation to the educational leaders of Puerto Peñasco is that she has chosen this community as the potential next center for the spread of StarShine's immensely important educational innovations that build "more than great students," they build "great people wanting to spend their lives learning, changing and improving."
The 15 StarShine Guiding Principles
 Forward: The StarShine Academy Guiding Principles are the foundation of everything we do, teach and stand for at StarShine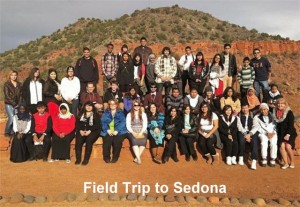 Academy. Living the Principles demonstrates the best understanding of them, and is a requirement for all affiliated with the school.
Every person born is unique and perfect and on their own road to discovering their dreams and highest calling.
We are on the planet to help one another toward achieving individual goals for the Greater Good of All.
We each do the best that we can on each day, depending on what we know and understand, according to Maslow's Hierarchy.
Music is the first language.
Beautiful, safe environments that are clean and include art, music and nature inspire creativity and help to secure man's sustainability.
Teaching and learning gardening is a necessary part of becoming one with nature and the environment and is a means for personal health and community building.
Celebrating local culture and global diversity allows for a rich life.
Practice Connect versus Convince; Exercise Compassion versus Judgment, Love versus Fear.
Individuals practice being ambassadors for their own country as well as a country other than their own.
Co-learning demonstrates that every person is a teacher and every teacher is a student.
Financial literacy fosters hope, belief and abundance as it facilitates a wise use of assets.
Partnering and mentoring fosters interdependence toward building common ground, as in "the world agrees on time so everyone can communicate."
Holistic explains that each event reinforces all. The pursuit of success and happiness, both individually and collectively, must include body, mind, spirit, health and wealth.
Leveraging technology facilitates connecting people; personal contact is vital.
World peace is a result of individual peace.
To learn even more about the non-profit StarShine Academy programs, educational philosophy and news visit: www.starshineacademy.org.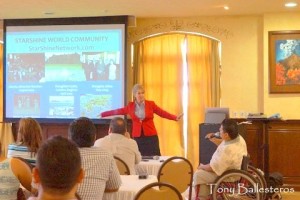 And for a truly fascinating read to learn more about the most interesting Trish McCarty, including her amazing career, qualifications as well as her bestselling books go to: www.trishmccarty.com. (Someone needs to write a book about this phenomenal person!)
Being chosen as the initial location in Mexico to provide StarShine's  compassionate, advanced and life-changing educational system to the K-12 youth is an opportunity for Puerto Peñasco to become more than a world class tourist paradise. This community can now become the pace setter for modern education throughout the country of Mexico.
This blog is powered by www.sonoranresorts.mx, Jim Ringquist, Director of Sales and Marketing.
Related Posts