Puerto Peñasco ushered in a new Mayor in September, as it does every three years. Mayors serve only one term of three years during which they endeavor to make noticeable improvements to their cities.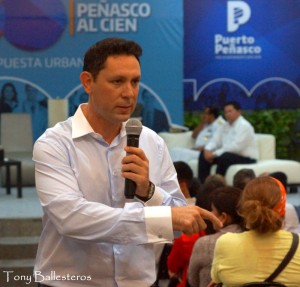 In many cases this system plays havoc with a lot of ongoing projects that affect life in the municipality. One good point with the system is that it guarantees fresh new ideas every three years allowing for improvements to the policies and injecting new energy into beneficial projects that are ongoing.
The new mayor, Kiko Munro, a young, vibrant communicator  who comes from a long-time politically involved family, is fluent in English and understands the cultures of both Mexico and the United States.
On the evening of September 30, 2015, Kiko invited most of the community to attend his presentation called "100 Days of Projects and Actions" during which he expounded on what he promised to accomplish in his first 100 days as Mayor.
Of interest to most expats here and probably of interest to most regular visitors were his plans that included:
Continue street improvement projects around Puerto Peñasco;
Aggressive beautification projects to upgrade public spaces and create new and improved sports areas to help keep the children off the streets;
Place priority on public safety especially with regard to tourism;
Create a bilingual tourist police brigade trained to serve, guide, help and protect tourists from any kind of harassment and he will personally handle any such cases involving municipal employees;
Conduct major cleanup activities throughout the city, including the Malecon and other areas frequented by visitors;
Work closely with Chambers of Commerce in Mexico and the U.S.
Create an active Destination Management Organization to coordinate tourism promotion and marketing;
Coordinate his tourist importance plan as far as Sonoyta and the border to create a reputation of the corridor from the border to Puerto Peñasco as a "safe haven" for tourists;
The mayor emphasized that he has already put in place solutions to improve water quality throughout the city;
Expand street lighting projects to create a safer community;
Reopen existing and create new neighborhood police stations throughout the city;
Of particular note was his emphasis on "giving birth to development" which will bring new jobs and training in new technologies.
Kiko Munro's dynamic personality and speaking skills brought many episodes of thunderous applause from the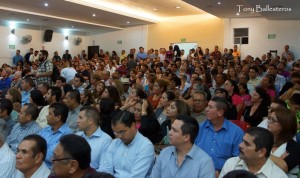 packed house in support of his many promises.  His congenial manner made it easy to join the spirit with which he thoroughly outlined each area of most importance to him and his new administration. It was a refreshing night that gave everyone a feeling of getting to know the new mayor better.
At this point, all he needs to do to endear himself to the populous is make good on those promises within the next 100 days.
This blog is powered by www.sonoranresorts.mx, Jim Ringquist, Director of Sales and Marketing.
Related Posts
It has been less than two years since Mayor Kiko Munro inaugurated…

Since the very first Sonoran Resorts Las Vegas Night for Charity in…

Each and every year, as we mingle through the…