Beachside storytelling you can dance to. That's Mark Mulligan on stage. He returns to his favorite Rocky Point
venue, The Caribbean Parrot, a spacious, brightly decorated tropical bar and restaurant in Puerto Peñasco, Sonora, Mexico this Sunday October 11 at 5:00PM.  When Mark comes to town it's an excuse for hundreds of fans who live here to go out for a fun evening, and hundreds more of his Arizona fans to drive down to enjoy his show.
Most fans already know Mark will be in Rocky Point on Sunday October 11 at The Caribbean Parrot. This little reminder is really for those who may not be familiar with Mark or his music. Mark is 98% a one man show, which is plenty by the way, playing his guitar (or other string) singing his tropical rock lyrics that all paint a scene, set a mood and tell a colorful story to his unique seaside rhythms.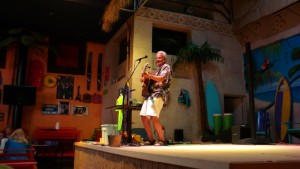 If you haven't, for whatever reason, attended a Mark Mulligan on-stage show, then October the 11th might be a great time to plan a night out. He usually starts early, around 5:00 PM so you can be home early. That doesn't mean Mark quits early, remember the house will be full of his fans who pretty much know most of the songs from listening to his 13 released CD's. He usually plays til the requests are done or the bar starts closing. The man loves what he does, in fact, like one of his works says, "Music is not just what I do, it's who I am." That describes Mark Mulligan's connection to his career.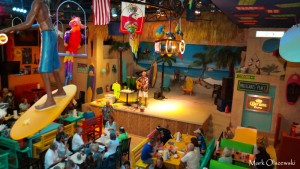 There is so much more to this friendly, happy go lucky family man that make him special. For example, all the proceeds from Mark's book, The Three Miracles, go to Outreach for World Hope (www.outreachforworldhope.org)  and Castaway Kids, the charity he founded back in 1994 (www.castawaykidsmx.org). You can find out more about this talented entertainer at his website www.markmulligan.net.
If you enjoy the music of the islands and beaches, the best way to learn more about Mark Mulligan is to come out this Sunday evening and immerse yourself into the easily immersible lyrics of his songs, which by the evening's end will have pieced together most of Mark's moods, personality, humor, creativity, genius, faith and philosophy.  He takes you with him on every song.
This blog is powered by www.sonoranresorts.mx, Jim Ringquist, Director of Sales and Marketing.
Related Posts
This year marked the 11th annual January Jam that began as an…

It has been less than two years since Mayor Kiko Munro inaugurated…

Each and every year, as we mingle through the…