Over the years this fun (and healthy) event has become a great annual tradition in Puerto Peñasco attracting more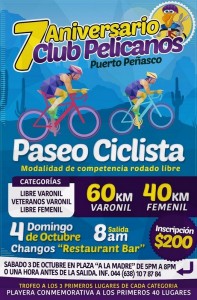 and more cyclists of all ages from bicycle clubs and fun loving enthusiasts throughout northern Mexico, Baja California and Arizona.
Camaraderie prevails as hundreds of riders, racers and fans gather for a Sunday morning of healthy cycling  along the scenic coastal highway for up to 60 kilometers.  One reason for the popularity of this event is surely the organization. The entire course is looked after by the municipal police who ensure participants have a traffic-free and safe right of way while the local fire department provides ambulances and there will be aid stations in strategic locations all along the route offering water and fruit.
The genuine hospitality provided by local Club Pelícanos members and volunteers is certainly another reason for the rapid and continuing growth of this event, which has offered a reason, as if they needed one, for increasing numbers of U.S. participants especially from Arizona.
It only costs $15.00 USD ($200 pesos) to join the fun. That includes lunch and if you're one of the first 40 finishers you'll get an official Club Pelícanos 7th Anniversary T-Shirt to bless your relentless competitive spirit. There are three open categories, two for men (under 45 years of age and over 45) and a women's open, with trophies for the top three finishers in each category.
Men will race the full 60 kilometer route with a clearly marked turning point at kilometer 23 on the coastal highway. The Women's Open will cover 40 kilometers with the turning point located at kilometer 14 on the same highway.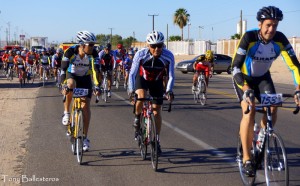 Awe-inspiring views of scenic desert flora, the World Heritage Pinacate Mountains and the legendary Sea of Cortez will  reward the cyclists as they negotiate this well planned course.
The race begins and ends at Chango's Bar and Seafood Grill located just outside the entrance gates to the Sonoran Spa and Sonoran Sea luxury beach front resort condominiums in Sandy Beach. Preregistration starts Saturday from 5 to 7pm at Plaza de Madre park located in front of the baseball stadium and opens again at 7am at Chango's.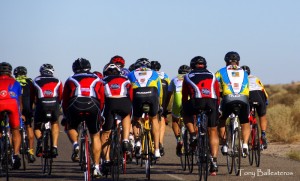 After the race, Chango's turns into a sort of seafood mixer for the athletes, fans, family and friends as trophies are presented amongst cheers, high fives and selfies.  Chango's, an excellent seafood restaurant,  will serve the free fish taco lunch to participants and make  its creative and moderately priced menu available to all the rest.
Racers will enjoy a special treat this year from newest sponsor Shelly Persad of Rocky Point Chiropractic. She will be on hand to offer complimentary massages and chiropractic adjustments for those cyclists in need of some rejuvenation after staying the course. Her expert manipulations will be offered for free but we're sure Shelly would not be offended if offered a "thank you" gratuity for making you feel like new again!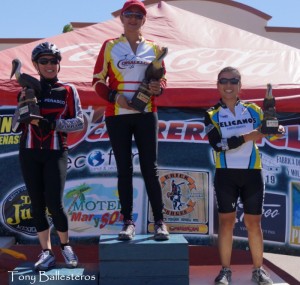 By the way, Club Pelícanos is always looking for sponsors to help cover the costs of this totally non-profit event.  To learn more about the race or becoming a sponsor you can contact founding member and event coordinator Charlie Muratore by phone from the U.S. at 520-907-4348 or call his Rocky Point cell phone if your are in town at 638-380-5028. Charlie's email is charlie@delbravotequila.com. Or  visit the club facebook page at facebook.com/pelicanosdepenasco.
So rack up your ride and head on down this weekend to meet some new friends and maybe even take home a T shirt or trophy from our little slice of paradise by the sea!
This blog is powered by www.sonoranresorts.mx, Jim Ringquist, Director of Sales and Marketing.
Related Posts