The first Saturday in April was a day of endless activities for all ages, and that includes the vendors who jumped right into the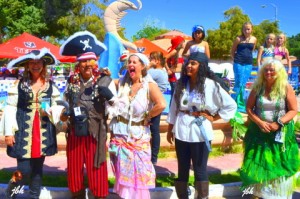 spirit of the day at this First Annual Pirates and Mermaids Extravaganza. The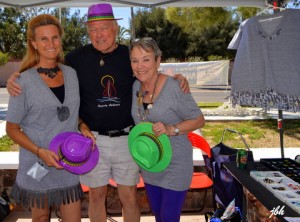 festive event was created by the organizers of Mermaid's Market, Russ and Naomi Black along with some of their faithful exhibitors who have offered their arts, crafts, gifts, and clothes for the two years of Mermaids Markets held every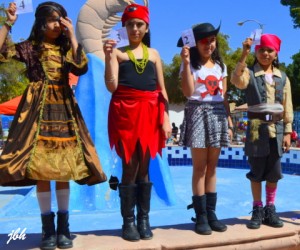 first and third Saturday of the fall, winter and spring months.
This day in April was special as the costume contests (with some great prizes!) touched the imagination of everyone, most of whom wore some form of recognizable clothing or accessory denoting a pirate or
mermaid
affinity.
Then there were those who took the dive to the depths of costuming and emerged as close to the real thing as, in the case of the dozens of kids, their parents could get them. In the case of several adult costume lovers, as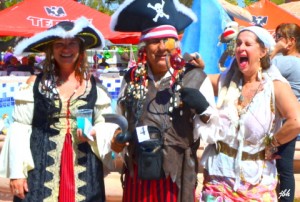 this pictorial depicts, there were some all out efforts to please and impress the largest crowds seen at the market in a while.
Along the back rim of the exhibit area was Pirate Russ's Cajun Kitchin' (Yes!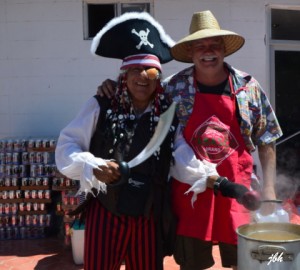 Pirates ate a lot of Cajun style food—back in Russ's younger days…J). He had a big cast iron pot of "Cajun Boil", he had a grill going, and someplace he was cooking peel and eat shrimp, or crawdads or one of those, but they must have been deeelishus 'cause he sold out of about everything they were cooking. To his right was a bar serving Hurricanes and Margaritas and that bar was busy all day long. It's
important to note here that a portion of the moneys from this event are donated to DIF, the city's assistance program for needy families and children.
In between the fashion show that was put on by the artisans themselves, and the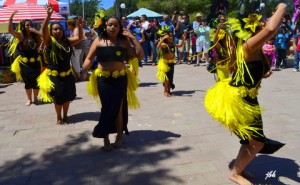 Hawaiian dancers hula presentation, and the costume contests, Russ piped in continuous Zydeco music that commanded your feet to move to the beat!
The children's costume winner involved a mermaid outfit made of recycled CD's cut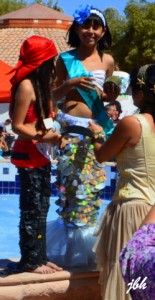 in half and sewed like fish scales shiny side out. It came complete with a little mermaid's tail that severely cramped
the littlest mermaid's walking style, but not her kid-like grace, and certainly not her smile when draped with the first place ribbon!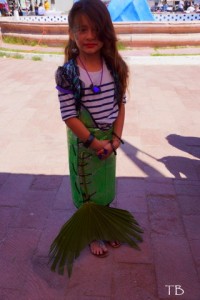 Among the adult contestants, were abstract renditions of what a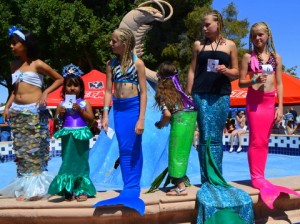 mermaid might wear to a royal reception, where evidently mermaids leave their tail flippers in the coach.  As any mermaid will tell you, walking gracefully on your tail flippers only happens in Disney movies.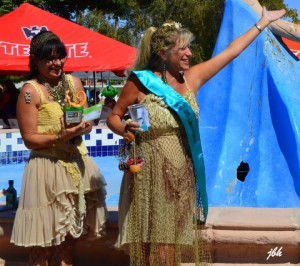 The most costume competition was found among the gang of pirates, all sizes, all imaginative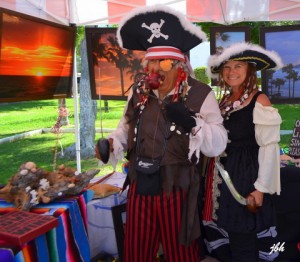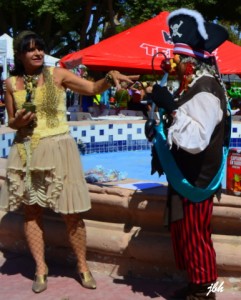 and all armed with swords, some with hooks but none dangerous. It was all in fun and the winners were donned with over-the-shoulder blue ribbons and laden with all sorts of neat prizes.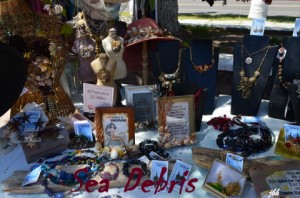 Happy spirits continued right up until closing of the
event making it a great precedent for an annual spring tradition of the Mermaids Market!
"Avast mateys, find yourself some pirate garb and be thar for next year's extravaganza…or you could be walkin' t' plank." And don't forget about International Talk Like a Pirate Day every September 19th. (www.talklikeapirate.com
This blog is powered by www.sonoranresorts.mx, Jim Ringquist, Director of Sales.
Related Posts
The lobby of the Sonoran Spa Beachfront Resort Condominiums will be the…

On Saturday November 24th from 11:00AM until 4:00PM, local and visiting artists…

This Saturday will mark the 7th gathering of local arts, crafts and…