This Saturday will mark the 7th gathering of local arts, crafts and food vendors exhibiting their wares and products to the public of Puerto Peñasco.  Since the first event on Saturday December 17, 2011, Mike McLaughlin's original idea has proven a timely one for which the community was ready.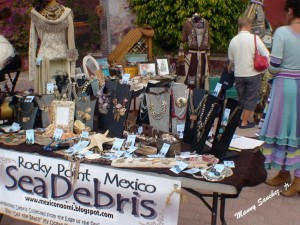 The variety of arts, crafts, products, services and edibles remain varied and there are usually new vendors at each event, which tends to keep the visitorship lively and consistent.
The location of the market, in an old-style paver-covered parking area that more resembles a small pedestrian plaza than a place to park cars, lends to the quaint atmosphere of a market.  Add live guitar music piped into the plaza from inside the adjacent Don Julio's Restaurant, and you have the ingredients to a concoction of atmosphere that is invitingly pleasant for both exhibitors and visitors alike.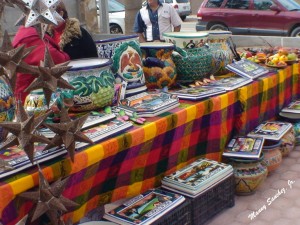 For icing on this cake of community interaction, is the friendly helpful attitudes of the 25 to 30 exhibitors who trim the plaza with their colorful array of jewelry, photos, paintings, stones, dichroic glass, chocolates, cakes, cookies, flowers, candies, fruits, dresses, coral, metal sculpture, loveable, adoptable pets, coffee beans, olives…and the list go on.
If you haven't been out to the Farmer's Market, this weekend will be a great time to visit. Just take Fremont down to Don Julio's Restaurant and turn right at the street just before the restaurant and park in the first available space along that block.
If you've thought about exhibiting your wares at a local show, this is a great place to do just that. There may be space available for this weekend. Just email Ivan Alejandro Morales Cano at alexcano_tiri@hotmail.com   or Mike McLaughlin at mmdonnadonna@aol.com to have all your questions promptly answered. You can also call Mike on his cell at 638-113-0428.
If you are planning to be down this weekend, be sure to stop by the Farmer's Market anytime from 10:00 AM until 4:00 PM this Saturday March 31st.
This blog is brought to you by The Sonoran Resorts Sales Group, Jim Ringquist, Director of Sales.
Related Posts
The first Saturday in April was a day of endless activities for…

The lobby of the Sonoran Spa Beachfront Resort Condominiums will be the…

On Saturday November 24th from 11:00AM until 4:00PM, local and visiting artists…