Marc and Trish make a storybook couple, both of them born and raised in Grand Junction, Colorado, high school sweethearts, married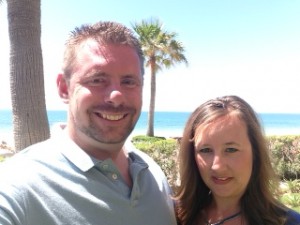 for 18 years with two beautiful children and basically being together since their early high school years.
To satisfy their entrepreneurial spirit, taking advantage of Marc's 15 years in the mattress business, Marc and Trish opened their own Mattress Store in Grand Junction two years ago and soon after added another location.
Marc's grandparents were one of the first owners at the Sonoran Spa and they've been coming to Rocky Point for over 10 years. Like most of us, their first visit brought love and appreciation for Mexico and the Sea of Cortez; a love that dominated their dreams and shaped their career plans in such a way that they were always working toward relocating here.
The advent of sophistication in computer technology finally reached the level that would allow them to oversee their mattress business from anywhere in the world.  Anywhere to Marc and Trish was really only one place: Puerto Peñasco.  They realized their hard-earned dream in September of 2012.
Knowing his extensive sales experience would be an asset in the real estate business and being totally familiar with the Sonoran Resorts having watched them expand from the beginning, Marc was a believer in the value and quality of the Sonoran Resorts product. After moving down and settling into their new home in the Sonoran Sea, he naturally approached Jim Ringquist offering his and Trish's services as a team, and they were immediately brought aboard.
"We worked diligently in the pursuit of our dream to enjoy the beauty of the Sea of Cortez full time, to partake in the more relaxed pace of life and to interact with the friendly local people here," expressed Marc. "As a team working in sales with the Sonoran Resorts we can now share our dream and help others to realize their dreams as well. This is truly the best of both worlds for Trish and me."
When asked what they might say to someone thinking about visiting Rocky Point for the first time, almost in unison they replied, "Come on down. You're gonna love it!"
We just had to ask what advice they would have for those who've been thinking about investing in a condominium as a second home or for retiring down here. "As far as an investment, Puerto Peñasco has all the ingredients: opportunity, timing, international airport and the cruise port coming soon. As for living here, one visit and everyone, at least everyone I know, already has the answer to that one: This destination is as close to paradise as anyone could ever dream," Marc concluded.
You can reach Marc and Trish the following ways: From the U.S. call 602-476-7511 or by email at rockypointgalyean@gmail.com. If you're in Rocky Point, please call their Mexican cell phone at 638-114-2528. 
This blog is powered by www.sonoranresorts.mx, Jim Ringquist, Director of Sales and Marketing.
Related Posts
This year marked the 11th annual January Jam that began as an…

It has been less than two years since Mayor Kiko Munro inaugurated…

Each and every year, as we mingle through the…