Jesse Vidal is a true global voyager. Born in Honolulu, Jesse's lust for life has placed him in some pretty exotic places around the world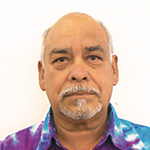 in career pursuits that have included trouble shooting major resorts as a hospitality consultant for eight years in Anchorage, Alaska, a career that also took him to the island of Palma de Mallorca  off the east coast of Spain. Those trouble shooting skills served him well as an entrepreneur when he assisted a friend in the opening of a popular restaurant in Kemmerer, Wyoming (birth place of J.C. Penney) and for his own hunting and fishing lodge in Cannon, Montana, 70 miles west of Yellowstone National Park.
Jesse's keen interest in sailing and diving led him to take advantage of a "steal of a deal" on a 51' cutter rigged Nikadou that took him two years to completely refurbish and make ready for his plans to take his passion for adventure to the ultimate level with some serious sailing around the Caribbean and South Pacific for seven years. He called the docks of Boca del Toro, Panama his home port and along with a trusted friend launched a search for deep sea treasures based on research he had conducted.
Spending seven years exploring unknown islands, territories and scouring the sandy sea floors in search of sunken treasures is certainly exciting enough. But Jesse's dreams and efforts fortified by persistence that only passion can maintain resulted in truly historical, if not profitable, results when in 1991 he discovered what proved to be the ancient sunken ship, San Felipe, which was considered a Panamanian national treasure and had to be turned over in its entirety to the government.  Alas, the net result of the duo of divers' discovery was fame and genuine admiration from the Panamanian government.
After a few more years around the Caribbean, Jesse spent time in Cottonwood, Arizona, Trinidad, Colorado and finally discovered and fell in love with Puerto Peñasco. He moved here two years later and left once for Puerto Vallarta and then spent a couple of years commuting to Rocky Point from Scottsdale, Arizona.  He's been back full time since last October and pretty much came out of retirement to join the sales team at Sonoran Resorts because he's always loved the quality and beauty of the properties.
When asked what he would say to anyone considering a residence or second home here in our little slice of paradise by the sea, Jesse was quick to say, "Come on down; the livin' is easy!"
You can reach Jesse Vidal in any of the following ways: From the U.S. call him at 602-476-7511 or by email at jvidal43@yahoo.com. If you happen to be in Rocky Point, call his Mexican cell phone at 638-384-6294
This blog is powered by www.sonoranresorts.mx, Jim Ringquist, Director of Sales and Marketing.
Related Posts
This year marked the 11th annual January Jam that began as an…

It has been less than two years since Mayor Kiko Munro inaugurated…

Each and every year, as we mingle through the…