Guest Blogger Sandy Baker, second place winner of our 2012 Sonoran Resorts "Best Job In The World" travel writing contest, sends us an excellent essay about making her own traditions in Rocky Point. Take it away, Sandy…
Making New Traditions in Rocky Point
By Sandy Baker
From tamales swaddled in corn husks at Christmas, to the spirit welcoming celebration, El Dia de los Muertos, Mexico is a country steeped in tradition.  With its tradition laden history, Puerto Peñasco was the natural place to begin customs of my own.  Perhaps it was the warm moist air that drew them out of me, or perhaps Puerto Peñasco was just that special place that begged to become mine through traditions.
Morning beach walks are not uncommon at any beach resort destination, and Puerto Penasco is no different.  Shell collectors and dog walkers sweep to the shore to enjoy the sound of the surf and the sand between their toes.  I was happy to join them, but something more occurred to me during one quiet barefoot walk.  To become part of the community was to take ownership and pride in its care and not leave that expectation to someone else.  So that morning, instead of filling my pockets with shells, I picked up a wind-blown plastic bag and began to fill it with bits and pieces of trash.  Don't get me wrong, the beaches are not filled with trash; quite the opposite.  But like all beaches around the world, pieces of rope, string and an occasional potato chip bag are washed ashore.
And so my beach sweeping tradition began.  The first morning of each visit to Rocky Point I spend walking the beach doing my part to maintain its beauty.  Assuming this responsibility connects me with the water and the sand and makes me part of the community instead of someone observing it from my window.
More traditions of my own have unexpectedly unfolded as I returned to Rocky Point over the years.  Our annual New Year's Day "Puerto Peñasco Plunge," a version of the colder and less attractive polar bear plunge, was the result of a little liquid courage speaking out the night before at a New Year's Eve celebration.  With nerves of steel, my friends and I dunked ourselves into the cool, sobering Sea of Cortez water early New Year's Day.  The hot coffee with eggnog that followed somehow made the plunge seem a bit less insane.  This annual beach pilgrimage is now one of my favorite ways of welcoming each New Year.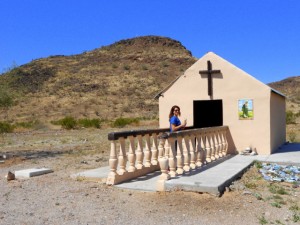 Of my many Puerto Peñasco traditions, my favorite is the "Welcome to Mexico" ritual.  Riding my Harley through the Sonoran desert on my first trip into Rocky Point I noticed the little roadside shrines scattered throughout the desert.  Some are no larger than small dog houses while others are the size of small chapels.  Most are made of painted concrete block and are decorated with brightly colored religious symbols like saints or crosses.  From within these shrines burns the never ending glow of pint sized votive candles, also decorated with symbols of saints and crosses, in a tradition that reminds me of the Tomb of the Unknown Soldier.  I've yet to see the guardians of these flames.  I've stopped at many shrines along the way and have never met another person in my visits.  Yet still these candles burn.
Returning to the States I researched the meaning of these shrines to find that they are constructed as religious prayers, or memorials.  Some are maintained as gratitude for blessings; others are memorials of deceased loved ones and others, shrines beseeching God for protection against storms.
The tradition so intrigued me that I needed to become part of it.   Each time I travel to Rocky Point, my final stateside grocery shopping trip now includes the purchase of a glass encased saint candle to bring with me.  Half way between the border crossing and Puerto Penasco I stop at one of the larger chapels and add my candle to the pyre to honor the traditions of Mexico and to greet my second home.  Entering the chapel I am met with a gentle breeze and a hint of salt air that surround me in a familiar embrace.  Offering my candle is my way to offer Mexico a welcoming hug, the way you would to family and friends.  And Mexico hugs me back.
For me to respect the traditions of Mexico is to honor a way of life that is not the same way life is happening north of the border.  Here life is slower, somehow more respectful, and more open in the concern for others sharing the journey.  The "Viya con Dios" sign posted along the roadside is not only a wish for safe travel, but also a blessing to those passing by, without the political correctness required in less Latin countries.  It is this caring culture that draws me back, time and time again.
Lighting my candle I place it alongside the others already burning.  Sometimes I relight a few of the others that have been blown out by the wind.  It's my small part in keeping the flame burning, making me one of the guardians.  Though I never see anyone else, someone has clearly been here before me.   Someone has straightened the arrangements, swept out the sand, and removed the old candles.  There is always a sense of contemplative solitude when I arrive with my newly unlit candle and then a collaborative joining in community when I add mine to the glow.
Coming to Mexico is about many things.  It's relaxing and adventurous.  It's about finding myself in the quietness of the morning beach walks.  To participate in the long established traditions is to become part of the community.  To create my own is to make it my home.
This blog is powered by www.sonoranresorts.mx, Jim Ringquist, Director of Sales and Marketing.
Related Posts
This year marked the 11th annual January Jam that began as an…

It has been less than two years since Mayor Kiko Munro inaugurated…

Each and every year, as we mingle through the…