The entrepreneurial spirit within the way of life in Mexico is no better represented than through the ubiquitous hot dog stands and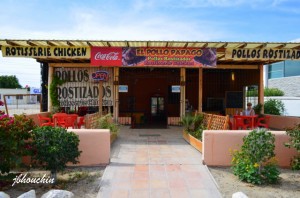 small roadside pollo asado places. They represent a culture void of façades, purposely stripped of the complexities of design and décor except for that which expedites the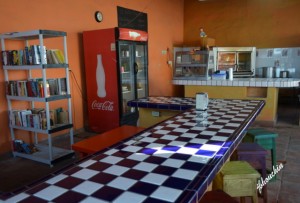 service of food to the hungry. They are the antithesis of an atmosphere for those who "live to eat". They are the comfort factor to those who "eat to live". In that sense their atmosphere is pure Mexican; they understand their market is made up of those whose simple objective is to satisfy their hunger and get on with their day; from businessmen to after school students to tourists and shopping housewives, these venues exist to feed people who are hungry.
One of the most illustrative examples of such a Mexican roadside diner is El Pollo Pápago located on Benito Juárez just south of the Burger King across the street from Dulcería Lupita. If you're in the mood for rotisserie chicken, El Pollo Pápago, have racks spinning and searing chickens from 11:00 AM until 7:00 PM daily.
El Pollo Pápago is ruggedly authentic Old Mexico from the moment you pull into the small dirt/gravel parking area almost on the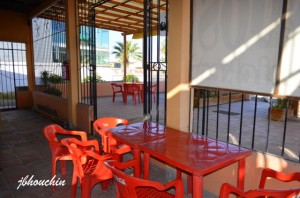 street. Large hand-painted white rocks cordon off bougainvillea bushes and open to a short latticed walkway lined with some baby palms and desert plants leading to a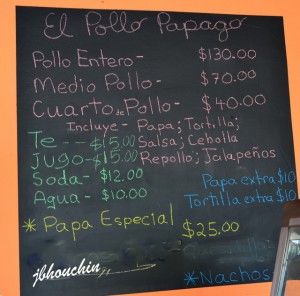 patio adorned with the trade mark red plastic Coca Cola tables and chairs and into the main covered area that offers more table seating as well as a low blue and white tiled counter with multi-colored stools. To the right, the rotisserie oven/prep-kitchen is on display. On the wall is a large chalk board breaking down the one basic menu specialty and the side dishes, juices and soft drinks you can get with your chicken.
As you approach through the bougainvillea entrance you'll be greeted by the gregarious English speaking conversationalist and owner, Martín Victorica or his wife, Ana, who moved here together from Mazatlán where they were born and raised. And if you're there after school is out, you'll likely have the pleasure of meeting their 11 year old son, Aldo, who has already established his legacy at school as a spelling bee champion.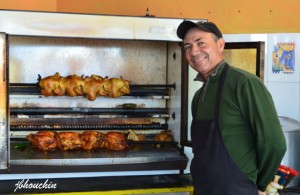 Even though they push a lot of chickens to go from the rotisserie, this is a great place to come and relax a bit, bring your laptop or note pad and scope out the happenings
on Puerto Peñasco's main drag for awhile, or just surf or catch up on your emails with the free WiFi access Martín will offer you. They even have a "library" of books you can read while there or check out for a flexible length of time. In fact, El Pollo Pápago was featured in a chapter of the latest book, "Peñasco Blues" by part time resident and noted author, Kerry Rose (www.kerryroseblues.com)  who actually had a book signing event at the restaurant in March.
Martín sears his chickens using a special sauce he and Ana created based on an old Yucatan recipe that was concocted by the ancient Mayans, he explains with that patented smile. You can order a whole, half or quarter chicken fresh off the rotisserie, that comes with half a baked potato and butter, homemade tortilla and homemade salsa, onion and jalapeño.  You can also get the "El Pollo Pápago Papa Especial" which is a baked potato-based concoction with everything but the kitchen sink stirred into it. Martín describes it much better and in more detail.
El Pollo Pápago is a taste of the Mexican Barrio made delightfully welcoming by the Victorica family; an experience you'll want to repeat. Buen Provecho!
This blog is powered by www.sonoranresorts.mx, Jim Ringquist, Director of Sales and Marketing.
Related Posts