April closed out with one of Mexico's more traditional celebrations. Día de los Niños (Kids' Day) is one of many days during the year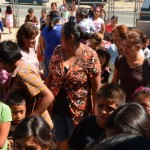 that is fully or partly dedicated to making kids in Mexico happier, healthier or smarter. On the occasion of Kids' Day, officially April 30th, it's all about fun, gifts of toys, food and entertainment directed specifically to bring smiles to the faces of babies and teenagers alike. Community centers (usually divided up by barrios-or neighborhoods)  throughout the country plan and organize a daylong celebration to keep the kids  active.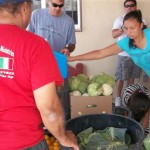 In the case of "Hope for New Life" Social Assistance Center, neighborhood parents also receive bags of donated groceries and participate in the hot dogs and pastries that seemed to be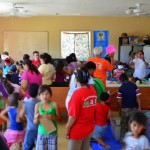 handed out constantly for hours on end. 
This center was founded nine years ago by Harold and Kathy Tuttle and Robert and Pamela Martin. It is an all volunteer non-profit organization that has fostered close alliances with several benevolent groups and individuals over the years who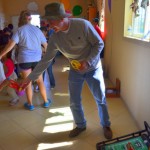 devote their time, energy, skills, items and money on a regular basis to insure the success of events—such as Día de los Niños—and the many programs held at the center. They run computer classes, sewing classes, and hair cutting classes, Bible studies and other home study courses for both children and adults.  Learn more about the organization at http://www.laesperanzaparanuevavida.mex.tl.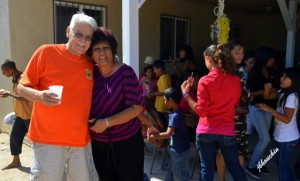 One of those individuals is Blanca Estela Soto Ayala, an energetic visionary and licensed Physical Therapist in her parallel life, who has served as volunteer Director and President of the organization since its inception. One of the more active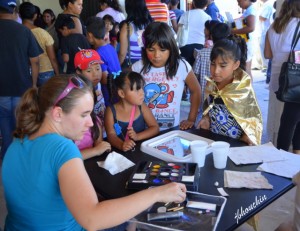 organizations involved in the center is the Association of International Ministries (AIM) out of Phoenix, Arizona, founded by Juaro and Rose Silva, and whose benevolent activities reach across the borders of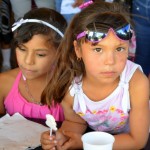 several nations. They have brought supplies by the truck load to Puerto Peñasco over the years along with fresh vegetables by the thousands of pounds. They have even built homes for families in need.
Other individuals who have been important to the ongoing success of "Hope for New Life" Social Assistance Center include Mark and Barb Olszewski, founders of the "Adopt-A-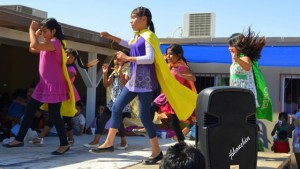 Class Room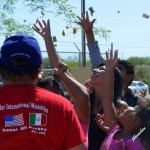 non-profit charity that collects and distributes school supplies to nearly 8,000 students in 10 schools since 2003. These two incredible individuals have helped raise
thousands of dollars to build two additional buildings and the basketball court for the center in addition to locating donors of computers, sewing machines and other equipment to enable the skill learning classes held in those buildings. Learn more about other selfless charitable achievements of this devoted couple at https://www.sonoranresorts.mx/?p=4658.
All the above information was so you know that more than 700 kids and parents who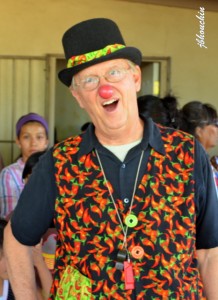 showed up at the Hope for New Life Social Assistance Center on Saturday, April 27th for the Día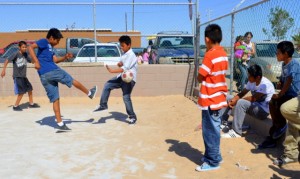 de los Niños celebration were in the good hands of volunteers aplenty who made sure everyone received a gift or two or three; that they were all fed and entertained; their faces were painted; that they all had a chance to play games and watch a clown make things disappear right before their very astonished eyes.
AIM alone brought a group of 20 volunteers who manned the fun stuff like face painting, nail painting, games and gift giving. One of the volunteers was Lily the Clown (full name: Lily Schilling)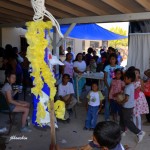 who was actually the official MacDonald's clown for many years, and who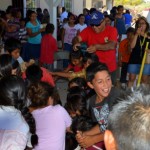 has been coming down to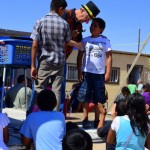 our little slice of paradise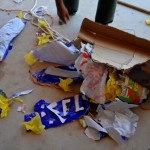 by the sea to entertain kids for Día de los Niños and other charitable events for several years.
As the photos colorfully depict, fun was continuous, hosts and hostesses were gracious, kids were amazed, soccer balls were flying, moms and dads were vigilant and happy, food was plentiful and, as always, the Piñata was finally busted open by a two foot tall kid wielding an unlikely thin stick which caused the traditional riot for a piece of the promised prize!
This blog is powered by www.sonoranresorts.mx, Jim Ringquist, Director of Sales and Marketing.
Related Posts
This year marked the 11th annual January Jam that began as an…

Since the very first Sonoran Resorts Las Vegas Night for Charity in…

Each and every year, as we mingle through the…