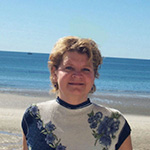 "Sonoran Resorts are the only properties that could have brought me out of retirement. That's because of their staying power, their reputation and their building standards," says Brenda Sabo, a 13 year resident of Puerto Peñasco, "and with two major market changers now officially approved and funded for our little paradise [i.e. scheduled air service from Las Vegas and the cruise line home port development] it was just too exciting to pass up."
Even though she has sold real estate in Arizona in the past, Brenda brings with her 13 years of experience managing her and husband Jim's land and property investments around Mexico, plus it doesn't take long to know she's done more than her share of homework and analysis of where the market stands as far as what's happening on the beaches of the Sea of Cortez.
Always positive and informative with a quick wit based on 'good ol' common sense', when asked what she liked most about Rocky Point, Brenda, without missing a beat, replied, "That's like handing me a basket of fresh blueberries and asking me to pick the one I like best!"
"I love each and every 'blueberry' in our little basket of paradise by the sea, and what's so exciting is that it's about to get even better and I get to be involved in it; to watch the home port develop right down the beach," Brenda pointed across the lobby of the Sonoran Spa Resort through the giant floor to ceiling windows to the beach outside, "and I want to bring as many people along with me as possible to be a part of it all!" she continued, her enthusiasm mounting as she recounted what we have been projecting for years that is now a reality and it's all happening right here in our little slice of paradise by the sea.
Brenda recited research statistics supporting her belief that Rocky Point is poised for a booming launch from the devastating world economics which are about to be neutralized by the homeport, scheduled airline flights and completion of the new convention center. As a testament to Brenda's professionalism, her desk was lined with neatly overlapping newspaper headlines of detailed stories verifying every subject she discussed.
Brenda's contagious excitement compelled us to test her penchant for quick and succinct "hit the nail on the head" replies that cut straight to the no-nonsense basic truth as we asked, "Finally, what would you offer as advice to those folks who may be considering the purchase of a resort condominium in Rocky Point?" We weren't disappointed when, in true Brenda Sabo fashion, she replied in one second and two words, "Don't Wait!" 
You can contact Brenda Sabo in any of the following ways: From the U.S. call the Sales Office at 602-476-7511 or by email at bdszabo@hotmail.com. If you are already in Rocky Point, call her local Mexican cell at 638-105-3157. Oh, and "Don't wait."
This blog is powered by www.sonoranresorts.mx, Jim Ringquist, Director of Sales and Marketing.
Related Posts
This year marked the 11th annual January Jam that began as an…

It has been less than two years since Mayor Kiko Munro inaugurated…

Each and every year, as we mingle through the…