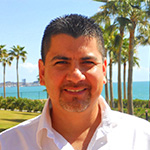 Born in Agua Prieta, Sonora, a small border town just across from Douglas, Arizona, raised in the even smaller town of Esqueda, Sonora until he was 10, Juan's family moved to Tucson where he finished high school and two years of college. It was early in his high school career that Juan Carlos and a few of his school buddies discovered Puerto Peñasco and couldn't believe a place this beautiful existed, much less just four hours away from their homes.
During that very first trip Juan promised himself that he would move to this paradise by the sea as soon as he could. After many years in residential construction he married Cintia Meza who is originally from Rocky Point and that set his ultimate dream in motion. With his extensive experience building quality homes in the Tucson area, Juan knows what people expect in a residence: "quality construction, quality maintenance and quality property management," he confidently states from his years serving the needs of his customers.
Juan had been looking for an opportunity to take his construction and customer service expertise into the real estate sales industry, and the combination of marrying the girl of his dreams who was from the destination of his dreams and the signs of a rapidly recovering market in Puerto Peñasco made his decision easy. Soon after relocating he set out in search of the highest quality resort condominiums with a proven maintenance and management reputation for him to represent. This led him to the Sonoran Resorts Sales Team and Director of Sales Jim Ringquist who was looking for someone with his specialized knowledge of residential construction.
You'll find Juan Carlos as someone much like you, who fell in love with Rocky Point from his first visit and came back again and again until he just had to move here. Juan says, "I would like nothing better than to help people find the condominium resort of their dreams right on the beach; a quality home steps from the serene Sea of Cortez; that they can call their own and retire in this friendly resort town."
You can contact Juan Carlos Rodriguez in any of the following ways: From the U.S. call him at 602-476-7511 or by email at jc.rod75@gmail.com. If you happen to be in Rocky Point you can reach him on his Mexican cell phone 638-112-6518. You'll be glad you did.
This blog is powered by www.sonoranresorts.mx, Jim Ringquist, Director of Sales and Marketing.
Related Posts
Four and a half years ago, Dolores Vargas had to leave the…