Well, not exactly. But it is the creative name for a new and needed regularly scheduled artist showcase called Mermaid's Market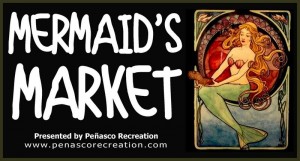 conceived and organized by Russ and Naomi Black of Peñasco Recreation. Russ and Naomi are long time residents of Puerto Peñasco and are known for their creative contributions to the organization of many events that benefit and promote the community.
Russ went through all the official channels to obtain the correct permits to set the precedence for a long term event in the highly visible venue of Shrimp Park, right on Benito Juarez between Bancomer Bank and Fremont Street. It's the park with the large blue shrimp statue looming from the middle.  In case you still can't place the park in your mind, another landmark is the Municipal Building which is south of the Park on the other corner of Fremont Street.
Russ wisely waited until the proper permits were issued before officially announcing the market and dates, and already has 14 of the 20 spaces committed for the first one, which should fill up by the end of the week.  The inaugural showcase of artists will take place on Saturday December 1 from 10:00 AM until 5:00 PM. The next event is sure to fill up with our lot of eager local artists, both American and Mexican, and will take place on Saturday the 15th of December, and then two Saturdays per month each month thereafter through May of 2013.
Russ and Naomi hope that such a cross cultural showcase of artists will bring together more connectivity among the artists from different countries that live here. To do their part, Russ and Naomi are donating a portion of the vendor fees to the 35 year old Municipal Family Assistance Charity known as DIF.
By the way, if you happen to be an artist with an interest in sharing your work with the public here in Puerto Peñasco, give Russ a call at 638-113-4591 (his local Mexico cell number)  or email mexicoruss@gmail.com to see if space is available at one of the future shows. For more information about this timely and important new event in our little slice of paradise, visit www.facebook.com/mermaidsmarket.
If you're in town over the weekend of December 1st or 15th or during the 1st or 3rd Saturday of any month afterward through May, plan on spending a fun time at this event and meeting some really nice, creative artisans.
This blog is powered by www.sonoranresorts.mx, Jim Ringquist, Director of Sales and Marketing.
Related Posts
The lobby of the Sonoran Spa Beachfront Resort Condominiums will be the…

With 17 of the 20 available exhibit spaces sold for the first…

Saturday December 17 marked the first Farmers Market and Art Expo in Puerto…