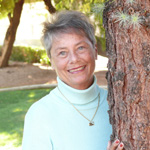 Beverly is a lively, professional, caring entrepreneurial spirit who loves sales and has found a home selling the Sonoran Resort Condominium projects, "because of their quality, design and management."
Originally from Wisconsin, Beverly was a Department Manager for J.C. Penney when she met and married her husband, Bill, the manager of a different department in the same J.C. Penney store in 1973. They moved to Phoenix that same year, but didn't discover Rocky Point until 1989, which, like it does to so many, changed their lives.
They bought a small trailer as soon as they returned from their first trip and placed it at Playa Miramar.  The couple came down at least once a month and in '92 bought a lot and bigger RV fifth wheel so they could spend even more time here.
Finally, in 2004, computer technology allowed Beverly, who had her own advertising specialties company, to set up shop in their fifth wheel and start planning construction of their home in Rocky Point.  Bill had to continue working in Phoenix and visiting every week end or two until he could retire last year.
Beverly's hobbies include photography, and when you meet her be sure to ask to see her photography book that includes her favorite photos taken of old trucks and wineries they've visited.  Very impressive art to be just a hobby!  She's also interested in cooking, golf and gardening. They own two gorgeous German Shepherds that are very photogenic as well. The couple have two children and four grandchildren including a grandson who is a Marine serving in Afghanistan.
Beverly is proud to work for Sonoran Resorts and has seen, "a very positive change in the business environment over the recent past."
The Sonoran Resorts Sales Group is proud to have you as well, Beverly!
This blog is brought to you by the Sonoran Resorts Sales Group, Jim Ringquist, Director of Sales and Marketing.
Related Posts
This year marked the 11th annual January Jam that began as an…

It has been less than two years since Mayor Kiko Munro inaugurated…

Each and every year, as we mingle through the…