You've probably seen at least one API photo coverage of those recent rad rages called Color Runs (in Spanish it's Toma Color) where hundreds of runners get doused in puffs of brightly colored, harmless, powder as they run or walk or dance their way
through a 5k course to raise money for a charity or other altruistic cause. Popular in the U.S. for the last couple of years, they've now extended to most of the world including Brazil, Mexico, Colombia, Puerto Rico and other countries.
Well, folks, get ready to get rad and get into one of the funnest days you can imagine right here in our own little slice of paradise by the sea.  Mark 8:30 AM Sunday March 30th on your "Must Do", or at least "Must See" List, and show up in front of Sam's Club with the more than 400 registrants already signed up.  You can walk it; you can run it; but just don't miss it!
In fact, if you don't do another thing today, click on the following link to see for yourself how much fun the Color Run will be. It already has over 400 participants signed up to raise money for the DIF hemodialysis center, is going to be. All the details are below, but you really should take a look at this video of a recent Color Run in Mexico City:
http://www.youtube.com/watch?v=tU10IXUWiQI&feature=player_embedded
There's a great group of altruistic business friends behind this charity event. Every penny of the registration fees will be donated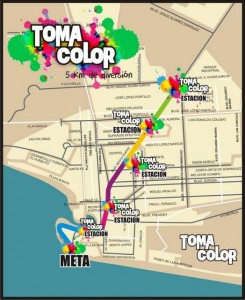 to the DIF Hemodialysis Center nearing completion here. Registration is just $200 pesos and each registrant receives a printed entrant number, a TomaColor T-shirt, Glasses, and your own supply of colored powder (Oh boy!). The group, plus sponsors are paying all expenses to put the race together so that every dime of the entry fees can go to DIF. They still have people wanting to register and since it is for charity, they'll take registrants even after they have to place the order for Entrant Numbers, quantities of coloring, t-shirt printing. Luis Altamirano, owner of Puerto Viejo Coffee Roastery, one of the organizers, says they can still get enough gear, but late registrants might end up with a t-shirt without the printing. "It's all for such a great cause, we couldn't turn away anyone who donates,"  says Luis with an inviting tone. So, if you want a printed shirt (included) better get registered today or tomorrow.
If you're still even curious, it's time to go to the TomaColor web site for even more details:
http://tomacolorpuertopenasco.org/
Go to the right of the Google bar at the top of the website and click: "Translate" It will immediately turn to English.
Or you can register or inquire directly at tomacolorpenasco@gmail.com or call Luis at 638-388-8000. You can also drop by for stunningly flavorful coffee and register in person. Puerto Viejo is located in the Malecon caddy-cornered across from the little white church and across the street from Thrifty Ice Cream, also a sponsor.
As good friend Johnny K. says, "It is easy being green!' You'll see just how easy—and fun—it is at the First Annual Puerto Peñasco Toma Color!
This blog is powered by www.sonoranresorts.mx, Jim Ringquist, Director of Sales and Marketing.
Related Posts
Each and every year, as we mingle through the…

Following is a poignant piece by Jack Hecker, a good friend to…

Mountain View Presbyterian Church in Scottsdale has sponsored an outreach mission trip…