It seems Louie and Kim Xourafas always return from their annual trek back to Louie's home town in Greece with something new and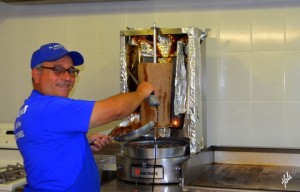 exciting for their restaurant.   Last year it was a change in the location of their restaurant from the plaza in front of Peñasco del Sol hotel to the space in front of their home just about six blocks away on Calle Plutarco Elias, the street that crosses Calle 13 and takes you by Sea Side Reservations Headquarters and Dukes, at the corner of 19th Street on your way to Playa Bonita.
This year was no exception. After two months in Louie's birth country, during which they bought a car and drove it over 6,000 km around the country's mainland plus three of the Greek islands, Louie has added at least three items to his menu, all homemade of course,  and all of which are "signature" dishes at El Greco's.  He also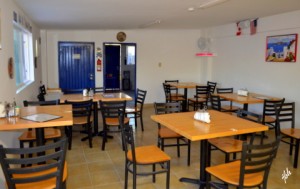 enclosed his patio area that now seats up to 26 people inside, plus another 26 outside.  As expected, the entire facility is always squeaky clean.
Highlighting the newest additions to El Greco's menu is a spinach-and-rice based dish called "Spanakopita" (pronounced: spah-nah-KOH-pi-tah). A personal taste test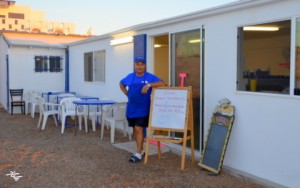 confirmed that: a.) one could get hooked on this, and b.) it is probably what Popeye ate when he wasn't gulping his green right out of the can.  Louie learned how to prepare the complex and time-consuming recipe for Spanakopita in the same way his Mother has for most of her 91 years.  In fact, Louie is quick to give his Mom credit for his considerable culinary skills, which, by the way, aren't limited to Greek food.  Give Louie a call and tell him what you'd like to serve at your next party. Given enough notice he can prepare almost any special requests.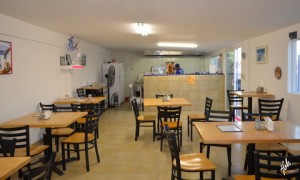 With regard to the Spanakopita, please note that because preparation is so time- intensive, Louie only makes about 30 servings each Thursday and when those are gone, you gotta wait until next Thursday for your [Popeye] fix.
Also new to El Greco's menu are homemade rice pudding and homemade hummus—yes, just like his Mom has made for decades! Two kinds of salads are available: the Big Greek Salad and the Village Greek Salad; it's like the Big Greek Salad except it has no lettuce.
Still the star of their menu is El Greco's Gyro (depending on your source, pronounced: "yee-ro" or "ghee-ro"), the traditional Greek meat combination of pressed and braised beef and lamb wrapped in pita bread with special Greek dressing.  The name gyro refers to the spinning vertical spit on which the meat is cooked. The gyro resembles a vertical rotisserie with heat cooking it from one side as it slowly revolves to seal in the savory spices that make the gyro meat's 126 year old secret recipe so uniquely Greek.
Louie and Kim lived in the Phoenix area from 1977, visiting Rocky Point regularly since they discovered it in the early 80's. They built their easily recognizable white house with blue trim and moved here permanently at the beginning of 2012, opening El Greco's in March of that year. Their natural hospitality makes you feel warm and comfortable, like you've stopped by their house for a visit. You do still have to go to Greece for Louie's 91 year old Mom to come out of the kitchen and greet you, though!
You can call El Greco's at 638-112-9692 (Mexico Cell); or from the U.S. at 602-910-0724 for Take Out orders, catering or more information. El Greco's is open from 11:00 am until 9:00 pm Thursday through Monday; closed on Tuesday and Wednesday.
This blog is powered by www.sonoranresorts.mx, Jim Ringquist, Director of Sales and Marketing.
Related Posts
This year marked the 11th annual January Jam that began as an…

It has been less than two years since Mayor Kiko Munro inaugurated…

Each and every year, as we mingle through the…