Disneyland. Wow! Just to visit would be a dream come true for most kids. But for 12 exceptional dance students from Destiny Dance Academy the Disney dream was taken to another memorable level when they were selected to represent not only Puerto Peñasco, but the country of Mexico and perform in two Disney parades along with hundreds of other young people
from four countries. Perhaps even more spectacular was their selection to perform two special dance routines in the internationally famous Disneyland Talent Showcase. This year's theme was "Dance the Magic" Summer Dance Classic at the Disneyland Resort.
The 12 young ladies selected to perform in Disneyland were: Julianna Escabosa, Nancy Meza, Irlanda Castro, Paulina Zavala, Diana Peralta, Valeria Casanova, Daney Guzman, Leslie Cuadras, Paloma Rivera,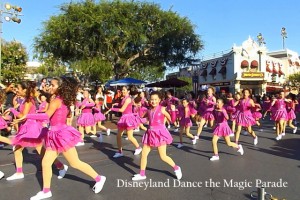 Monica Curiel, Sofía Mendivil, and Silvana Mendivil. Because they are so deserving of recognition, we've identified them for you in a group photo in this blog. Photos were taken and contributed by academy owner, Marisa Arellano and several parents.
Just how special it is being selected to perform at Disneyland (they also danced in the parade at Disney's California Adventure next door to Disneyland), is hard to comprehend until you realize the steps necessary just to be considered for participation. Depending on which phase, video auditions are submitted with original choreography, then for the parade alone specific choreographic interpretations are required and then submitted for further consideration in another video. For the Disneyland Talent Showcase, this local group of 12 young artists was chosen from hundreds of competing auditions worldwide and became the first dance team ever to represent Mexico in this prestigious event.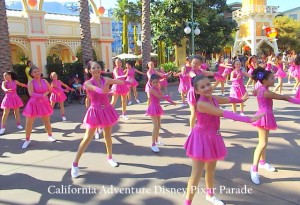 Disneyland's appreciation of the original choreography by Destiny Dance Academy owner, instructor and award winning choreographer, Marisa Arellano Velázquez was a milestone in the objectives of Marisa who has taken the school to international acclaim since purchasing it in September of 2012. This is indeed the kind of accomplishments from which great academy credentials are made. They are the qualifications discerning parents seek to give their children the edge in talent and performance development and exposure.
It' s hard to find a better showcase than a Disney venue because of their experienced attention to detail, showmanship, teamwork and creative interpretation, which they attribute to the instructor as much as to the individual talent of the young artists.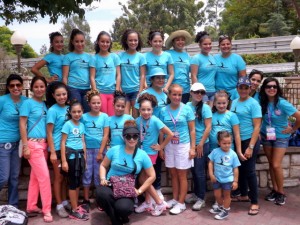 The dream for these young performers began promptly at 1:00 PM on Friday July 12 when they reported to the colossal and highly restricted (no cameras, no family or friends)  Disney Back Stage area which was plenty large enough for 500 parade performers to warm up, stretch (mirrors and stretch bars included), change into their costumes and practice in groups of 100 to 150; all of which they completed before the parade started at 6:00 PM sharp, with enough time to walk completely around the outside of the park to the staging area.
The "Dance the Magic" parade at Disneyland is a musical reverie involving all the Disney characters and 500 girls in vibrantly colored costumes performing intricately fast-paced dance movements continuously for 10 solid minutes from one end of the park to the other ending back at the famous "Back Stage" area.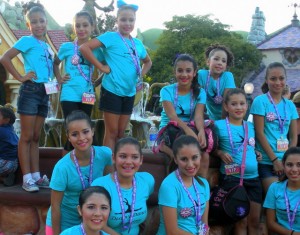 In case dancing for ten minutes seems strenuous, that was just a warm up for the Saturday parade through the winding Main Street of California Adventure Park that takes a grueling 20 minutes of the same fast-paced, non-stop dancing.
Still in the midst of an adrenaline rush from being a part of one of the most famous parades on our planet, each girl was issued a hot pink "Disney Performing Arts T-shirt, a "Dance the Magic" pin (sure to become an heirloom for generations to come) and their cherished VIP lanyards. Then they were off with their families and friends—in all a combined group of about 60—to enjoy the iconic park of every childhood fantasy.  Only these kids were part of making that fantasy!
On Saturday, after the challenging 20 minute "Disney Pixar Parade" that tested the stamina of every single girl, all the dancers were invited to an ultra-private VIP reception at the famous California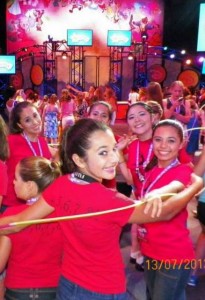 Adventure "Stage 17". All wearing their red Destiny Dance Academy T-shirts, the kids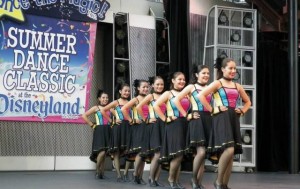 were treated to an authentic "red carpet" welcome complete with the velvet ropes and gold posts, photographers and paparazzi to greet them in true celebrity style. The place was studded with ice cream stands and every topping imaginable. None other than Mickey Mouse himself appeared on stage to hand out Disney certificates to the Directors of each studio in the parade.
After the presentation of certificates, they turned the entire Stage 17 into a DJ Dance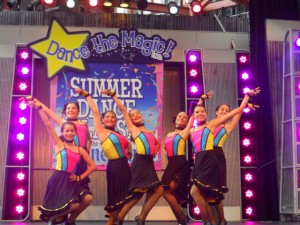 Party and every group got a photo with Mickey. After the party, the kids rejoined their families with VIP entrance and special seating for the world renowned light and water show.
The group reported Sunday morning at 9:00 AM to Stage 17 for their final and grand performances in the Disney Talent Showcase event titled "Dance the Magic Summer Dance Classic." Of the 13 dances, two were performed by the Destiny Dance Academy Team: a Can-Can interpretation and a modern interpretation of "My Favorite Things",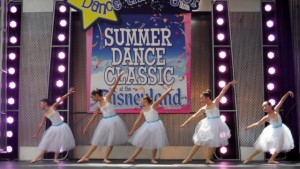 both choreographed by Marisa Arellano Velázquez. Afterward, each deserving dancer received a commemorative "Dance the Magic" T-shirt.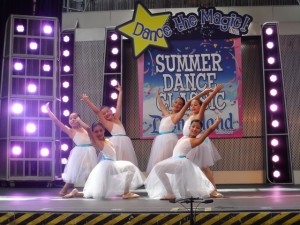 One important take-away from this phenomenal experience, beyond the lifetime memories for each of these talented young ladies, is the invaluable learning experience they gained, from the value of practice, to the importance of performing through the pain; a learning experience that can only be gained through an event as grandiose as this one. As surreal as this weekend was, some of the dancers required ice packs to continue their part; all were exhausted by the Sunday morning performances, yet all danced flawlessly, their pain and exhaustion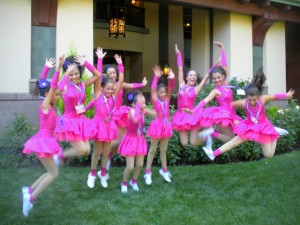 hidden from an unwitting audience behind smiles and graceful movements practiced until they were natural; like seasoned professionals are taught in a professional learning environment that "the show must go on."
We are lucky to have a studio and a caring, dedicated professional in our little slice of paradise by the sea with the vision and focus of Marisa to make sure events like these are made available to her students who follow the famous Walt Disney quote and "Dare to Dream" so they have every opportunity to develop their talent in dance..
This blog is powered by www.sonoranresorts.mx, Jim Ringquist, Director of Sales and Marketing.
Related Posts
We are fortunate here in Puerto Peñasco to have many cultural events…