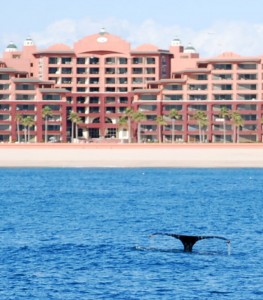 At the top of the wish list of many residents of Puerto Peñasco is to see a whale frolicking this far north in the Sea of Cortez. While pods of dolphin surface, feed and play incredibly close to the beach often enough, we usually have to board a fishing vessel and head for someplace like Bird Island to get a good sea lion fix.  Sometimes, even rarely, en route to or from that destination we might be lucky enough to cross paths with a curious whale shark, maybe one of the two or three species of whales known to migrate this far north in the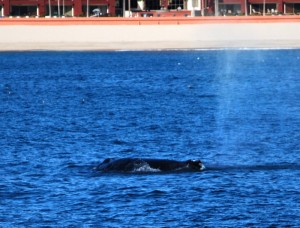 winter.
It's very rare indeed to spot any species of whale so close to Sandy Beach that you can see them from the balcony of your condominium, but, not for just a fleeting moment, not just a glimpse on a Sunday afternoon, but all afternoon Sunday and all afternoon Monday, spouts of sea water shot 30 feet into the air announcing the presence of either a blue whale, the largest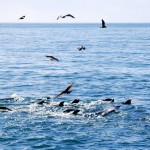 mammal on the planet or the fin whale, second largest mammal. Since the fin whale is sighted far more often this far north, and some are known to live in the Sea of Cortez year around, even though the whales we saw exhibited signs of both species, we're going with the most logical assumption that they were fin whales that chose to dine and play in front—right in front–of the Sonoran Resorts, to slurp krill and small fish in quantities beyond our imagination.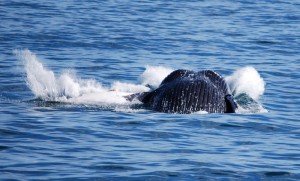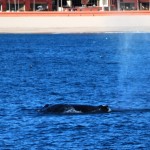 It was more than exhilarating to finally accept that the huge water spouts we could see from our balcony at the Sonoran Sea on Sunday had to be from the famous blow hole of a whale. We could finally check off the number one item on our wish list—and little did we know that it was about to become even better than we could have imagined; served up right from our balcony, justifying every decision we ever made that led to living right here, in a condominium with a view overlooking soft Sandy Beach, steps away from the serene Sea of Cortez with almost daily sightings of the acrobatic antics of playful dolphins, diving pelicans, flitting terns, graceful herons and egrets; all performing before us on that infinite aqua stage.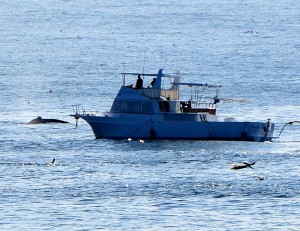 On these days the show brought a star-studded surprise of guests beyond our wildest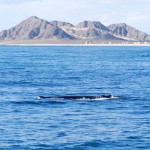 dreams; we gazed around at our neighbors all equally in awe at what we were realizing was going to be a rare and delicious slice of paradise. Our friend and neighbor next door at the Sonoran Spa, professional photographer Tony Ballesteros rushed down to Safe Harbor, undaunted by the substitute camera that was temporarily replacing his main instrument now under repair, and boarded the Pancho Villa fishing yacht with Captain Antonio who can handle that 59 foot vessel like a jet ski, a most valuable skill when the objective is to keep up with a whale as big as your ship that can travel about three knots faster and turn on a dime.
The photos accompanying this blog are the result of Tony's photo feeding frenzy as Captain Antonio chased down and stalked what turned out to be the dream of dreams on anybody's whale sighting wish list, and to
think how close this whale was to the beach is even more exciting.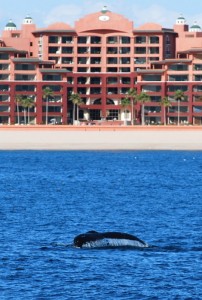 Many statistical facts about this colossal species are as enormous as the whales themselves. Here are just a few that may astound you. We gleaned these from a combination of web sources including Wikipedia to give you an idea of the size dominance exhibited by the species:
*Called the "Greyhound of the Sea" because its long body is built in the same dynamic as a racing yacht, allowing the fin whale to swim at sustained speeds of up to 23 mph with gusts up to 30 mph—faster than any cruise ship and most yachts.
*An adult fin whale will consume 4,000 pounds of food per day, mostly krill and small fish.
*Fin whales grow up to 90 feet in length, weigh in excess of 120 tons and live about 94 years.
*Even a newborn fin whale will measure up to 21 feet in length and weigh in at 4,000 lbs (about the weight of a Hippopotamus!)
*The only predators brave enough to take on this giant mammal are killer whales, and even they will gang up to attack the fin whale, most often with little success, although older specimens are found to have multiple scars from attempted attacks by Orcas.
*As amazing as these facts are, keep in mind that the fin whale is only the second largest animal on earth. These statistics pale in comparison to those of the Blue Whale, the largest animal ever known to have lived on our planet!
This blog is powered by www.sonoranresorts.mx, Jim Ringquist, Director of Sales and Marketing.
Related Posts
This year marked the 11th annual January Jam that began as an…

It has been less than two years since Mayor Kiko Munro inaugurated…

Each and every year, as we mingle through the…