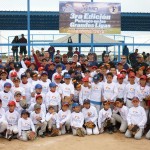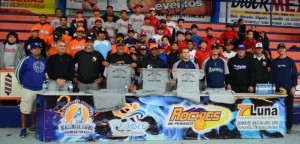 The 4th annual Youth Sports Foundation (YSF) Major League Coaches Clinic was held Saturday January 26th 2013 in spite of a rare Rocky Point rain storm that rendered the Municipal Baseball Stadium grounds too muddy for the scheduled outdoor exercises.   However wet the weather, the spirits of
the four dozen junior leaguers who braved the uncertain
conditions were unhampered and undaunted as they listened attentively from the bleachers in the Municipal Gymnasium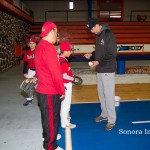 to each of the eight MLB coaches who shared invaluable professional tips covering their individual specialties.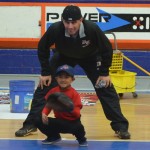 There is still another special event to be scheduled. Because of the weather, many of the junior teams and their coaches could not make it to the gymnasium for the clinic.  Therefore, Rick will set a date in the near future for another gathering of local coaches and players at which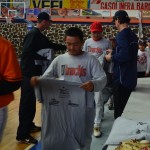 time he and city officials with distribute over $12,500 (USD) in baseball equipment donated by the teams of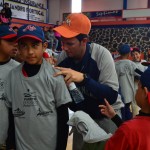 the coaches who attended the clinic.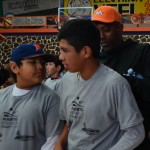 The Youth Sports Foundation of Puerto Peñasco was founded in 2007 by Sonoran Resorts' own Rick Busa, a long time visitor and resident of our little slice of paradise on the Sea of Cortez.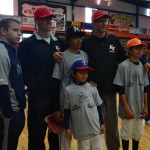 Rick has always been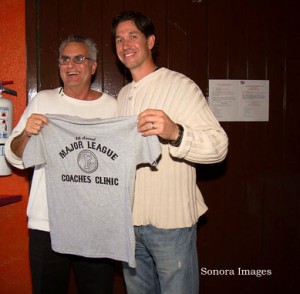 the type to lend a hand whenever and wherever needed, and quick to recognize when and what type of help he can provide. In fact, it was a hot summer afternoon around 1997 when Rick and his daughter, Megan, were approaching the city limits of Rocky Point on one of their many trips to their favorite beach on the whole wide planet when Megan called his attention to a group of youngsters just off the highway seriously attempting to play baseball on a barren lot of dirt and sand—not a blade of grass within sight—and equipment as sparse, they quickly noticed.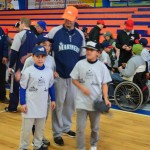 The only two resemblances of baseball gloves were of scorched and tattered leather worn by the first baseman and a center fielder. The catcher was protected by only what looked like a workman's glove to retrieve tosses by the pitcher. The third baseman seemed to be wearing the other workman's glove for his duties. Rick and Megan did notice a couple of bats, well used, and watched as the batter pounded a dirty unraveled ball along the ground flopping toward first base, throwing up dust at such a lumbering velocity the batter almost outran it to the base.
"Dad, those kids look like they're really making the best with what they have, and they're having fun, too! Isn't there anything you can do help them?" Megan knew her Dad. She was a "Daddy's Girl" if there ever was one. She also knew that two of his major customers in his position with Shamrock Foods was none other than the Oakland A's and the Milwaukee Brewers Major League baseball teams who came to Phoenix for spring training every year.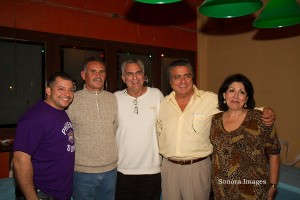 A couple of phone calls and conversations upon his return to Phoenix and the very next trip to Rocky Point, Rick and Megan pulled over to the makeshift baseball field, opened the back of his SUV and neither would ever forget the astonishment and joy on the faces of those kids as they graciously accepted a comparatively small assortment of equipment—all of which was ten-fold better than anything they had been using.
This began a tradition of baseball equipment donations from major league spring training teams developed by Rick that grew each year, with Rick and Megan gleefully handing out everything from jerseys to helmets, gloves, bats (no splinters), to baseballs (fully stitched). In fact, they could see some real talent developing among these youngsters as a direct result of the better equipment they brought down each trip.
This initial act of kindness had created a life of its own…until one hot August night in 2001, Rick's life as he knew it was shattered into a million pieces as he answered a phone call informing him that his beloved daughter, Megan, was one of two fatalities in a single car crash on the highway from Disneyland to Phoenix. It would have been the first day of Megan's senior year at the age of 17.
Rick's world would stop for six long years. It was sometime in 2007—when is not as important as the fact that it did happen—that Rick had a moment of clarity, an epiphany, a clear vision of what Megan would absolutely want him to do: to not just continue helping the youth of Rocky Point as they had done together, but to grow and improve the skills and interest in all sports by the youth of their beloved destination, to organize it, find more sponsors, training, activities and equipment, not just in baseball, but all sports to cover the majority of interests of most of the kids in town: baseball, football, basketball, volleyball…bring them all and do whatever possible to keep these kids from falling into the wrong crowds, to keep them in school, to get their parents involved as much as possible.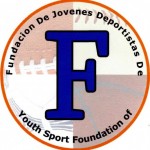 With a renewed and ardent desire burning in his daughter's memory and message, Rick founded the Youth Sports Foundation of Puerto Peñasco and has exceeded every goal he originally set.
It's important to note that Rick has not stopped with just baseball leagues, he has also recruited the support of folks like John Gilchrist of Pop Warner football who has donated over $14,000 in equipment that Rick has distributed to nine American Football teams in the state of Sonora, including Puerto Peñasco's own "Sharks" football team. (More about football in a later blog.)
Now, you know the rest of the story….
Rick has worked tirelessly to grow the youth membership and participation by creating valuable learning experiences for the kids such as the Coaches Clinic which he started with two coaches, Scott Steinmann from the Seattle Mariners and Henry Cotto from the San Francisco Giants. For this, the fourth year of the Coaches Clinic, eight coaches from four major league teams plus the Dominican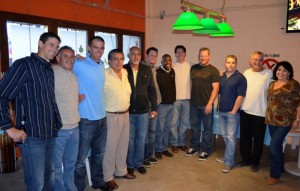 Republic donated their time and money to come down and share their coaching and management skills with junior league team coaches and youngsters from 7 to 17.
All arrived in Rocky Point on Friday the 25th of January in time for a press conference Rick had organized at Duke's Bar and Grill. Rick's devotion to keeping the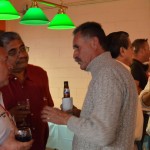 youth of Puerto Peñasco from ending up with the wrong crowd has earned him the blessings and support of the City and the State of Sonora, both of which had representatives at the press event. There were also nine members of the media present.
Rick made sure there were plenty of activities for the coaches who had contributed so much of themselves for
this event.  After the press conference the pros invited to Manny's Tequila Factory for a tasting of some of Manny's famous offerings and then to dinner at the Boo Bar in the Malecon. Later the group was given VIP bracelets to attend the Roger Clyne sold out solo performance at Wrecked at the Reef on Sandy Beach.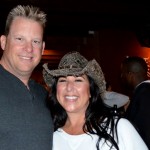 After the day of instruction with the enthusiastic group of little leaguers the pro coaches enjoyed a hosted evening dinner and retired for an early tee off time at Laguna Shores to participate in the second scramble event that was such a success last year.
This year there were 29 players divided into foursomes, each with a coach assigned. There was even a tie for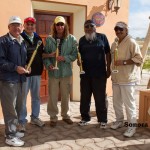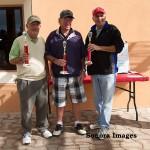 first place between Coach Rich Davila's "Team Cholla" and Coach Henry Cotto's "Team Coaches". Other notable prizes won included Rick Johnson taking "Closest to the Pin", Brett Johnson taking "Longest Drive", and lastly, Brad Rowland taking "Most Water Balls"!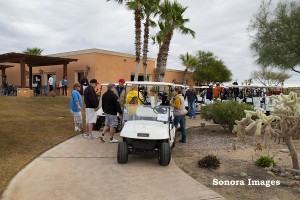 The gracious and appreciative Rick had this message for all those who made the weekend such as success, "We truly appreciate everyone who has supported this event over the years. We fully intend to continue supporting the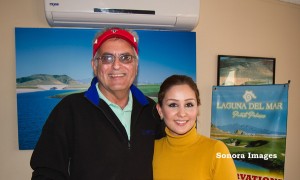 talented young athletes of Rocky Point. This event would not be possible without the contributions and support of so many generous
people in the U.S. and here in Rocky Point. I'd like to personally and publicly thank the following people and businesses for their generous hospitality this weekend and over the years: José (Boo Bar), Randy (Wrecked at the Reef), Joe (JJ's), Joe (Sonora Images), Ron (49er Golf Course), Rosie (Pro Alliance Insurance and TVA), Oceana Rentals, RP360, Gabriel (Duke's), Eric (Vasquez Liquors), Dan Monroe, Seth Cayer, Steve Sells and the crew (Bella Serena), Mary Snyder (Puerta Privada),  John and Max (Max's and Bryan's Sports Grill), Betty (Rocky Point Reservations), Manny Sanchez (Tequila Factory), Larry Large (Tequila Peñasco), and Kent Kossy without whom these great golf tournaments would never have happened! 
This blog is powered by www.sonoranresorts.mx, Jim Ringquist, Director of Sales and Marketing.
Related Posts