The week between Christmas and New Years marked another incredible act of kindness by the 10 year old volunteer group, Families Helping Families (FHF) numbering approximately 200 and made up of role model parents and their devoted off spring, mostly of the Mormon faith from Utah and surrounding states.
Joining FHF for the second year was Hands of Charity (HOC), a group of 75 volunteers from Alpine Utah who had heard about this worthy cause and began recruiting enthusiastic volunteers from the local high school and universities. They all understood the commitment before them and were highly motivated to make it happen.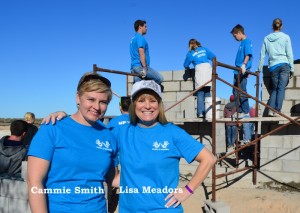 Speaking with HOC organizers, Camie Smith and Lisa Meadors, we learned one of the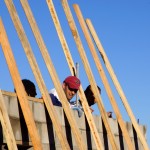 unique ways HOC came up with to raise funds for the project.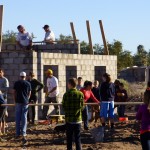 They sold virtual "blocks" (like those used in the construction of homes) for donations. Their slogan was "Buy a Block; Build a House; Change a Life." Of course, to celebrate the success of this fundraiser, what did they do? They held a "Block Party" for the donors!   Would we expect anything less from this creative group? Visit their site at www.handsofcharity.com.
These two groups, made up mostly of teens who gave up their Christmas vacation to help the needy in a great cause, came to Rocky Point this trip for the specific purpose of building five homes and finishing three more, all of which will be deeded over to deserving local families in need of shelter who were selected through church contacts here.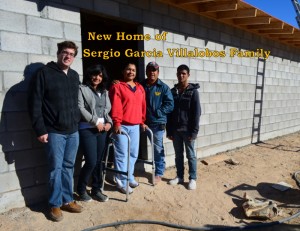 Four of the homes built during this trip were on the parcel of land donated by Gus Brown (Sandy Beach Resorts) where the group has already built seven homes.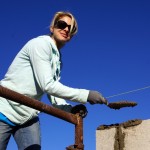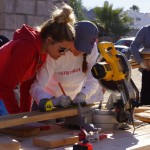 It's important to note here that the commitment of these young people went beyond just their willingness to perform the hard tasks involved in home construction, each member of the FHF and HOC groups raised the proportionate funds necessary to pay for all the material to build the homes, and, in addition, contributed their own money to cover their expenses for the trip down.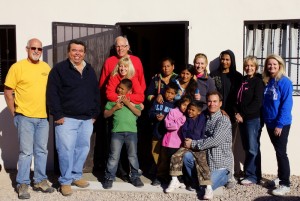 Our new mayor, Prof. Gerardo Figueroa Zazueta, came out to see the kids in action and was so impressed he remarked that, "What these young people are doing can set a great example for our own kids here in Puerto Peñasco."  As he walked through a completed home that was recently transferred over to a needy family, the mayor learned that their kids had no money for schooling. The good mayor said he would arrange for them to be enrolled in school.
Our blog in June covered the astounding fete of yet another off-shoot of FHF: 180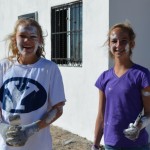 young people from the Rotary Interact and Rotaract Youth Program from Utah, and the history of the Families Helping Families program which has built 26 homes here since they began in 2001. You can read that blog and learn how FHF families like Rod and Diane Herbert, Ralph and Janene Pew and Jared and Marsha Parker have guided the phenomenal growth and organization of this important project to the huge benefit it now makes to our community at https://www.sonoranresorts.mx/?p=5132.
Please enjoy these photos of the project in action taken by local photographer and friend, Tony Ballesteros.
This blog is powered by www.sonoranresorts.mx, Jim Ringquist, Director of Sales and Marketing.
Related Posts