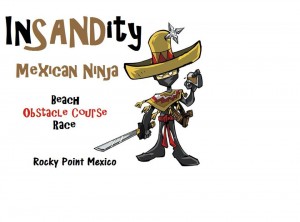 Luis Garrido and Karen Kramer Garrido of Outta Town Productions (OTP) will set up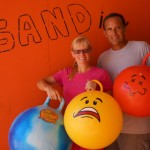 their super fun beach obstacle course on Sandy Beach once again, and if you missed it in October, be sure to check it out this time around because it has a new competitive twist.
Luis and Karen are calling the new format InSANDity Mexican Ninja and it will be set up as a head to head race through 20 imaginative, well built and challenging obstacles where two participants will compete at once; racing for best time. The top five fastest men and women's times are posted continuously at the course for everyone to see. There is no limit as to the number times you can enter.  Competition will run daily from 10:00 AM until 5:00 PM. Enter at the InSANDity canopy as often as you like.
The first run costs $20.00 (US) each and includes an InSANDity Mexican Ninja commemorative T-shirt. Each subsequent race is only $10.00. Oh, and get this: All runs finish with a FREE beer! You're going to really appreciate this little touch if class by OTP after completing your run!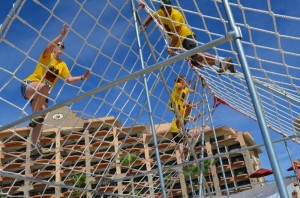 This elaborate course will be set up on the beach in front of the Princesa Resort Condos next to the Sonoran Spa Resort condominiums. You can get discounts at a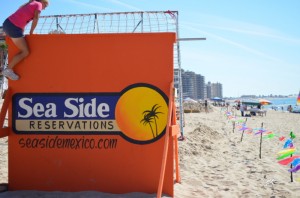 wide choice of resorts, beach front homes or condominiums, including the Sonoran Sun and Sonoran Sky, by contacting sponsor Sea Side Reservations via www.seasidemexico.com using promo code SGS11215. 
Even though the course is open to all challengers, a lot of the Spring Breakers are looking forward to challenging students from the different universities that will be down, like ASU, U of A and NAU.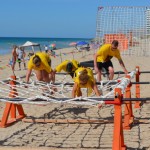 When InSANDity Mexican Ninja closes on March 19th, the TOP FEMALE and TOP MALE with the fastest times overall will win a FREE weekend condo stay for a later date. 
OTP will also have two beach volleyball courts set up for daily mini-tournaments. Entry for those is $5.00 per person. T-Shirts will be awarded to the winners and everyone will have fun.
To register or get more info, visit:  http://outtatownproductions.com/event.php?id=279
Get your friends together, call your rivals, challenge them to a run, and we'll see you in Rocky Point for Spring Break 2013!
This blog is powered by www.sonoranresorts.mx , Jim Ringquist, Director of Sales and Marketing.
Related Posts
This year marked the 11th annual January Jam that began as an…

It has been less than two years since Mayor Kiko Munro inaugurated…

Each and every year, as we mingle through the…