During National Travel and Tourism Week celebrations earlier in May (May 2-10) the American Society of Travel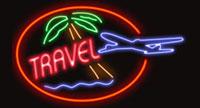 Agents (ASTA) released the results of a survey sent to industry leaders asking for their strangest requests from customers over the last year. As usual, many of the requests were barely believable, especially to those outside the travel industry, but they are absolutely true, illustrating the importance of a travel agent understanding that some travelers require more "hand holding" than others.
Here are 20 of the strangest ones. We added the sarcasm in italics when we just couldn't help ourselves!
Can you please book the honeymoon suite for us and another couple?
Can you please plan a honeymoon for me, my bride and my mother? (O.K., these first two don't even deserve a comment!)
Can you guarantee that no pet has ever been in the hotel room? (I don't know, over the years, we've booked some real dogs into that hotel.)
Can I fish off of the cruise ship? (Any agency open longer than three months has dealt with this one, really!)
Do they speak English in Britain? (Believe it or not, this is another frequent flier!)
Can you book two rooms in different parts of the resort-one for me and my wife, and the other for my girlfriend? (WT…?)
Is our relationship like a client/lawyer relationship? (ASTA wonders if this is the same client who asked Question 6).
Does the crew actually sleep onboard the cruise ship? (Uh, no they actually sleep on the life boats.)
Don't tell my fiancé this is where I took my first wife for our honeymoon.
I would like to go somewhere where there are NOT a lot of men. (Isla Mujeres, maybe?)
I'd like to meet Elvis. (One more question like that and you just might!)
I'd like to get married in the Caribbean on an island where the marriage is not legal in the U.S. (Again, we refer you to Question 6).
Will there be shadows on my face at 4 p.m. when the pictures are taken? (No, that's Happy Hour; you might have some Piña Colada on your upper lip, though!)
Will you watch my pet while I'm away? (We would love to, but our kennel is being remodeled…)
Are there toll roads on the way to Hawaii? (Nope, they're all free interstate highways!)
How can I get to Europe without going by air or sea? (Have you tried Googling that one?)
I'd like to visit Scotland and Denmark on the same trip. (Agent then tells client he does not have time in his schedule to travel the distance).  But they're only an inch apart on the map! (The geographical variety of this frequent repeater has covered the world map!)
Can you set it up so that the whales jump in the background at the same time I'm proposing to my girlfriend? (Sure, just tell the photographer to use his whale whistle.)
Can you ask the airline to block the seat next to me so I can stretch out? (The frequency of this one is almost daily!)
I don't want a window seat on the plane because I just had my hair done. (We saved the hardest to believe to the last! Not only true but frequently asked!)
We hope you got a kick out of these entries into the "You just can't make this stuff up" category.
This blog is powered by www.sonoranresorts.mx, Jim Ringquist, Director of Sales and Marketing.
Related Posts