In fact, you could pin it down to Saturday the 8th of December as events were taking place in the far reaches of Puerto Peñasco and beyond and community centers in the northern neighborhoods to the Esperanza para Los Niños shelter some 20 Kilometers outside the city.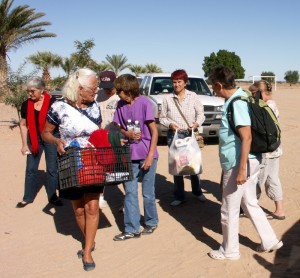 Beginning in the early afternoon, the very active Uncommon Women on Common Ground hosted and catered a full turkey dinner with all the trimmings including a colorful assortment of mind blowing desserts which they brought to the well-known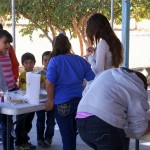 Esperanza Home for Children located at the end of a dirt road a ways off the Highway to Sonoyta.  At least 20 conscientious and very charitable "Uncommon" ladies and many of their spouses hauled container after container of home cooked turkeys, mashed potatoes, gravy, corn, and much more from at least ten vehicles to set up shop in the Esperanza kitchen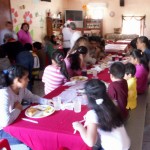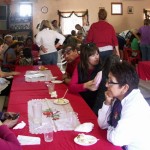 under the eager eyes of over 50 excited children, most of whom, incidentally, were volunteering to help in any way—well those who weren't otherwise distracted in games planned and hosted by some of the spouses and children of the Uncommon Women members.
In spite of the number of adults flowing in and out of the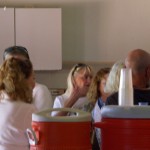 kitchen, spreading table cloths on extra tables that needed to be set up, bringing in more chairs and filling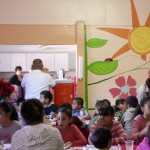 plates of food, the children were all seated and served in short order and it didn't seem that long before a small group
gathered to play guitars, and one ukulele, while the rest were attacking the dessert table.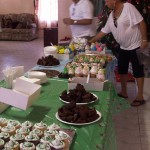 In addition to the grateful kids, appreciation was expressed by the management and officials of Esperanza and DIF, the major supporting organization for the children's home.  Among those representing DIF was Samuel Ortega including a special visit by DIF President, First Lady Rafaela Félix de Figueroa, wife of our new Mayor Gerardo Figueroa Zazueta among other city officials.
At our table was the always thankful Guillermo Zapata Urbalejo, who along with his wife has served as the very effective Director of Esperanza for the last nine years, Sub Director Arturo Parra, and Patron President C.P. José Manuel Barrera Sanchez.
Esperanza para Los Niños was founded in 1985 and currently provides shelter, meals, education and supervision for 38 children.  In addition to the 38 residents, the Uncommon Women brought 18 children from La Montaña School for children with special needs who shared this special occasion. Fifty percent of the shelter's funding comes from the government and another 25% comes from American donations.  The rest is raised in various fundraisers and in kind services from in and around Puerto Peñasco.
La Esperanza para Nueva Vida Community Assistance Center was Chock Full o' Kids
Meanwhile as this Saturday full of caring adults and happy children was progressing stupendously at Esperanza para Los Niños shelter,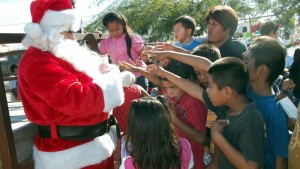 back in the New Peñasco barrio in north Rocky Point, more joy and abundance was being imparted to a crowd of approximately 500 children and at least the same number of adult parents who had gathered at La Esperanza para Nueva Vida (Hope for a New Life) Assistance Center.
These photos (taken by Barb Olszewski while her husband Mark was melting inside the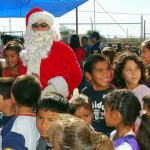 Santa suit) tell the whole story of how excited, loving, nonchalant, even frightened kids can get at first sight of the jolly bearded cherub of a man bearing seemingly unlimited candy canes to get them warmed up for the hot dogs and many presents awaiting inside the center.  Indeed, the parents were equally as joyful as this DIF sponsored center also served as the distribution point for DIF gift boxes of non-perishable food items for them to take
home. Between Santa and dozens of big hearted volunteers, it was insured that no one would go home empty handed (or empty tummied!) on this great Saturday afternoon.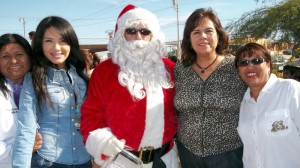 Even the First Lady Rafaela Félix de Figueroa, who seemed to be everywhere on this Saturday, came by to help brighten the children's day (and brighten Santa's day as well!). She and her entourage left for Esperanza Children's Shelter after a nice visit at the center.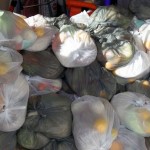 La Esperanza para Nueva Vida, an all-volunteer neighborhood social assistance facility, was founded eight years ago by Harold and Kathy Tuttle and Robert and Pamela Martin.  The organization has grown steadily in the direction of its goals thanks to the dedication of folks like Blanca Estela Soto Ayala, a licensed Physical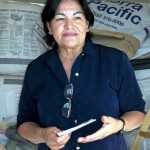 Therapist in her parallel life, who has served as the volunteer Director and President of the organization since its beginning; and folks like Mark and Barb Olszewski, the couple who seem to help everyone in this community and who founded the charity "Adopt-a-Classroom" that provides supplies, and in many cases, repairs to nine local schools in Puerto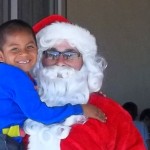 Peñasco and another one in Port Lobos. (http://www.rockypointclassroom.com)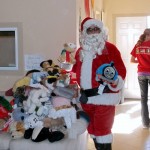 They got involved with this center in 2007 and are credited with raising thousands of dollars toward the construction of two buildings and a basketball court. The buildings have enabled the center to provide classes to teach sewing, hair cutting  cooking and computer skills, using equipment donated largely through the efforts of Mark and Barb.
Residents of the neighborhood as well as the surrounding local community of "New Peñasco" have consistently donated their time and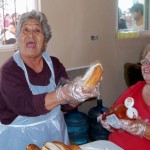 skills to the progress of the center. Saturday the 8th of December was no exception as parents and older kids alike chipped in on chores from emptying trash to making and serving hot dogs to the overwhelming crowd. For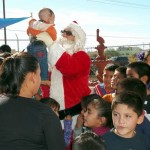 more information on this effective non-profit organization, visit http://www.laesperanzaparanuevavida.mex.tl . The web site is in Spanish but Google will translate it for you very quickly.
That is what was happening on December the 8th to make Christmas a happy occasion to hundreds of needy kids in Puerto Peñasco.
Wishing you Peace and Prosperity for the New Year, we remind you that this blog is powered by www.sonoranresorts.mx, Jim Ringquist, Director of Sales and Marketing.
Related Posts
This year marked the 11th annual January Jam that began as an…

Since the very first Sonoran Resorts Las Vegas Night for Charity in…

Each and every year, as we mingle through the…