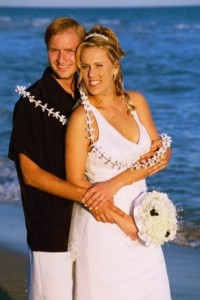 Have you ever kept the stats on how many of your friends and new acquaintances fell in love and/or married along the picturesque beaches of our little piece of peaceful paradise that is Puerto Peñasco?
It is uncanny, really, the number of couples whose love story involves Rocky Point as a key romantic ingredient, or revolves around the destination completely.
Our love story today is one of those continuing epiphanic adventures in rejuvenated love churned from the karma-like atmosphere that seems to permeate all who hand in hand tread our beaches and gaze into each other's eyes at sunset or under the glow of a full moon glancing like midnight diamonds off the silky Sea of Cortez.  A silent soul-piercing breeze of profound happiness for the hearts of those lovers young and old who are predisposed to its ever presence by kindling passions.
Protagonists of this romantic tale are Samantha and Jason Keck, Rocky Point regulars who live in Tucson, Arizona and think nothing of throwing some beach clothes and supplies in their vehicle and making an impromptu trip to Rocky Point—their favorite destination in the whole world—and they have been around; the islands, cruises, west coast and more.
Jason grew up in the northwest—Spokane, Portland, San Francisco areas before settling in Arizona where he met Samantha.  He had done quite a bit of fishing along the Pacific and loved the ocean and beaches. He'd never heard of Rocky Point.
Samantha has been coming to Puerto Peñasco with her family and friends since 1984. From her very first visit, camping on Sandy Beach, she made the trip from Mesa every chance she got, especially spring breaks and for family vacations.
When Jason entered her life, the first thing she did, naturally, was introduce him to Rocky Point where upon Jason, the analytically inclined IT type, quickly deduced and randomly accessed the conclusion (couldn't resist, Jason, sorry!)  that here was a paradise found.
The rest of this romantic story unfolded two years later in 2004 when the couple exchanged vows and forever sealed their love on the beach at Las Conchas in front of a lusciously luxurious home they had rented for their once in a lifetime event. They've averaged at least four trips a year ever since and are quite active the whole time they're here.
Almost every trip they've had fishing on their list of activities, but, alas, not until this last week, staying at the Sonoran Sea, their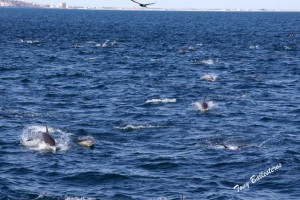 exclusive respite in Rocky Point, did they get around to working it into their schedule.
They came down with Samantha's Mother, Nancy Roodhouse and Nancy's friend, Doug Plumly, who was on his first visit to Peñasco's paradise. When Doug fell in love with our beach town, the makings for a tremendous week were in the works.
Last Monday the two couples chartered the popular Pancho Villa for their excursion with expectations of nothing but having fun, dropping a few hooks in the sea and maybe catching a couple of trigger fish to make some ceviche, but mostly looking for a good time out on the water.
It's probably important to the story to note here that The Pancho Villa is a 57 foot Californian owned by Captain Ray Ramirez and his wife Annette.  Ray has 25 years maritime experience himself and employs two other captains and a crew all of whom have decades of fishing experience on the Sea of Cortez.
Jason, a fairly experienced fisherman, may have been secretly hoping for a little more than trigger fish each time he dropped a line. Well, whether he was expecting more or not, unbeknownst to him, Jason was in for the ride of his fishing career.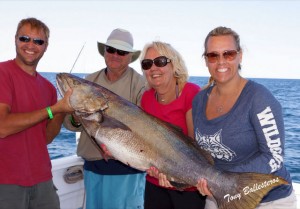 After some great dolphin sightings that alone made the trip worthwhile and catching a bunch of Rock Bass and half dozen trigger fish, sharing a lot of laughs, various libations, and ceviche made on the spot by the crew, Jason's rod was suddenly almost jerked from his grip…and the fun started!  Since a picture is worth a thousand words, go now to get the fun of Jason's excellent catch in full color on YouTube at http://www.youtube.com/watch?v=wyOcOgJuBic&feature=youtu.be
You can safely bet, because Samantha and Jason both confirmed, that a fishing trip on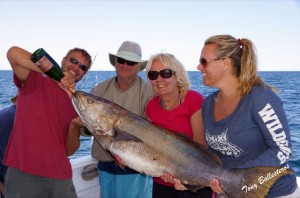 the Pancho Villa will be embedded in the agenda of every future trip they make to this beach town from now on!  They both confirmed that, of all the fishing experiences they've had in many destinations, this one was by far the best!
And, as you might expect, Doug, the first time visitor to Rocky Point (that's him and Nancy in the middle holding Mr. 65 pound, 5 foot Sea Bass in the photo), loves the place so much he's tossing around the idea of looking for a property here! You couldn't pick a better time to buy a beach front condominium just like the one you stayed in here at the Sonoran Sea, Doug!
Well, Jason, Samantha, Nancy and Doug, we'll be looking for you on your next visit, and hope your next catch is even bigger!
This blog is brought to you by The Sonoran Resorts Sales Group, Jim Ringquist, Director of Sales
Related Posts
This year marked the 11th annual January Jam that began as an…

It has been less than two years since Mayor Kiko Munro inaugurated…

Each and every year, as we mingle through the…