Here's the story by Sonoran Resorts "Best Job in the World" Third Place Winner, Shawn Rost!
"For the Love of Rocky Point" 
By Shawn Rost
I have become a Sonoran Sky Stalker (ok, not in a bad creepy way though). The live view cam over their pool deck is my lifeline to the beach. When I sit at my desk and it is 110' outside (or more) I know that my favorite beach is only a four hour drive away. I can pull up the live cam and almost smell the sea.  I can see how the day is, if the tide is coming in or going out, watch people and know that sitting on that pool deck is where I should be.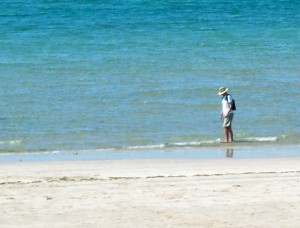 I ache to be there, but the realities of life keep me sitting at my desk another day. Sanity is achieved only by planning our next trip down to Rocky Point. Lord help me, but I love this place, from the sand over the roads to the vendors on the beach. During the drive from Sonoyta to Puerto Peñasco watching for cattle and trying to keep the speed down even when you want to be there 'right now, right now!' you can feel the stress giving way to joy and anticipation. OHHHH what to do first when we get there? I have too many choices!!!
As vacations go, this one doesn't have to be expensive; you can find condos, homes and hotels for rent in all price ranges. You can get a scallop taco for a buck at Mary's. A couple of those, a cold beer, watching the pelicans are a mighty fine way to spend an afternoon chatting with friends.  You have great bar and street food here to choose from. Or pick up some shrimp on the Malecon and go back to your place and grill them. Maybe you would prefer a more upscale restaurant?  Well then you have lots of choices at the resorts or in town for that as well.
Do you want to be a bit more active?  Then think about kayaking or trying kite boards or horseback riding on the beach, and you can always swim. You have so many choices. You can visit the estuary, the Malecon, Rodeo Drive, CET-MAR Aquarium, or just take in a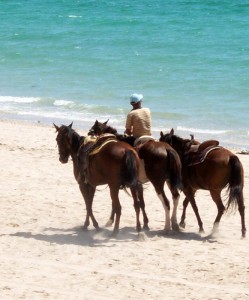 movie at the new theater.  Do you want to hang out and relax? That's what beach bars and pool decks are for as far as I am concerned, but you can get a massage, too if you wander over to the Peñasco Beauty Center.
Puerto Peñasco is one of those rare places that you can be as busy as you want or simply unwind and relax. This is the one place I know my husband will actually sit by the pool and read.  Personally, I love to wake up in the morning, grab my coffee and watch the ocean from our balcony, the people walking their dogs (and I feel so guilty ours are at home), the joggers, the kids that have to be at the tide pools first thing. It really doesn't matter what time of day I sit there, the sound of the ocean and the view is spectacular.
Puerto Peñasco is one of those magical places where my big kids will come with us and hang out. From walking on the beach with me, tide pooling like when they were little or hang out in town and get something to eat, this is a place where it is ok to still be with Mom.
And of course let's not forget that you have to do a bit of shopping. You have to buy gifts. It's a ritual! To be honest, I am not sure why we do, other than to point out to people, "I was there and you weren't".  I will need to pick up a 'Day of the Dead' item for Teri for her collection, a new Talavera dish for me (which I covet) and then I can tell Rene' about the great deals I got there, Lucha Libre masks for the little kids; and jewelry, well, that will probably be for me as well.  We have our regular stops like our jaunt to the Tequila Factory to pick up more tequila for our cask at home. Let me tell you, that is a lovely reminder of your time at the beach! Shopping is a joy, from picking up a sweatshirt on the Malecon, because I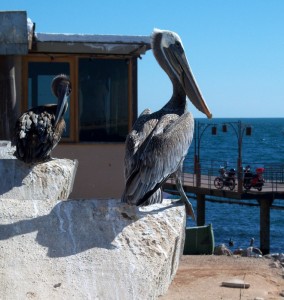 always forget mine, to investigating the new Bodega and Sam's club. Seeing what the vendors have that is new and different when they come up the beach. Shopping that comes to you when you're by the pool with something cool in your hand or watching the kids play. How great is that?  It also helps in my continual quest for a silver fish bone necklace, one of those items that you wished you picked up when you first saw it and now you ask every vendor if they have one.  So far no luck, though.
Watching the dolphins swim, the fishing boats, the kids splash in the surf or play in the sand, the sun going down in a blaze of colors with a cool drink in your hand, good food, my family and good friends.  These are the memories of a lifetime. Tell me what could be more perfect?  I could hang out on the beach forever when you come down, because I know, like me, you are craving that sea air and sand….look for me; I will be the gal on the beach with the T-shirt that says "As a matter of fact I do plan to wear flip flops for the rest of my life".
Excuse me now while I go help with some sand castles. Hope to see you soon!
This blog is powered by www.sonoranresorts.mx, Jim Ringquist, Director of Sales and Marketing.
Related Posts