Here's the story by Sonoran Resorts "Best Job in the World" Second Place Winner, Sandy Baker!
"Finding Me in Rocky Point"
By Sandy Baker
The lure of crossing the border on my Harley and ending up in a seaside resort in a different country drew me.   Like some Americans my husband was more reluctant, but the stories I'd heard of Rocky Point spoke so strongly to my sense of adventure that he was required to follow.
After an easy motorcycle insurance purchase, a simple border crossing, and a beautiful wide road that meandered through the desert and sand dunes we arrived at our hotel on the beach.  The salt air, clear blue water and resort complexes spoke to my husband's sense of comfort.  As we pulled the bikes in and parked he turned to me and said, "We're staying here."   So we did, and have returned many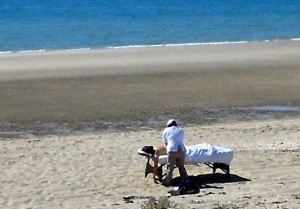 times since.
We delighted in our discovery of Puerto Peñasco.   Who wouldn't love an open air fish market alongside the waterfront promenade where local families gather on Sunday nights eating ice cream, listening to music and enjoying a stunning sunset? Who wouldn't fall in love with the four miles of calm waters and white sandy beach, conveniently known as Sandy Beach?  …Or the tide pools and shoreline fishing further south in Las Conchas?
What we found was a place where we could take a deep breath and relax.  Sure there is plenty of activity for the adrenaline junkies….ATV riding in the dunes, ultra-light soaring along the coast, jet skiing and scuba diving and a myriad of other land and water sports…..but for me, even with my sense of adventure, what calls me to Rocky Point is the sense of calm that settles over me from the moment I arrive.  I settle into my condo, open the big sliding windows and breathe.  Who knows why, but there is an overwhelming sense of slowing down and enjoying life that comes when I leave my Blackberry and deadlines on the other side of the border.  The pace, the people, and the water all remind me of the real me, not that me who is chained to a desk five days a week on the other side of the border.  I find myself in Rocky Point.
My standard Rocky Point morning begins with a barefoot beach walk, collecting shells with a fresh brewed cup of coffee.  That gives way to a kayak day or an umbrella beach day depending on the waves of the water and the waves of my mood.  Life is just easy here.  What do I feel like doing today?  Swim? Shop? Read? Hike? Ride a bike?  It's all possible and all at a pace that quiets me and connects me with me.
And it's easy.  It's adventurous because it is not the United States, but it's not so different that it's difficult.  I find adventure in the everyday places.  Shopping for groceries at one of the large super markets is an experience in cultural differences.  From the parking lot greeter/window-washer to the packaging, names and variety of groceries I find as I shop with the locals inside, I am intrigued by the differences.  Yet the markets are familiar enough that I can find everything I need, and even some things that I didn't know I needed, like piping hot fresh made tamales and tortillas.  When I don't feel like cooking, the fresh deli counters are filled with dishes that give any Mexican restaurant a run for its money.
And restaurants?  There are plenty here in Rocky Point.  Great seafood and Mexican food abound at every price point, from restaurants with white linen tables and 360 degree views to roadside burros stands.  But more surprising finds are the fantastic pizza, and Italian restaurants, some also with amazing views.  And then there are always my favorite, kayak friendly, palapa restaurants. They are perfect stops for a beer and chilaquiles, a local dish of breakfast nachos. Paddle in, paddle out.  Now this is my idea of a drive through.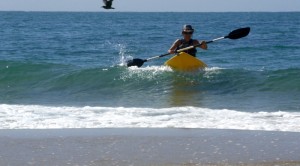 Paddling along the shore with my girlfriends has become one of my favorite pastimes at this south of the border retreat.  We've had close encounters with sea lions, dolphins, schools of jumping fish, and occasionally, distant sightings of whales and their calves. We've witnessed first-hand the food chain of the Sea of Cortez as we floated within its feeding frenzy watching fish fly out of the water hoping to escape the hungry dolphins below, only to be caught mid-air by the scoop mouthed pelicans.  Perhaps the most memorable kayak encounter was with a friendly taxi driver who packed our kayaks up and drove us home after a bit too much imbibing at a favorite palapa stop.  Friendly fish.  Friendly people.
Some days when I feel like a bit more pampering I'll head for a day spa.  There are several nice ones in Rocky Point.  But nothing says relaxing adventure like a quiet massage on a deserted section of beach.  Oh yes, they have those here in Rocky Point, something you'll never find along the California coasts.  Deserted sections of beach, quiet places to sit, enjoy the sun, and find yourself.
There are times in your life that you know you've made the right decision.  Every time I ride across the border and begin breathing salt air I am reminded that I am doing it once again.
Why do I love Rocky Point?  It lets me be me.
This blog is powered by www.sonoranresorts.mx, Jim Ringquist, Director of Sales and Marketing.
Related Posts