Early on November 2nd Steve Schwab, owner of Sea Side Reservations started out on his annual charity walk from Phoenix, Arizona to
Puerto Peñasco, Sonora, Mexico to raise funds for Mexico Children's Foundation which he founded 10 years ago.
Since its beginning, the foundation's mission has been to help the children of needy families obtain medical services for serious and life threatening diseases and conditions. Over the decade of its existence the Mexico Children's Foundation has provided funds that have helped over one hundred children, saved the lives of several and made emergency medical services available to many dozens more.  Even more amazing is that the entire organization is run totally by volunteers allowing 100% of every dollar donated to go directly to helping the children.
Even the director of the foundation is a volunteer. Soledad Mendez has run the organization since the beginning, and continues to run it from the office of her own business as a wedding planner.
2013 has been a landmark year in the foundation's history in several areas: Over the decade, Steve's companies have expanded throughout Mexico and, thus, so have the needs for services provided by the foundation. To better reflect those expanded needs, this year Steve changed the name of his foundation from Peñasco Children's Foundation to Mexico Children's Foundation.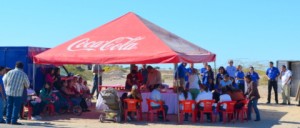 This was also the year Steve completed the design of a software program he had worked on to carry out one of his long-held beliefs that distribution of donations to non-profit organizations should be completely transparent. The program he activated this year he believes provides the most transparency of any program around, tracking every dollar donated right down to the child and service on which the funds were spent.
Finally, this year marked Steve's personal surpassing of 2,000 miles walking on his annual treks raising funds through the commitments of loyal donors who understand the importance of this worthy non-profit organization and the good it has performed over the years.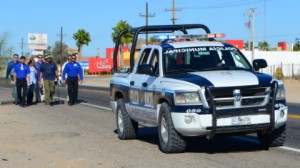 Nine days after leaving Phoenix, on Monday November 11th around 2:30 in the afternoon, this former Army Ranger arrived at the designated Finish Point just north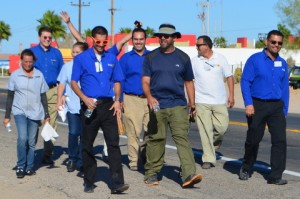 of the intersection of Samuel Ocaña on Highway 8 from Sonoyta complete with an impromptu escort from the Puerto Peñasco police department for the final mile of his journey. He arrived to the cheers of a crowd of appreciative folks consisting of Sea Side Reservations staff and executives, photographers, writers and reporters as well as several families whose children have received life saving services from Mexico Children's Foundation.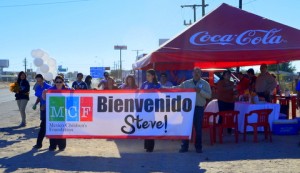 Even as we all awaited his arrival, Steve's leadership, generosity and concern for his employees, indeed, all humankind was obvious from the comments of those anticipating his arrival.  From the conversations it was also clear that Steve leads by example, which is genuinely admired by every member of his company.
Fatigue that one would expect from someone who has just walked over 200 miles at such an aggressive pace was not present in Steve's eyes or actions, even though his trek included an encounter with a hungry coyote (which he fed), an angry wild dog  (which allowed him space when Steve showed no fear), even a close encounter with a snorting Javelina (which he snorted back at). None of them derailed this trained Ranger from his mission.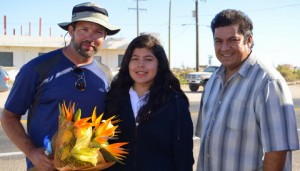 The reason for the brightness in his eyes on arrival was explained to us when he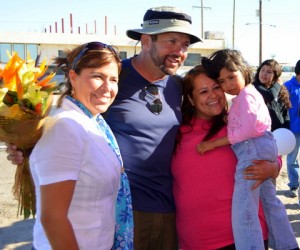 arrived after last year's trek. Steve knew that a young girl named Ana Paula and her parents would be waiting for him with a warm hug and bouquet of flowers, a show of appreciation and love they had expressed every year since the foundation saved her life from a threatening brain tumor 10 years ago. "And that's what it's all about", he said. Clearly, to Steve, Ana Paula represents the manifestation of his original vision of Mexico Children's Foundation.
For more details on the wonderful deeds of this non-profit organization and to learn how to make a donation or volunteer your time, please visit www.mexicochildrensfoundation.org.
This blog is powered by www.sonoranresorts.mx, Jim Ringquist, Director of Sales and Marketing.
Related Posts
As our pre-event blog noted, Barrio Obrera in the neighborhood that includes the…

Our hot August night skies are seared with serendipity in this year…