The news:
THE HUT
Last week we blogged about the latest happenings and anticipated opening of The Hut, formerly Chango's, the big thatched roof hut on the entrance road to the Sonoran Spa and Sonoran Sea Resort Condominiums on Sandy Beach. Randy Gahan and the Wrecked Group have worked diligently on a total makeover that is ready to be enjoyed as of noon today. If you missed the blog, read about this new venue at https://www.sonoranresorts.mx/?p=10119. Or just stop by. The Hut is open from Noon until close Thursday through Monday.
EL GRECO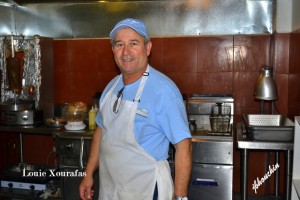 Last year we blogged about the new Greek gyro restaurant that opened on the "L" of Calle 13 under the old Sunset Bar called El Greco (read that blog at https://www.sonoranresorts.mx/?p=4388) .  Louis and Kim Xourafas moved their restaurant that fall to just inside the gates to their home just a few blocks away on Calle Elías Calles the last street west that crosses Calle 13 and served his delicious gyro (hero) sandwiches on the patio. After their annual trip back to Greece this August, Louis went to work enclosing the entire patio area in time for his annual reopening set for today, Thursday October 10th.  It will be hard to miss his white gates, fence and house with the El Greco signs out front on the corner four blocks from Calle 13. Louis says anytime after noon today he'll be ready for you.
This blog is powered by www.sonoranresorts.mx, Jim Ringquist, Director of Sales and Marketing.
Related Posts
Attendance at this year's 11th annual Bike Rally was up an estimated…